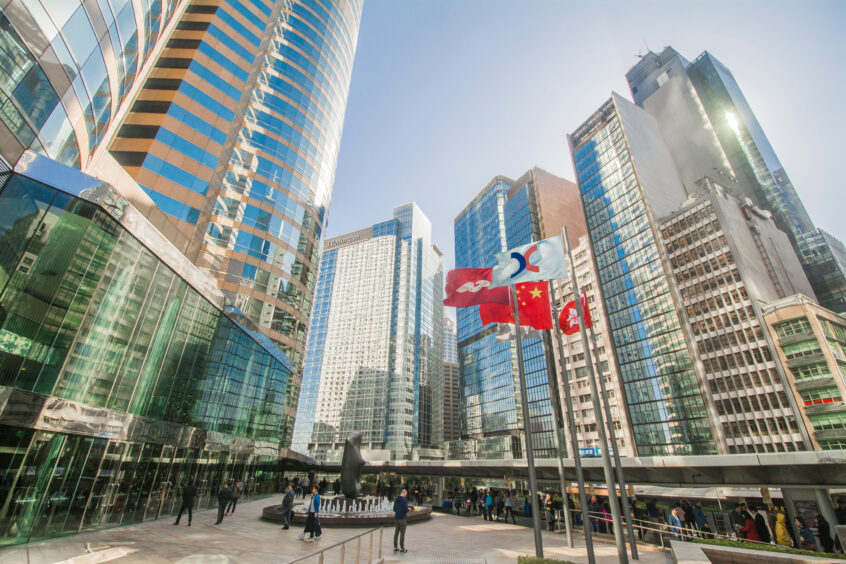 The Hong Kong Exchanges and Clearing Limited's (HK:0388) new voluntary carbon market offers investors access to international carbon credits, and could act as an offshore risk management centre for China.
The Hong Kong Exchanges and Clearing Limited has launched its own voluntary carbon market, called Core Climate.
It will provide companies based in Hong Kong and mainland China with access to internationally certified carbon projects.
Carbon offsets will play a large role in helping Hong Kong and China achieve their net zero commitments, especially after China said it places a higher priority on energy security than on a transition to clean energy.
Voluntary carbon market benefits from HKEX's role as financial hub
The Hong Kong Exchanges and Clearing Limited (HKEX) has established a voluntary carbon market (VCM) called Core Climate. It will give investors in the region access to internationally approved carbon avoidance and carbon reduction projects.
All projects listed on Core Climate are verified against international standards, such as Verra's Verified Carbon Standard. HKEX's role as the regulator of the third largest stock market in Asia also adds credibility to investors.
The launch of Core Climate was supported by corporations and financial institutions part of the Hong Kong International Carbon Market Council, convened by HKEX. Additional efforts to promote sustainability have included launching an online portal called STAGE in 2020, to provide data and transparency on sustainable, green and social investment products.
Developing an international VCM in Hong Kong resulted from a feasibility assessment carried out by the Carbon Market Workstream. Jointly co-chaired by HKEX and Hong Kong's securities and futures commission, it produced its recommendations in a paper in March 2022.
Core Climate could serve as conduit for mainland offshore risk management
The establishment of Core Climate resulted from discussions between Chinese financial and environmental authorities and members of the Carbon Market Workstream. A VCM to international standards in Hong Kong could serve many of China's interests. 
The workstream provided several recommendations and reasons for setting up a VCM in Hong Kong. One of the main aims was to link international investors to the Mainland's carbon markets. China's national emissions trading scheme is the largest carbon compliance market in the world. 
The China Certified Emissions Reductions (CCER) scheme, which began issuing credits in 2012, was suspended in 2017. While it has been widely reported that the CCER scheme will resume in 2023, at present there is no way of independently verifying credits in China.
A further justification for setting up the VCM was so that Hong Kong could act as China's offshore risk management centre. It would do so by strengthening cooperation between the VCM and the Guangzhou Futures Exchange. Working with the Guangzhou-based China Emissions Exchange, one of eight regional carbon markets launched by China, the VCM would work in line with mainland policies. 
The availability of carbon offsets will be vital to Hong Kong and mainland China achieving their net zero commitments, especially as China said energy security is taking priority over the transition. As President Xi Jinping stated in his address at the latest national congress in October 2022: "We will work actively and prudently toward the goals of reaching peak carbon emissions and carbon neutrality."
China risks global net zero targets by prioritising energy security
China's investment in renewables has been instrumental in reducing the levelised cost of wind and solar energy. Its continued use of fossil fuels, however, raises concerns over its commitments to reaching peak emissions by 2030, and becoming carbon neutral by 2060.
In fact, China's policies are viewed as "insufficient" by Climate Tracker. Plans to phase out coal by 2025 have been upended by coal shortages, and a spike in energy costs after Russia invaded Ukraine. Curtailed power supply to factories has threatened its economic growth, which has yet to fully recover after the COVID pandemic.
Further economic growth will keep increasing China's emissions. As the world's largest emitter of greenhouse gases, China accounts for 27% of global emissions. According to the World Bank's Country Climate Development Report, China needs to invest $14-17 trillion in power and transport infrastructure alone to reach net zero by 2060. Achieving this via public investments alone will be challenging, and will require the mobilisation of private finances as well.
Increasing access to international carbon credits for China's investors may help mobilise investment into green projects as well as align local carbon markets with global standards. These will do little to reduce emissions, however, if the country remains focused on growing the economy while continuing to consume fossil fuels.