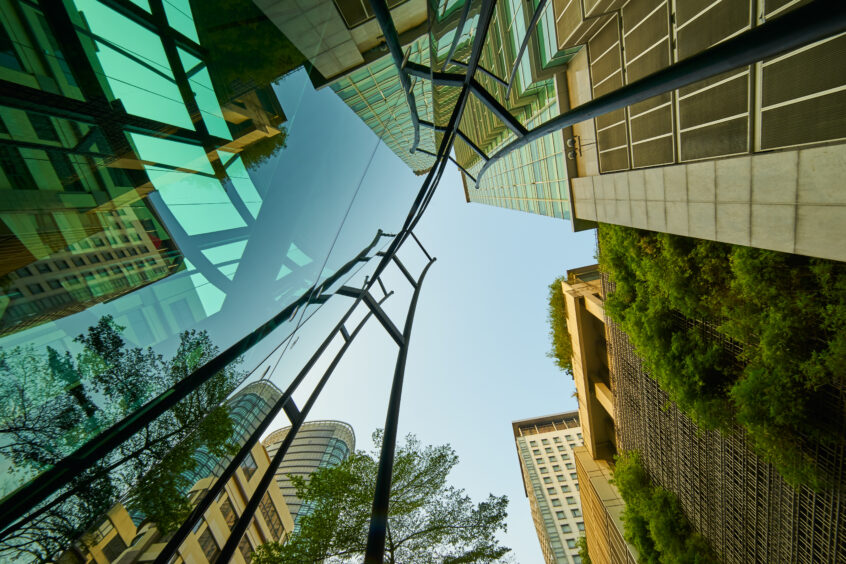 UK-based commercial property investment manager Orchard Street has announced the launch and first close of its inaugural impact fund to accelerate the property sector's decarbonisation. It comes as UK Finance calls for a "strategic reset" to improve energy efficiency in the country.
Orchard Street has launched its first impact fund, worth £400 million.
The building sector needs to step up decarbonisation efforts to meet global climate goals, with the UK lagging behind neighbouring countries in terms of energy efficiency.
As demanded by UK Finance, investment needs to be supported by government policy to ensure a fair transition.
Orchard Street's new fund to focus on three areas
The fund, called Orchard Street Social and Environmental Impact Partnership (SEIP), will target value-add real estate investment opportunities with the potential to generate a measurable social and environmental impact. It will be sector-agnostic and dedicated to UK projects.
It will focus on three impact areas: decarbonising existing buildings by accelerating refurbishment, investing in local communities to respond to social issues, and making buildings healthier for the people who use them, for instance by providing access to green space and improving air quality.
Orchard Street said the fund is aligned with Article 8 of the Sustainable Finance Disclosure Regulation, defined as "a Fund which promotes, among other characteristics, environmental or social characteristics, or a combination of those characteristics, provided that the companies in which the investments are made follow good governance practices".
Brunel Pension Partnership, one of the UK's Local Government Pension Scheme pools, acted as SEIP's cornerstone investor on behalf of eight of its 10 underlying local authority partner funds. Just under £90 million was committed at the first close, including investment from partners and members of the senior team at Orchard Street. The firm also linked 30% of its performance fees to the achievement of SEIP's specific impact objectives, thereby aligning itself to financial outcomes as well as environmental and social goals.
Philip Gadsden, portfolio director of SEIP and managing partner at Orchard Street Investment Management, said: "Buildings that offer top quality space and strong ESG credentials will continue to command the best rents and prices, with this Fund therefore providing not only an avenue for investors to enjoy strong financial returns but also a significant positive social and environmental impact." 
He added: "By fully integrating impact into our investment approach – with ambitious decarbonisation, wellbeing and community investment targets – the Fund will accelerate the property sector's decarbonisation, while maximising the value of buildings as a tool to promote health and community investment."
Existing buildings need to be refurbished to decarbonise property sector
The building industry must halve direct emissions and cut 60% of indirect emissions by the end of the decade if it is to reach net zero by 2050. This will involve a 45% cut in energy consumed per square metre by 2030 from 2020 levels, which can be achieved by boosting energy efficiency levels.
In high-income economies such as the UK, 80% of the buildings that will be used in 2050 are already standing, according to an October 2022 study by sustainability advisor 3Keel. This means that decarbonising the property sector requires significant refurbishment and retrofit work.
British buildings are among the least energy efficient in Europe. Heating homes accounts for 14% of the country's total carbon emissions and each home retrofit will cost £35,000, according to estimates by think tank Green Alliance.
In its November 2022 report Net Zero Homes, trade association UK Finance called for a "strategic reset" in a series of recommendations, mostly directed to the Government. The country has 28 million homes and is expected to reach 31 million by 2037, but costs to install low-carbon heating systems are often a barrier for owners. Meanwhile, Energy Performance Certificates (EPCs), the primary measure of energy efficiency, have been criticised for focusing too heavily on the fuel cost for heating properties.
Holistic approach will support the transition 
UK Finance's recommendations are: prioritising public funding to retrofit social housing, providing government grants to vulnerable populations, amending the Stamp Duty Land Tax to incorporate a property's energy demand and carbon emissions, updating EPCs, and implementing minimum energy efficiency requirements.
Alongside the environmental benefits, energy efficiency can contribute to addressing the current energy crisis, as it lowers energy consumption, which in turn means cheaper bills and less overall demand. As governments in Europe focus on boosting energy security, they should also hold energy efficiency as a key priority as it reduces supply requirements.
David Postings, chief executive of UK Finance, said: "The banking and finance sector is playing, and will continue to play, a key part in facilitating the transition to net zero. The transition must be done in a fair way that that does not leave anyone behind, which is why we believe that in order to make real progress everyone must work together, led by clear, decisive and supportive government action."
Orchard Street's new fund suggests that investors are spotting an opportunity in the market, perhaps acting before new policies become more stringent and force stakeholders to engage in retrofit work.