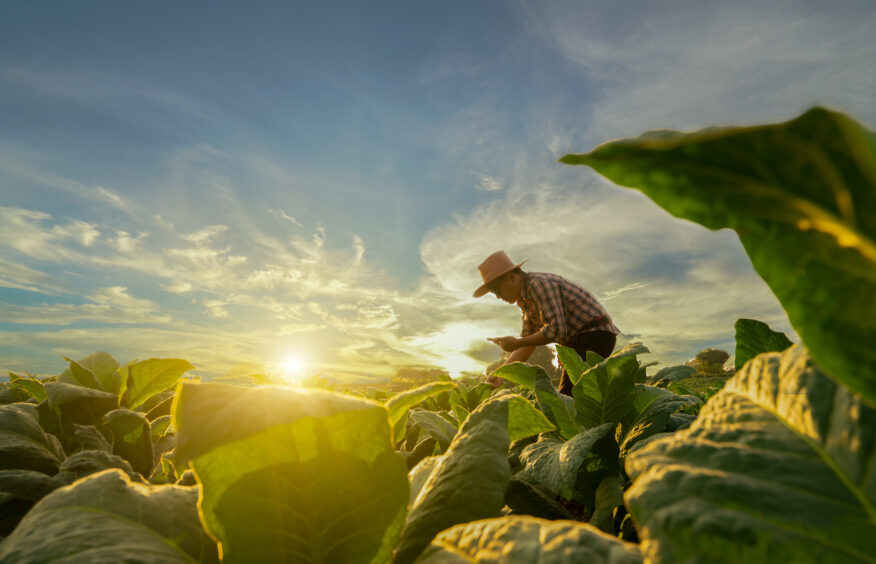 Insurance, FMCG and private equity players join forces in a new regenerative agriculture fund for innovation, in a market that looks set for low carbon transition.
Agriculture, regenerative agriculture in particular, has a unique role in that it acts both as a contributor to climate change and as a mitigation and adaptation solution.
Addressing the challenges in agriculture is a requirement for meeting climate goals and a huge market opportunity, and AXA (Euro Stoxx: AXA), Unilever (LSE: ULVR) and Tikehau Capital have announced the launch of a new €1 billion regenerative agriculture fund.
Together, agriculture, land use and deforestation represent the second-largest source of greenhouse gas (GHG) emissions globally and the primary driver of biodiversity loss.
Given the interrelationship between climate change and biodiversity, it's critical to protect carbon sinks and ensure the ongoing health of natural systems and the ecosystem services they provide.
Not only do large FMCG multinationals need to ensure the continuing health of their supply chains, but research is increasingly identifying the reliance of many industries on nature.
Agriculture and industry dependent on nature
According to research, businesses are more dependent on nature than previously thought, with approximately $44 trillion of economic value generation moderately or highly dependent on nature, according to analysis from the World Economic Forum and PwC.
Construction ($4 trillion), agriculture ($2.5 trillion) and food and beverages ($1.4 trillion) are the three largest industries that depend most on nature. Combined, their value is roughly twice the size of the German economy.
Such industries rely on either the direct extraction of resources from forests and oceans or the provision of ecosystem services such as healthy soils, clean water, pollination and a stable climate. As it stands, China, the EU and the US have the highest absolute economic value in nature-dependent industries.
What's critical is that many industries have significant "hidden dependencies" on nature in their supply chain and may be more at risk of disruption than expected.
For instance, there are six industries which have less than 15% of their direct gross value added (GVA) that is highly dependent on nature, yet over 50% of their supply chains' GVA is highly or moderately nature-dependent.
The industries are chemicals and materials; aviation, travel and tourism; real estate; mining and metals; supply chain and transport; and retail, consumer goods and lifestyle.
Regenerative agriculture can address climate change and food system risk
Regenerative agriculture practices can reverse negative agricultural trends and play a crucial role in addressing climate change and environmental challenges. Healthy soils can sequestrate carbon, support biodiversity, preserve water and improve the resilience of agricultural yields, bringing healthy food while ensuring a sustainable source of income for millions.
The aim of the fund, which will be managed by Tikehau Capital, will be to promote regenerative agriculture practices by focusing on three core areas:
–        Protecting soil health to enhance biodiversity, preserve water resources and help fight climate change
–        Contributing to the future supply of regenerative ingredients to meet the needs of a growing global population and consumer demand for increasingly sustainable products
–        Helping to unlock technological solutions that aim to accelerate the transition to regenerative agriculture
The partners have signed an MoU to focus on companies and projects that are focused on protecting soil health, preserving water resources and the supply of regenerative ingredients, and developing technological solutions to accelerate the transition to regenerative agriculture.
The three partners are expected to combine a unique set of industry, risk and financial expertise to accelerate the regenerative agriculture transition as well as structural change.
Partners commit €100 million each to crowd-in capital
Each of the founding partners will be contributing €100 million in the hope of crowding in further capital. Tikehau Capital, a global alternative asset management group with €35.5 billion of assets under management, launched one of the first funds dedicated to the energy transition and the decarbonisation of the economy in 2018.
The new focus on agriculture shows a recognition of the role that agriculture, and management of the food system, is going to have on the likelihood of achieving the 2050 Paris goals.
Unilever has been working on regenerative and sustainable agriculture since 2010 with the introduction of its Sustainable Agriculture Code, in the knowledge that its supply chain is heavily dependent on nature.
It has since launched its own Regenerative Agriculture Principles, which not only deal with farming practice but look beyond the farm to consider the wider impact of agricultural and industrial practices.
These include nourishing the soil, increasing farm biodiversity, improving water quality and climate resilience, capturing carbon and restoring and regenerating the land.
AXA describe regenerative agriculture as a 'major ESG theme'
Meanwhile AXA, a French-headquartered international insurance giant, has been increasingly vocal about the importance of healthy ecosystems and biodiversity. Pascal Christory, AXA Group chief investment officer, and Antoine Denoix, chief executive officer of AXA Climate, said that "regenerative agriculture is a major ESG theme.
"This fund therefore aligns perfectly with our strategy of decarbonising the real economy through impact investments. At AXA, we aim to have €26 billion invested in green assets by 2023, and to have €1.5 billion to invest in forests and natural capital projects, which will soon include sustainable agriculture projects.
"To convince investors, we need to reinvent the way we manage agricultural risk and measure impact locally, throughout the duration of the projects we fund."
The launch of the fund reflects growing concern about the health of nature globally, and AXA's involvement will be managed by its subsidiary AXA Climate.
It is expected to contribute through its expertise in climate, environmental and agricultural risk management, and in impact monitoring (particularly via satellite technology), supported by its granular knowledge of the agriculture sector.
Agricultural commodity risk driving corporate action
The production of commodities such as beef, soya, palm oil and cocoa are a major driver of deforestation, a huge contributor towards rising GHGs.
Twenty-eight countries, including the UK, representing 75% of global trade in key commodities that can threaten forests – such as palm oil, cocoa and soya – recently launched the Forest, Agriculture and Commodity Trade (FACT) Roadmap at COP26 to deliver sustainable trade and reduce pressure on forests, including support for smallholder farmers and improving the transparency of supply chains.
This is part of a significant market shift in which not only customer expectations but basic risk management requires action from participants in the agriculture market.
The focus on regenerative agriculture by leading corporates and forward-thinking investors means that nature has to be explored for its potential as a material issue for many industries.
Nature-related risks can be incorporated within existing ERM (enterprise risk management) and ESG (environmental, social and governance) processes, investment decision-making, and financial and non-financial reporting. Using a similar framework across environmental risk, categories should enable more efficient and effective integration into business decision-making.
With regulation on the horizon, forward thinkers should act today
As the trend for greater transparency and accountability continues to accelerate, costs are also likely to rise for businesses which have not begun to include nature at the core of their enterprise operations.
For those who think this is a distant concern, it's worth remember that the Taskforce for Climate Related Financial Disclosure (TCFD) was only released a couple of years before governments and regulators began requiring that companies should report in line with the framework.
With the Taskforce for Nature-related Financial Disclosure (TNFD) having already published its first consultation, businesses that ignore this trend will be left behind, while those that have embraced this transformation will exploit new opportunities.