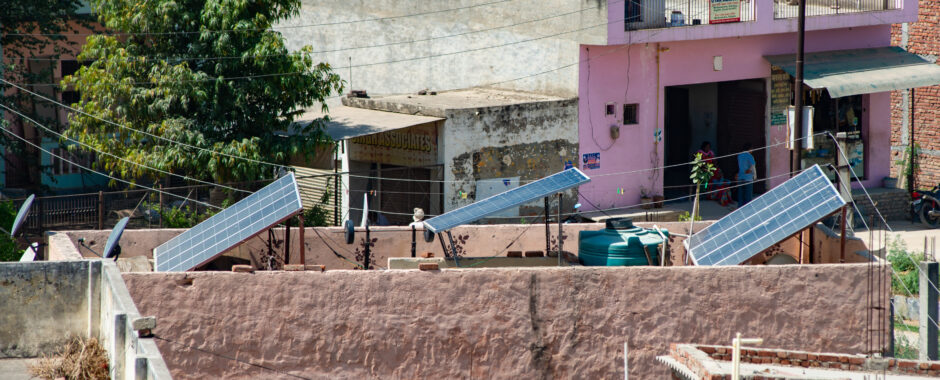 Global technology investor Prosus (AEX:PRX) and climate solutions provider South Pole have signed an agreement to use the new Distributed Renewable Energy Certificates (D-REC) clean energy finance instrument to deliver distributed renewable energy projects. The deal will provide new solar power to isolated communities in India and South Africa, alongside delivering associated high social impact projects.
D-RECs extend the impact of Renewable Energy Certificates (RECs) to smaller projects less likely to be able to access finance.
The agreement paves the way for funding high social impact renewable energy projects for communities with limited energy access.
The certificates use climate finance to accelerate the energy transition. They can help increase local clean electricity supply, boost transparency, and transform corporate green energy procurement.
Prosus has committed to buying 3GWh of D-RECs from South Pole, between 2022 and 2025, delivering 1GWh per year. This transaction – one of the first of its kind – will provide much-needed capital to help establish transformative renewable energy projects, which displace carbon-intensive electricity and deliver access to energy to rural communities.
Energy access remains a huge challenge
The scale of the energy access challenge is immense: 759 million people are still without access to electricity across the world and over $500 billion is required annually until 2040 to meet growing electricity demand.
Part of the problem is risk-averse investors because there are risks involved in traditional renewable deal structures, but add that to a perceived lack of transparency and ability to prove impact, and it has proved difficult to deploy RECs within small, community-scale markets.
Minimising investor risk at the local scale by leveraging corporate finance
The D-REC has been developed to bridge the gap between corporate sustainable finance looking for useful deals and the distributed renewable energy sector in emerging markets. It is a new type of energy attribute certificate and is intended to be used to catalyse new capital to provide access to affordable clean energy, as established in the UN Sustainable Development Goal 7.
By focusing on distributed renewable energy projects in communities with energy poverty, D-RECs go further than traditional renewable energy certificates, as they provide a direct link to positive social development and clean energy additionality.
The D-REC Initiative is led by South Pole and powertrust, with support from Shell Foundation, Good Energies Foundation, Signify Foundation, GIZ-develoPPP, the UK's Foreign, Commonwealth and Development Office), International Finance Corporation, British International Investment, USAID and the Swiss Agency for Development and Cooperation. D-REC will become a fully independent not-for-profit entity in 2023.
By leveraging corporate investments, D-RECs can overcome risk barriers inherent in traditional renewable energy financing. It also has other benefits including: the provisio of new sources of revenue and improved unit economics for DRE projects; improved economics for Results Based Financing (RBF) programmes; new mechanisms for corporates to achieve Scope 2 and 3 targets and secure verifiable impacts from ESG investments; new ways to measure and monetise other environmental and social benefits, such as carbon, energy access, and other Sustainable Development Goals; and the accelerated deployment of DRE in emerging markets
D-RECs represent a new climate finance instrument to drive investment
The deal was announced on Finance Day at the United Nations Climate Change Conference COP27 in Sharm El-Sheikh, Egypt and will focus on high social impact projects, in India and South Africa.
Prajna Khanna, Global Head of Sustainability at Naspers and Prosus, said:  "D-RECs offer an innovative and verifiable platform to accelerate affordable and clean energy access for underserved communities. With Prosus's portfolio of companies in high growth markets, our multi-year partnership with the D-REC Initiative shows our commitment to transition to a greener economy that is inclusive, leaving no one behind."
Expanding certification to smaller scale projects
D-RECs extend the impact of Renewable Energy Certificates – a widely used market instrument – to smaller projects that have limited connection to the grid and/or cannot easily access financing.
Renewable energy solutions can be made viable through the use of D-RECs, such as solar mini-grids, to deliver clean energy to irrigation systems, healthcare facilities, schools, and homes. By improving critical services for communities, the tremendous development potential of D-RECs contributes to UN Sustainable Development Goals on health, food security, education and, of course, helping to fight climate change.
By purchasing D-REC's, Prosus is helping to provide climate finance for renewable energy projects that displace polluting off-grid energy generation, such as diesel generators, as well as energy from some of the most carbon-intensive grids in the world.
The open technology ledger that the D-REC Initiative has developed gives buyers, like Prosus, confidence in the origination of their certificates, producing rigorous metrics for corporate reporting against renewable energy procurement targets.
Gian Autenrieth, Renewable Energy Platforms Manager at South Pole and D-REC Initiative co-lead, said: "D-RECs are all about extending affordable access to renewable energy to those who lack it. It provides a tool for climate leaders to drive verifiable impact in emissions reductions and sustainable development."