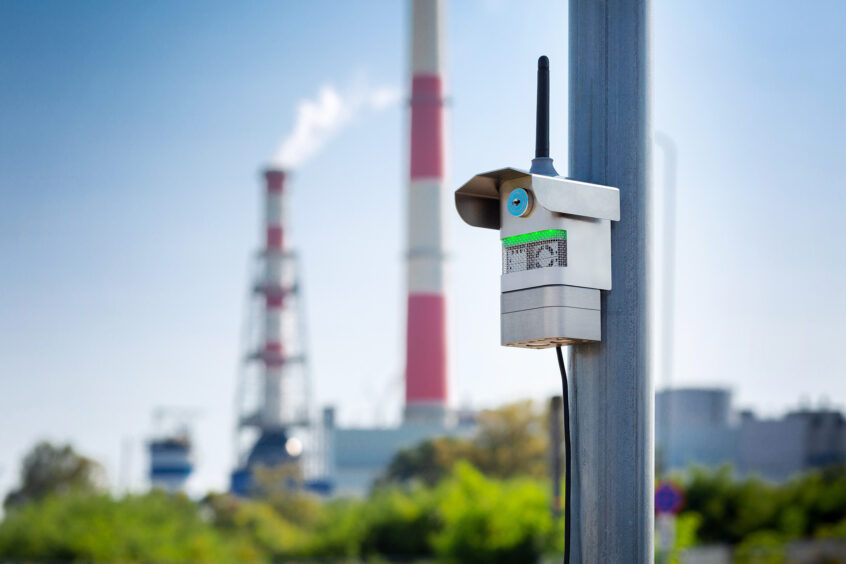 Cleantech startup Airly has raised $5.5 million in a series A round. It provides monitoring of air quality to help local governments, companies and local communities manage pollution levels.
Airly will use the funding to scale its air quality monitoring platform and provide users with actionable insights.
Air pollution is linked to 4.2 million premature deaths per year.
Authorities and companies need to monitor air quality to develop strategies to tackle pollution.
Funding round suggests appetite for air quality monitoring solutions
With the $5.5 million series A funding round, Airly has raised $8.8 million since March 2021. It raised funding from existing backers, such as Sir Richard Branson's Family Office, AENU and Untitled and new investors including Slack co-founder Cal Henderson and Snowflake co-founder Marcin Zukowski, alongside institutional investors Semapa Next and TO Ventures.
The company has over 4,000 sensors in 20 countries collecting air pollution data. It claims to be behind the largest air quality monitoring network in Europe, comprising of 165 sensors in Warsaw, Poland. It has also launched networks in Birmingham and three boroughs of London in the UK, as well as in Jakarta, Indonesia. The startup holds struck strategic partnerships with JCDecaux, the NHS and the Norwegian Institute of Air Research, and is a key partner in the European Union's Horizon 2020-funded DivAirCity project.
Filling the gap created by inadequate government facilities
Air quality monitoring by local and national governments can be old or inadequate, as they do not rely on newer technological solutions that can provide real-time data and provide actionable insights in one place. 
In the UK, for example, there are 300 national sites which monitor air quality. The Automatic Urban and Rural Network comprises 170 sites, where data on pollutant concentrations are collected on an hourly basis via communication networks. 
Non-automatic networks provide daily, weekly or monthly readings via samples collected by physical means. These are then analysed using chemicals, and that data is then used to calculate final pollutant concentrations.
Airly's method, instead, provides real-time air quality data using a distributed sensor network. The company claims it can also predict air quality 24 hours in advance using AI-driven algorithms, which have been shown to have a 95% verifiability rate. 
It now plans to incorporate best practices on its dashboard, which will include a report generator, insights, impact tracker and city ranking. This is intended to support authorities in enacting policies to combat pollution, for example by reducing or regulating traffic in busy, polluted areas.
Sensors used by Airly can also detect key particulate matter that the World Health Organization (WHO) has identified as hazardous to human health. Airly claims to be the first global pollution measurement platform that conforms with the WHO's updated guidelines issued at the end of 2021.
Reducing pollution-based mortality forms part of UN SDG 3
The UN's Sustainable Development Goal (SDG) 3 relates to good health and well-being. One of the targets of this goal is to substantially reduce the number of deaths and illnesses from hazardous chemicals and air, water and soil pollution and contamination.
According to the WHO's figures, 99% of the world's population lives in places that do not meet its air quality standards. While outdoor air pollution has been linked to as many as 4.2 million deaths, WHO also estimates that almost 2.4 billion people are at risk from indoor smoke inhalation caused by the use of biomass, kerosene fuels and coal.
Tracxn, an analyst-led platform that profiles startups, lists over 200 air quality monitoring companies, with Airly ranking in the top 10 most interesting ones. Most of the companies in the list of 10 provide real-time data and many of the same features as Airly. Tracxn sees air quality monitoring as a developing trend which is gaining in popularity. 
Cutting air pollution emissions, however, comes with a downside. According to Professor Philip Stier of Oxford University, limiting aerosols in the atmosphere can actually add to global warming. This heightens the need to accelerate the transition to net zero.
In the meantime, rising air pollution, and the UN's push for the financing of its SDGs will likely mean that air quality monitoring solutions like Airly's will remain in demand.