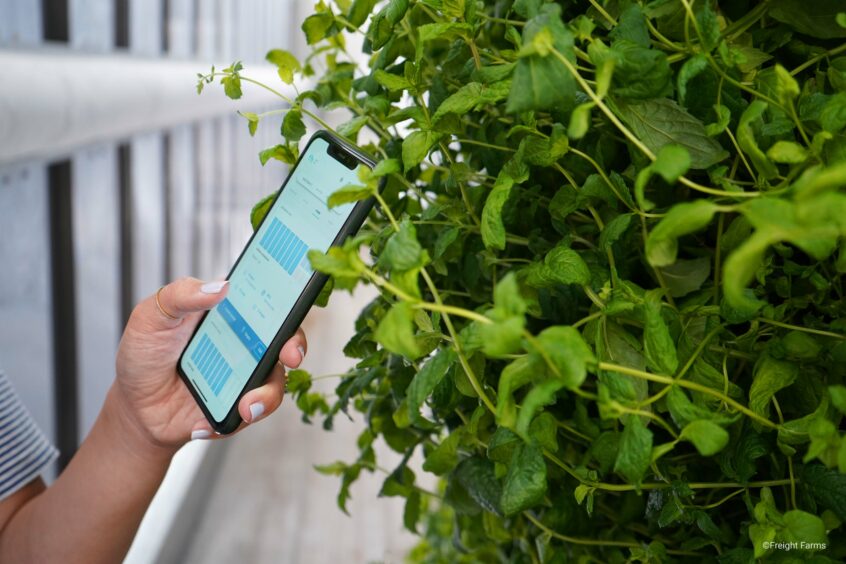 US-headquartered Freight Farms has raised $17.5 million to further develop its line of modular container farms and vertical farming software. 
Freight Farms provides an all-in-one solution for vertical farming, including a fully prepared hardware setup, comprehensive management software and business development services.

 

Despite the environmental benefits of vertical farming, its adoption has been hindered by high costs and technological complexity.

 

As the business case for vertical farming becomes clear, Freight Farms' all-in-one approach could provide easier access to startups and smaller businesses interested in growing their crops.
Freight Farms' Series B3 funding round was co-led by fluid management systems developer Aliaxis and agtech investor Ospraie Ag Science. The funding will be used to develop additional hardware and software products, as well as to hire additional staff in key departments such as engineering, customer experience and sales and marketing. 
"These investments from leading AgTech investors further reinforce the importance of Freight Farms' mission to use container farming technology to address systemic challenges within our food and agriculture systems and their repercussions on our environment," said Freight Farms chief executive Rick Vanzura. 
Vertical farming in shipping containers
Freight Farms produces vertical farms that are held within standard-size shipping containers. Its Greenery S model relies on hydroponic technology, which delivers a balanced blend of soluble nutrients through a water-based system rather than using soil. Each unit requires just five gallons of water per day to produce an annual harvest of up to six tons. The farms also include specialised areas for each stage of plant growth, such as a nursery station for seedlings and a cultivation area for maturing crops.  
Alongside its hardware units, Freight Farms has developed a software solution that enables users to control, monitor, schedule and automate the environmental conditions of their farm. Sensors are used to gather information on the farms' climate, yields, energy efficiency and other data points, which is then presented via an app.  
Clients can use the app to remotely control their farm's settings, with options to replicate previous environments for consistent yields, schedule routine tasks or input predefined recipes to automate the optimal growth of certain crops. Alerts are generated in the event of unscheduled changes or abnormal sensor readings, prompting the user to check in on their real-time data dashboard and make any necessary adjustments. 
Freight Farms' systems are currently operated by customers in 39 countries around the world, ranging from small business owners to the corporate, hospitality, retail and non-profit sectors.  
Controlling the agricultural environment for more sustainable farming
Conventional farming is one of the most significant drivers of climate change, with the agricultural industry responsible for around 24% of global greenhouse gas emissions. It is extremely resource-intensive, requiring large amounts of land, water and chemical inputs such as fertilisers and pesticides that pollute local waterways while damaging the surrounding soils. 
Adding to these concerns is the fact that the relationship between farming and the environment is not a one-way street. As the climate changes, extreme weather conditions are increasingly impacting crop yields while the availability of resources, such as freshwater or healthy soils, is rapidly declining.  
Contained vertical farming systems, however, enable farmers to control production conditions such as lighting, temperature, moisture and nutrition while mitigating the risk of pest infestations or disease. Crops produced by such systems are therefore resilient to the impacts of climate change and can be produced throughout the year while requiring just a fraction of the resources consumed by conventional agriculture. 
The business case for vertical farming is becoming clear
Despite the many benefits of vertical farming, it is yet to be adopted at scale. This is largely due to the upfront costs of setting up such a system, as well as the technological complexity of their operation. For the agricultural sector's transformation to truly take off, there is a distinct need to develop a clear business case for more sustainable farming models. 
Market demand is likely to be a key driver in scaling up the deployment of vertical farming as producers and businesses seek to gain a competitive edge. People are beginning to shift their purchasing decisions towards more sustainable products, with a 2021 survey of 10,281 consumers across 17 countries revealing that around a third would be willing to pay a premium for items with a reduced environmental footprint. 
This trend has been replicated within the food industry specifically, as consumers have grown more aware of the impacts their decisions have on the climate as well as on their personal health. The demand for local produce is on the rise, with studies suggesting that people are more likely to trust that locally-sourced food is both safe and sustainable. 
Vertical farming offers businesses the opportunity to capitalise on this demand, as crops can be grown in geographies that do not provide their required climate conditions or in urban settings where there is little space available for conventional farming. 
The financial community is also beginning to signal its demand for sustainable agricultural solutions, with 2022 having seen record-breaking investment in vertical farming. As the destruction of nature has come to be recognised for its financial, legal and reputational risk to investment portfolios, this trend seems likely to continue. 
In addition to its hardware and software products, Freight Farms offers a service through which it works with entrepreneurs and business owners to help them plan new ventures, access financial opportunities and secure site permissions. Its customers receive in-person or online training programmes to help them expand their technological capabilities, thereby enabling them to implement their operations immediately rather than invest in external expertise.  
This all-in-one approach could make vertical farming more accessible to startups and smaller businesses, while ongoing technological innovation and increasing recognition of its environmental benefits could help to bring costs down. As these developments emerge, the business case for vertical farming is becoming clearer day by day.