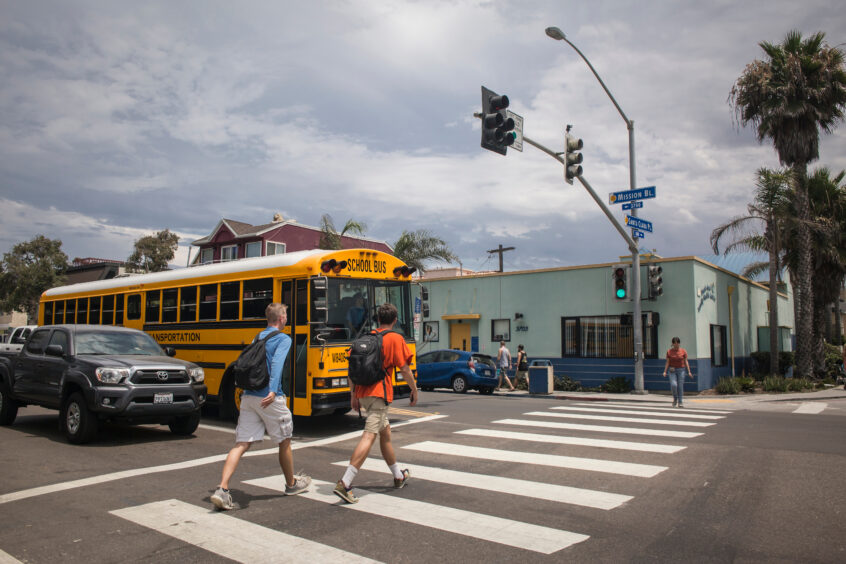 California is targeting funding to ensure underserved communities benefit from its transition to clean transportation, but climate action groups say it needs to do more to meet its own climate goals.
The California Air Resources Board (CARB) plans to invest $2.6 billion to extend clean transportation benefits to all of its citizens, especially those in underserved and low-income communities.
It covers CARB's portion of a zero-emission vehicles (ZEV) package, which is part of California Climate Commitment and includes phasing out new gas-powered cars by 2035.  
Transportation accounts for 38% of California's greenhouse gas emissions, which is well above the national average, raising concerns among climate action groups.
California continues to lead on climate change and sustainability
California has been a climate change leader in the US and globally, thanks to its history of setting aggressive emissions reduction policies. It is now the first US state to allocate funds to benefit low-income communities in its current fiscal plan, as it targets a transition to zero-emission transportation.
A focus on underserved communities, or what the state calls priority populations, represents a reversal of its policies from prior years. Over 70% of the $2.6 billion in Clean Transportation Incentives allocated to CARB in fiscal 2022-23 are going to go to these communities. It compares to 50%, or $328 million, allocated in 2017-18, and no funds at all a decade ago.
Most of the funds (85%) will be deployed for clean trucks and buses, as well as off-road equipment. The latter category includes school and transit buses, drayage trucks, and pilot projects for commercial harbour craft. Clean transportation equity projects make up 15% of the funding, and include vehicle purchase incentives and clean mobility investments, such as ride-sharing and shuttle services. 
Prioritising public health and emissions by targeting low-income communities
Low-income communities are most vulnerable to the negative health effects arising from an inadequate transportation system. According to the US Department of Transportation, this is due to a number of contributing factors, ranging from inadequate infrastructure, unsafe living conditions due to population and traffic density, and lack of ownership of cars.
In its California Climate Investments (CCI) mid-year 2022 update, CARB said that, of the nearly $2.3 billion spent on climate investments, 58% benefitted priority populations. Clean transportation equity and light-duty investments received 62% of the funding, while the rest went to heavy-duty vehicles and off-road equipment.
Many were specifically intended for priority populations. These ranged from providing incentives to scrap older cars, clean mobility option vouchers, financing assistance, sustainable transport projects, and outreach and awareness programmes. 
Most of the heavy-duty vehicle and off-road equipment projects were also intended for the sole benefit of priority populations. The segment also benefited from over 60% of a hybrid and zero-emission voucher-incentive programme, even though it was not targeted at them.
California updates climate targets, climate action group calls for more
In November 2022, CARB updated the state's climate targets and plans to reach carbon neutrality. It pledged to reduce its GHG emissions by 85% in 2045, with a 48% cut by 2030, above the prior goal of 40%. It also plans to reduce its consumption of oil by 94% and fossil fuels by 86% by 2045.
The raised 2030 target should allay concerns raised by climate policy think tank Energy Innovation (EI). In an analysis published in August 2022, EI stated that California would find it challenging to reach its prior 2030 goal of a 40% reduction in GHG emissions – which perhaps raises further questions on whether the state can reach its updated, more ambitious goal.
What can California do to step up its emissions reduction pace?
The think tank provided several recommendations for California to speed up its emissions reduction. For example, it suggested it should adopt a zero-emission vehicle sales standard by 2030, and 100% by 2035. Transport emissions make up 38% of California's GHG emissions, above the national average of 27%. In August 2022, the state banned the sale of new gas-powered cars by 2035.
Buildings and industry also provide a high potential for driving decarbonisation. EI recommended that the state requires all industrial processes to use electricity or hydrogen for heat, all home appliances be electrified, and achieve a 92% clean electricity standard by 2030.
California also benefits from the first carbon market established in the US. The cap and trade programme, launched in 2013, is implemented and enforced by CARB. Funds provided by the auctions in the carbon market are used to fund CARB's CCI programme. 
California has some hard choices to make over cap and trade funding allocation
The recent fires in California have led to the state spending cap and trade revenues on fire agency budgets. As it has been widely reported, this has raised concerns from climate action groups over whether this is an appropriate use of funds.
CCI funds are meant to target GHG emissions strategies such as protecting forests from wildfires. The state legislature has appropriated $200 million per year from fiscal year 2022-23 until 2028-29 for forest fire programmes. But this seems fractional when compared to the $19.2 billion that the cap-and-trade auctions have generated since 2013.
In the end CARB's choice of allocating funds comes down to choosing between funding resilience or mitigation, a choice which is not easy, and in which there are no clear winners.