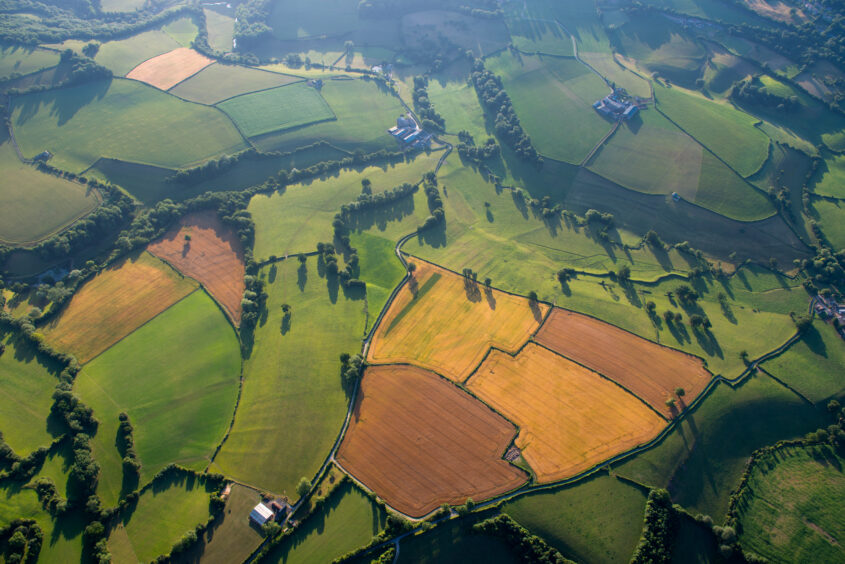 Farming insurance provider Cornish Mutual has made a 'significant investment' in Terrafarmer, a UK-based regenerative agriculture consultancy. 
Cornish Mutual will expand its services to support its policyholders with the implementation of regenerative farming techniques.

 

The UK's agricultural sector is highly exposed to climate-related risks, but farmers are lacking the knowledge to apply more sustainable methods.

 

As insurance companies gain awareness of their indirect exposure to climate risks, we are likely to see an increase in the number of insurers providing support for a sustainable transition.

 
Cornish Mutual provides specialised insurance coverage for arable, livestock and dairy farms in the South West of England. Through its investment in Terrafarmer, the firm plans to extend its service offering to support its clients in coping with climate-related risks. 
"We have been talking to our farmer Members about how we can help them increase profitability and manage risk. Regenerative techniques have huge potential for this, while also addressing issues of resilience and environmental impact, but many farmers don't know where to find trusted independent advice. We have been working with Terrafarmer on how we can help our members gain the knowledge required to adopt those techniques", said managing director Peter Beaumont. 
According to Gemma Clarke, co-founder and executive chair of Terrafarmer: "The investment from Cornish Mutual will not only help us reach more farmers with our services, but also demonstrates their belief in supporting their community of farmers in building more resilient farm businesses."   
The agricultural sector's exposure to climate risks
The current food and agricultural system accounts for more than 30% of global greenhouse gas emissions, and around 10% of the UK's total. Industrial farming consumes vast amounts of water, land and toxic chemical inputs while producing substantial volumes of waste and contributing to soil erosion, water pollution and biodiversity loss. 
At the same time, the sector is uniquely vulnerable to the accelerating impacts of climate change, such as the increasing frequency of extreme weather events and the declining availability of fresh water. As such, the agricultural industry has been left highly exposed to a number of climate-related risks. 
Climate Risk UK's 2021 report provides evidence of how farm productivity could suffer due to extreme heat, extensive flooding, severe drought conditions and the saline intrusion resulting from rising sea levels. More specifically, it projects that heavy rainfall and high winds will contribute to soil erosion, while periods of drought could cause the land to dry out.  
Furthermore, it suggests that climate change will result in an increasing number of invasions by pests, pathogens and non-native species that could cause severe losses to farm profitability. Indeed, a bacterial disease known as Septoria tritici blotch is already costing UK wheat farmers up to £200 million per year in reduced yields. 
As these risks grow more severe, there is an urgent need for the agricultural sector to transform its operations. Farmers are faced with the immense task of reducing their own contributions to climate change, while also building their resilience to future climate scenarios that are unlikely to be avoided. 
Regenerative agriculture offers a solution, but farmers lack the necessary knowledge
Regenerative agriculture could provide a solution to the farming dilemma. Indeed, methods such as no-till farming or crop rotation have been shown to increase yields while reducing soil erosion, improving water retention, increasing carbon sequestration capacity and supporting local biodiversity.  
Accordingly, the Sustainable Markets Initiative's Agribusiness Task Force has recommended that the adoption of regenerative farming must triple its rate of growth to account for at least 40% of global cropland by 2030. In its report on the matter, however, it identifies a sizeable knowledge gap as being one of the main challenges to its recommendations. 
Similarly, the UK Government recognises that, although 67% of UK farmers believe that greenhouse gas emissions should be considered when making their business decisions, the majority do not understand the importance and practicality of implementing more sustainable techniques. A survey report from 2021 reveals that 'lack of information' and 'lack of clarity on what to do' were two of the main reasons why farmers were not taking action. 
Terrafarmer was founded in 2021 to address this knowledge gap. The startup provides a soil scanning service, through which it analyses the nutrition, carbon content and bulk density of farm soil samples. It then creates maps that are used to inform farm management decisions on factors such as fertiliser requirements, nutrient distribution or livestock grazing. 
Its clients are supported by experienced consultants, who provide them with guidance on the implementation of regenerative techniques that are specifically tailored to suit their farms. Each solution is expected to drive maximum profits, while helping farmers to overcome the complexity of adopting regenerative practices. 
Through these services, Terrafarmer claims that its clients will achieve both sustainability and profitability. It is perhaps unsurprising, then, that its solution has gained the interest of an insurance provider such as Cornish Mutual. 
The self-preservation of the insurance industry
As the agricultural industry becomes more exposed to climate-related risks, so too do its insurers. The increasing frequency of severe weather events, for example, translates into an increasing number of claims made by insured businesses. With such losses mounting, insurance companies must consider how climate risks to their policyholders could impact their own bottom lines. 
Current projections suggest that the sector is poorly prepared to account for these changes, with the Bank of England's 2021 stress test finding that its annualised losses could increase by up to 70% under a 'late action' scenario. The Intergovernmental Panel on Climate Change, meanwhile, has already warned of the need for insurers to adapt their loss models in order to assess their exposure to climate risks. 
As insurers grow more aware of how they may be affected by climate change, there is a risk that highly exposed businesses could simply be deemed 'uninsurable' or face unmanageable rises in their insurance premiums. While this would allow insurance companies to reduce their payouts, it would also result in a significant loss of custom. 
Alternatively, insurers could play a more active role in driving the transition to net zero by supporting their policyholders in building resilience and managing their exposure to climate-related risks.  
The Association for British Insurers has created a roadmap for how this could be done. Among its key recommendations, the roadmap suggests that insurers should mobilise their own capital towards the development of sustainable solutions and make use of their interactions with various businesses to provide the necessary support. 
Cornish Mutual's investment in Terrafarmer serves as an example of how these recommendations can be taken on board to help vulnerable businesses in lowering their exposure to climate risk. Such an approach will help maintain the insurer's stability, while simultaneously benefitting the individual farmers that receive Terrafarmer's support. 
As the mutual benefits of effective climate action are increasingly recognised, it seems likely that insurance companies around the world will demonstrate a similar interest in supporting the transformation of their targeted industries.