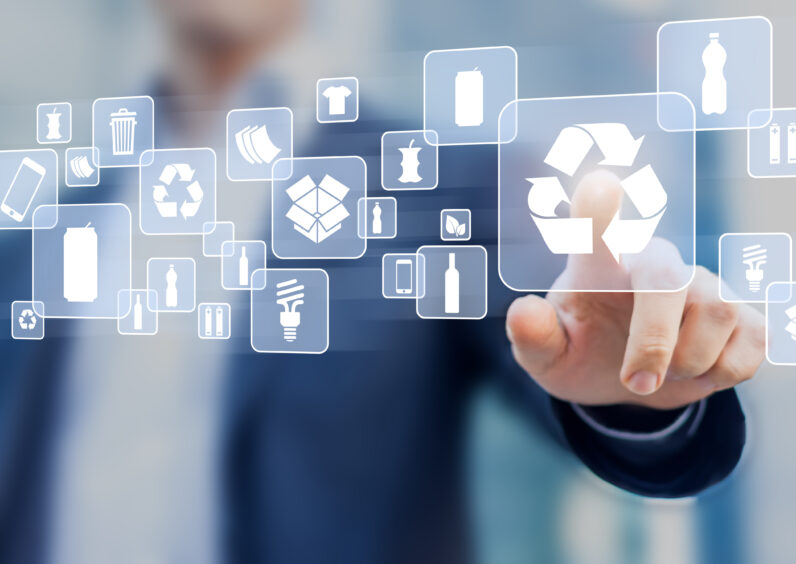 Waste management startup CheckSammy has raised $15 million to further the development of its smart technology suite for transparent and sustainable waste removal.
CheckSammy has developed a suite of smart technologies to improve the efficiency, transparency and sustainability of its sector-agnostic bulk waste removal services.

 

Systemic problems with existing waste management systems are contributing to a number of environmental, social and economic concerns.

 

As businesses scramble for traceable data to demonstrate their progress towards sustainability, the market for smart waste technologies seems ripe for rapid growth.

 
CheckSammy's network of over 5,000 drivers and 25,000 reverse recycling carriers provide bulk waste removal across North America. Its latest funding comes as an equity investment from Zero Infinity Partners as well as a term debt facility provided by FirePower Capital and PaceZero Capital Partners. 
The investment will be used to further the development of CheckSammy's suite of smart technologies, enhancing the transparency and sustainability of its services. 
"Business owners and facility managers have long needed an 'easy button' for waste management and sustainability services to quickly, yet smartly, free up space," said Sam Scoten, co-founder and chief executive at CheckSammy. 
"This strategic investment in our technology reinforces our ability to bring greater visibility and convenience to the process, help customers better reach their sustainability goals and reduce their carbon footprint. We provide detailed data on where and how much waste is redirected along with documented proof of the outcome," he added. 
A smart approach to transparent and sustainable waste management
CheckSammy relies on a variety of technologies to deliver tailored solutions for sustainable waste disposal, ranging from the donation of textiles to the recycling of cardboard or the conversion of unused food into biogas. 
These technologies include SmartBINS, which uses sensors to determine when they should be emptied and provide regular reports as well as real-time updates. The bins are connected through GPS to CheckSammy's SmartAPP, which enables its haulers to receive notifications about pickups and drop-offs.  
The app is also used to collect, record and share information on each job, with the option to upload and categorise location details, photos and key metrics such as item weight or type of waste. CheckSammy has also developed a SmartFLEET system that improves its efficiency by optimising the routes of its drivers, ensuring that any customer across North America can take advantage of its same-day service. 
Customers manage their service via CheckSammy's SmartDASHBOARD, a cloud-based interface that provides a full overview of each user's waste disposal journey. Drawing from the track-and-trace capabilities of each of the company's systems, the dashboard creates individual reports of how much waste has been collected, where it was disposed of and what portion was donated or recycled. 
These reports can be tailored to each customer's requests, providing the granular data required to meet sustainability and compliance frameworks. If CheckSammy's services are used repeatedly, customers can gain additional insights such as how their approach to sustainable waste management is progressing over time. 
The startup intends to increase the accuracy and efficiency of its services by expanding its use of artificial intelligence (AI) and blockchain technologies. It envisions AI being used to eliminate the need for manual item cataloguing and determine which items are recyclable, while blockchain-based smart contracts could enhance its reporting capabilities and enable each agreement to be digitally verified without the need to involve costly third parties. 
The opportunities of smart waste management
Over the past few decades, population growth, economic development and excessive consumption have resulted in a significant increase in the global generation of solid waste. Traditional waste management systems are struggling to cope, with various environmental, social and economic consequences emerging throughout the different stages of collection, segregation and disposal. 
For example, poor waste management can lead to adverse effects on soil health, water and air quality and biodiversity – all while generating significant levels of greenhouse gas emissions. It can also create unhygienic living conditions, particularly in urban areas, potentially enabling the spread of disease. 
In economic terms, this places pressure on local healthcare and environmental services, resulting in higher costs for authorities that eventually become the burden of taxpayers. Inefficient waste services are expensive to upgrade, but leaving them as they are could mean that money is being wasted on unnecessary labour, machinery and associated resources such as vehicle fuel. 
Smart technologies, defined as Self-Monitoring, Analysis and Reporting Technologies that can typically communicate with one another to improve efficiency and transparency by making use of advanced data, could help to address some of the systemic issues of global waste management. 
For example, smart technologies can facilitate real-time waste disposal, preventing rubbish from building up in undesired locations and thereby reducing public health and environmental issues. They could also help in streamlining waste collection, saving the financial expense and carbon emissions of excess vehicle fuel.  
Other use cases include the improvement and automation of waste segregation, which could prevent recycling systems from becoming contaminated by items that have been disposed of incorrectly, or the development of reverse logistics networks that present new opportunities for sustainable alternatives such as reuse or refurbishment. 
Moreover, the data collected by smart technologies could help waste managers to track their progress, identify problems and establish novel strategies or regulatory measures to drive further improvements. Such data can be particularly valuable to businesses seeking to demonstrate their compliance with existing legislation or their commitments to sustainable waste disposal. 
Driving the adoption of smart waste technologies
Indeed, traceability is critical not only in improving the sustainability of supply chains but also in improving companies' efficiency, resilience and competitiveness. The adoption of smart waste technologies is beginning to gain public support, while governments have started to introduce new legislation to improve waste management across a variety of sectors. 
The UK, for example, is revising its Resource and Waste Strategy with the intention of enforcing stricter regulations around extended producer responsibility. In Europe, legally binding targets will be in place for the reduction of food waste by 2023, while negotiations have recently begun for the development of global legislation on plastic waste by 2024. 
In support of these regulatory measures, voluntary disclosure frameworks are being developed as a means to hold companies more accountable. This presents both risks and opportunities for businesses, as poor performance could result in legal penalties or reputational damage while demonstrable progress could make them more attractive both to consumers and investors. 
As executives around the world have started to recognise the importance of environmental, social and governance (ESG) factors to the success of their business, the demand for transparent and traceable data solutions is on the rise. Such data is crucial in enabling corporates to articulate and differentiate themselves based on their ESG approach, thereby allowing them to comply with emerging legislation, appeal to concerned citizens and present attractive, low-risk investment opportunities. 
This demand for transparency and sustainability will undoubtedly drive the adoption of smart waste technologies, with CheckSammy's investment providing an early example of the market's potential for growth.