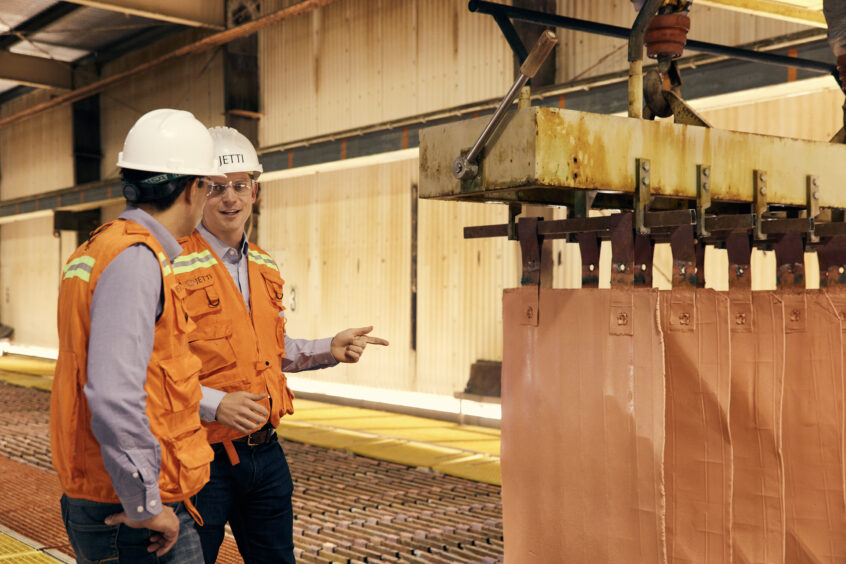 BMW's venture capital arm has invested in US-based Jetti Resources, which has developed a novel process of copper extraction from waste ore. This will help the automaker reduce resource consumption in its production process, which forms part of its Vision 2030 plan.
BMW Ventures, the venture capital arm of the German automaker, has taken a stake in Colorado-based Jetti Resources.
It will allow BMW to address its demand for copper in a more sustainable way, using Jetti's process for extracting copper from previously unused ore.
As Jetti's technology is already available at industrial scale, partnering with firms such as BMW will speed up global expansion.
BMW's investment driven by rising need for copper in automotive manufacture
The rising demand for electric vehicles, driven by government mandates and consumer preference, is driving the need for copper. The metal is a vital material needed to produce electric drive trains, according to BMW (GER:BMW), which prompted its investment in Jetti Resources' innovative copper extraction methodology.
BMW plans for at least half of its production volume to consist of electric vehicles by 2030.
Jetti's sustainable copper extraction appeals to miners and process industry
Jetti Resources, based in Boulder, Colorado, focuses on making copper production more sustainable. Its proprietary technology enables the extraction of copper from stranded resources such as ore waste, reducing the for virgin ore.
It says its process can reduce CO2 emissions by 40%, while also lowering NOx and Sox emissions by 70% when compared to traditional mining, adding to its sustainability appeal. According to Jetti, about 70% of the world's copper resources are contained in primary sulphide ores. This is material that was previously considered waste, but can now be tapped via this new form of resource-conserving extraction.
The company was founded in 2014 and raised $100 million in a funding round in October 2022. It has two commercial operations in the Americas: the first with Capstone Copper (TOR:CS) in Pinto Valley, Arizona, and the second with an unnamed global mining company.
Jetti's latest financing round included new and existing investors representing mining companies and global industrial conglomerates. These included new investments from Freeport-McMoRan (NYQ:FCX), BHP Ventures (LON:BHP), Orion Resource Partners, and funds and accounts advised by T. Rowe Price Associates, Inc. Existing investor Mitsubishi Corporation (JPX:8058) also deepened its stake.
Recycling and circular economy part of BMW's climate strategy
BMW announced a series of initiatives in August aimed at improving the life cycle sustainability footprint of its vehicles. A pilot programme currently underway to use 100% recycled material in packaging could form the standard for new contracts from 2024 onwards.
As part of its sustainability strategy, the group is targeting a 20% reduction in supply chain CO2 emissions by 2030. It has committed to reducing resource consumption in production, as part of its Vision 2030 plan, with a goal of cutting CO2 emissions in its production processes by 80% by 2030, on 2019 levels.
BMW needs to speed up circular economy goals 
In 2021, the group said it would seek to mitigate climate change by reducing vehicle emissions throughout its lifecycle, focus on circular economy principles, and increase the use of recycled materials. The World Economic Forum and the World Business Council's 'Circular Cars Initiative' launched at Davos in 2020 is attempting to accelerate circular economy business models in the automotive and mobility industry.
Applying previously announced circular economy goals across all models and lines, however, is not imminent, with the BMW Vision Circular concept only planned for 2040.
Nonetheless, partnering with companies such as Jetti can help speed up its sustainability goals, as well as scaling up the adoption of innovative technologies.
Wolfgang Obermaier, head of indirect goods and services, raw materials and production at the group, said: "By investing in Jetti, we are supporting technological progress in the field of copper extraction, with a focus on responsible and resource-conserving methods."
"This new process has the potential to improve the environmental footprint and integrity of our supply chain, even with growing demand for resources like copper."