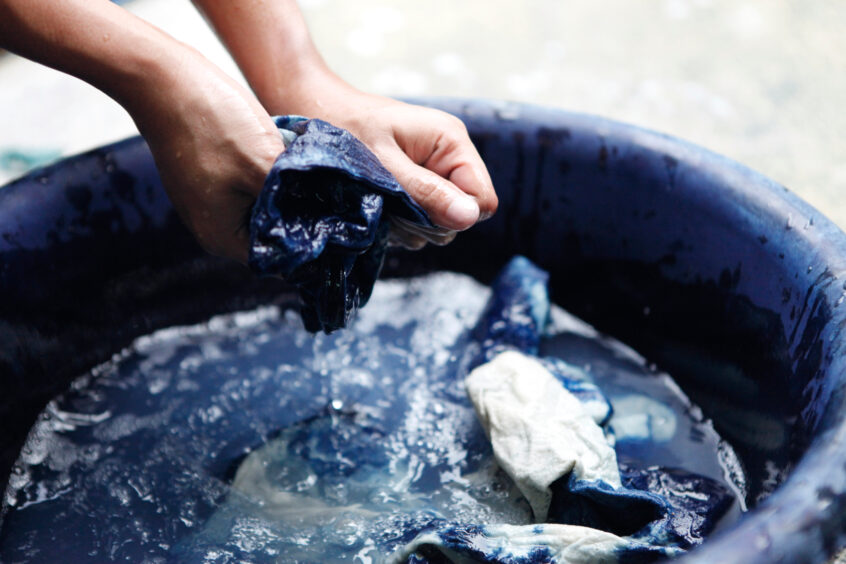 US-based natural dye manufacturer Stony Creek Colors has raised $4.8 million to expand its production of indigo that has been farmed using regenerative techniques. 
Stony Creek Colors has established a network of farmers, chemists and mills that enable it to produce natural indigo dye without harming the environment.

 

Currently, around 50,000 tons of indigo is made synthetically each year, consuming large amounts of fossil fuels and producing toxic waste that devastates local ecosystems.

 

As the fashion industry comes under pressure to improve its relationship with nature, there will be increasing demand for sustainable production techniques.

 
Stony Creek Colors' $4.8 million series B funding round was co-led by Levi Strauss & Co. and agricultural investment group Lewis & Clark Agrifood. Levi's contribution builds on its previous relationship with Stony Creek, through which it piloted the firm's natural dyes within its Wellthread denim collection. 
The funding will be used to expand Stony Creek's regenerative farming infrastructure and further the development of its sustainable dye extraction process as it prepares to scale up its operations. 
"Stony Creek Colors was founded on the idea of harnessing naturally occurring chemicals in plants, to solve fashion industry challenges while giving farmers a profitable regenerative rotational crop," said Sarah Bellos, founder and chief executive of Stony Creek Colors. "This equity round initiates our next phase of long-term growth", she adds. 
Natural indigo grown on regenerative farms
Since its inception in 2012, Stony Creek has built up a network of farmers, chemists, mills and brands that support its scalable production of indigo dyes that are certified under the US Department of Agriculture's BioPreferred Program as being 100% bio-based. 
The company's proprietary indigo varieties are now grown, harvested and processed on over 500 acres of farmland across Tennessee, Kentucky and Florida. With Stony Creek's support, each farmer plants indigo as a rotational crop in a regenerative process that improves soil health while also increasing its capacity for carbon sequestration. By choosing indigo as part of their rotation, farmers can increase their profitability by producing a valuable commodity throughout the year. 
Once the indigo has been harvested, Stony Creek works with a number of US factories to extract the components needed for its natural dyes. Finally, the firm collaborates with textile mills and brands to offer naturally-dyed products to consumers around the world. 
According to Stony Creek, the vertical integration of its entire supply chain allows the dye used in each end product to be traced back to the exact farm on which the indigo was grown. Such transparent data on regenerative agriculture is valuable to brands and consumers alike, and that added value could therefore create a positive feedback loop that encourages more farmers to adopt regenerative practices. 
What is indigo, and where does it normally come from?
Indigo has been used for over 6,000 years as a traditional dye that provides a deep blue colour. Although it has been used to dye silk, linen, cotton and leathers, it is most commonly used to give denim its classic hue.  
Originally, all indigo was produced naturally through its extraction from cash crops across Europe, India and the Americas. This all changed at the turn of the 20th century, when a process was developed to produce chemically synthesised indigo that is almost fully indistinguishable from its natural counterpart. 
This process is now used to produce synthetic indigo on a massive scale, reaching 50,000 tons per year between 2011 and 2018. With over four billion denim garments being made annually, it seems unlikely that the demand for indigo dyes will decline in the near future. 
The excessive production of synthetic indigo is severely problematic, as it consumes large volumes of aniline, a toxic compound derived from crude oil. A number of other hazardous chemicals, including formaldehyde, hydrogen cyanide and sodamide are also used in the process. 
When these chemicals are used in indigo synthesis, they generate substantial amounts of toxic waste. As indigo is insoluble in water, additional chemicals are deployed to enable the extraction of the final product. Finally, a highly toxic substance known as mordant is used to bind the synthetic dye to its applicable textile, with the excess being discarded in a stream of wastewater. 
This wastewater cannot be recycled and is often dumped into local rivers, polluting their ecosystems and poisoning a variety of plant and animal species. A particularly severe case of indigo pollution was seen in Mumbai during 2017, when dogs that swam in one of the city's rivers began to turn an alarming shade of blue. 
In light of these environmental concerns, recent years have seen rising demand for a return to natural indigo. Although many believe this to be a more ecologically friendly alternative, there has been little consideration of how indigo farming contributes to the overexploitation of natural resources. 
Conventional farming of any sort results in the excessive use of land, water and chemical inputs, with global textile production consuming around 98 million tons of non-renewable resources each year.
Traditional agricultural practices risk contributing to deforestation, soil erosion, biodiversity loss and pollution, so to presume that natural indigo is inherently sustainable is to neglect a wide range of potential issues. 
Building demand for sustainable textiles
Stony Creek's promotion of regenerative farming could allow it to mitigate these issues, with methods such as crop rotation having been shown to increase yields while improving soil health, increasing carbon sequestration capacity and supporting local ecosystems. 
The company's ability to bring its regenerative model to scale, however, will depend on the demand of the wider market. Brands and retailers have the power to influence which materials are used in their products, so their purchasing is critical in directing capital investment towards sustainable options. 
Emerging developments suggest that the market may be headed in the right direction, with fashion companies including H&M (STO:HM B), Inditex (BME:ITX) and Kering having recently committed to purchasing over half a million tonnes of sustainable fibres.  
These businesses are beginning to recognise the material risks associated with their impact on nature, ranging from the dependencies of their supply chains to the growing consumer demand for more sustainable products. With regulators beginning to crack down on unsubstantiated sustainability claims, brands that fail to align with consumer expectations could incur legal penalties in addition to reputational damage. 
Investors are also starting to take a more negative view of companies that are contributing to ecological damage, and are calling for the transparent data they need in order to screen such companies out of their portfolios.
The Taskforce on Nature-related Financial Disclosures is already working on a voluntary framework through which this data can be provided, with the expectation that businesses will be held more accountable for their relationship with nature. 
As pressure begins to mount up, leading fashion companies will continue their search for more sustainable alternatives to conventional textile production. In doing so, they are sending a clear signal to innovators like Stony Creek that they are ready and willing to adopt sustainable production techniques on a commercial scale.