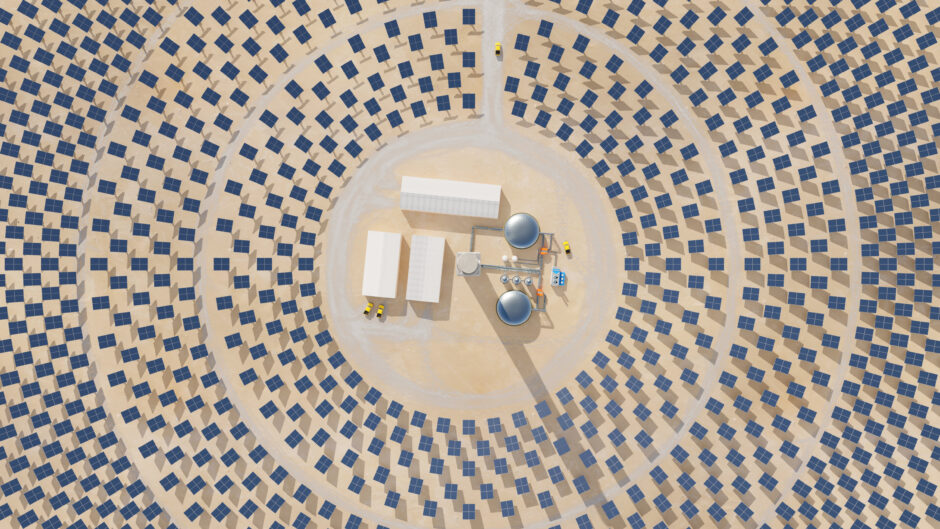 British solar thermal design and engineering company Naked Energy has announced a £1 million investment from Nesta, the UK innovation agency for social good.
Nesta's investment comes as the solar thermal scale-up is gearing up for a £10m+ Series B fund-raising.
 Naked Energy's innovative solar thermal tech is part of a growing focus on the global decarbonisation of heat.
 Over half of global energy use is related to heat, and the IEA predicts solar thermal will be in 30% of homes by 2050.
Christophe Williams, CEO and founder of Naked Energy, says: "At Naked Energy, we're always looking for investors who share our long-term green vision, and Nesta is clearly aligned with our mission to deliver climate impact at scale.
"We're delighted to be supported by Nesta's Impact Investment team. With Nesta's help we're looking forward to being able to increase the rate at which we decarbonise heat – an issue that we need to urgently address in order to reach net zero."
The funding will be used to build out the engineering and commercial teams of the  solar heat tech developer, and help scale the production of their solar technology.
Naked Energy's solar thermal technology
Naked Energy's Virtu collector combines high efficiency solar photovoltaic (PV) and solar thermal technology to generate both electricity and heat from a single collector, and their unique modular design makes them the world's highest energy density solar technology.
The VirtuHot collector, which generates solar heat, received the gold standard TUV Rheinland certification in 2021, and the combination of the two technologies are understood to be 3-4x more efficient than traditional solar panels. That makes them a good choice for those businesses with high heat demand but limited roof space. That means its solar PVT technology delivers up to 3.5 times the carbon savings per m2 in comparison to conventional solar PV.
November 2022 saw news that the company was entering into an agreement with Italian consulting and energy service company X3Energy, to distribute Naked Energy's solar thermal and photovoltaic thermal (PVT) products across Northern Italy.
Solar thermal is an increasing focus for investors in climate tech
The deal was announced as part of a larger funding round that is understood to have already seen investment from Barclays and ELM Companies, and during an exciting period for solar thermal.
The International Energy Agency has reported that almost half of global energy use is related to heat, either for homes or industry. These uses can range from heating, hot water and cooking to a range of industrial processes. The IEA has also projected that solar thermal will be used in 30% of buildings globally by 2050, and Naked Energy's Virtu technology could play a role in the expansion of this market.
Nesta drives UK impact investment
Nesta says its focus is to design, test and scale solutions to society's biggest problems. It has three core missions – to give every child a fair start, help people live healthy lives, and create a sustainable future where the economy works for both people and the planet.
The agency is interested particularly in impact investment and its portfolio includes a range of tech companies targeting its three central mission, driving innovation alongside social or environmental impact.
Alex Hook, Senior Investment Director at Nesta, says: "We are delighted to invest in Naked Energy, our first investment which is aligned to Nesta's Sustainable Future goal to decarbonise UK households.
"Virtu, the technology that Naked Energy has developed, is revolutionising the solar energy space, with potential to meaningfully remove carbon from the built environment. This sits at the heart of Nesta's goal to decarbonise UK households and we look forward to working hand in hand with Naked Energy to accelerate its growth and impact."