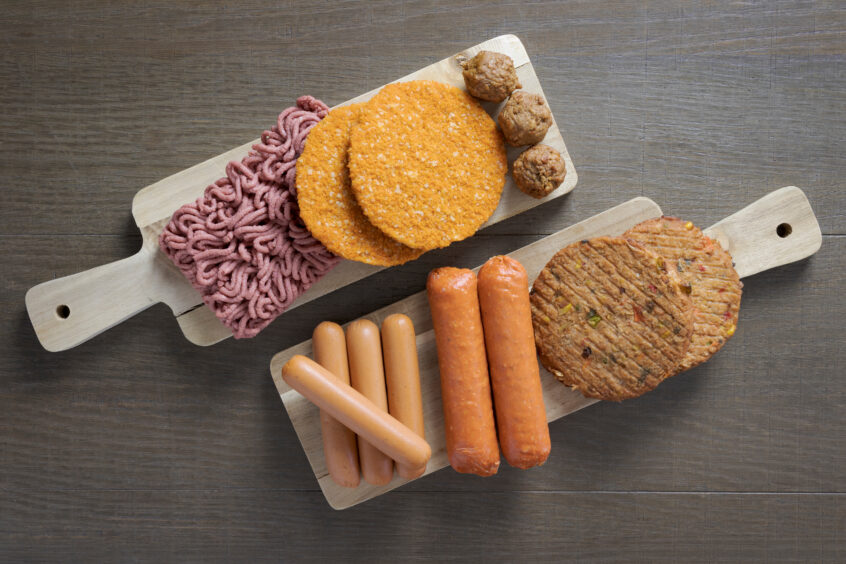 Black Sheep Foods has raised $12.3 million in finance from Unovis, Bessemer Venture Partners, AgFunder, and Prince Khaled bin Alwaleed's KBW Ventures to create tastier versions of meat made from plants.
San Francisco-based plant based meat alternative Black Sheep Foods raises $12.3 million for expansion.
The food system and agriculture are responsible for the second large set of global emissions and cutting meat from diets is going to play a key role in addressing both biodiversity and climate change.
There is a battle going on between plant based meat alternatives and cultivated meat products but both may be necessary to achieve long term goals.
The company has raised $12.3 million in Series A funding led by plant-based venture veterans Unovis – an early investor in Oatly (NASDAQ:OTLY) and Beyond Meat (NASDAQ:BYND) – alongside Bessemer Ventures Partners, AgFunder, and KBW Ventures, bringing total investment to $18.05 million since the company was founded in 2019.
Plant based meat alternatives are gaining market traction
This funding round will be used to accelerate Black Sheep Foods' scale up of production for its debut lamb made from plants for national distribution.  The company's patent pending flavour technology allows them to isolate the flavour molecules that give any animal meat its distinctive flavour, identify the same molecules in plants, and reconstruct the depth of meat flavour – including mouthfeel and richness – using only plants.
"Our minds associate meat with a shape, a texture, and a flavour," says Sunny Kumar, CEO and co-founder of Black Sheep Foods, "While texture has been the focus of meat innovation, flavour is a white space. Our debut lamb made from plants has more depth of flavour, richness, and appetizing aromatics than other meats, full stop. We're in the business of giving consumers access to the most delicious meat variety, using plants instead of animals."
Prince Khaled bin Alwaleed, the MENA region's preeminent greentech investor, founder of KBW Ventures, and early investor in alt-proteins, participated in this funding round after tasting Black Sheep Foods' lamb. In talking about his experience with the lamb made from plants Prince Khaled says, "Black Sheep Foods' lamb is shockingly good; as someone who has grown up with this taste profile, I couldn't believe the authentic mouthfeel and flavour.
"With taste being a vital aspect of customer adoption, Black Sheep Foods will easily dominate amongst plant-based meats. Additionally, game meats are still a wide open playing field. There's a whole range of taste profiles that Black Sheep will be able to explore, especially with the company's technology, allowing for an amplified flavour, excellent texture, and a strong nutritional profile."
The goal of companies like Black Sheep Foods to shift the paradigm of what is considered a "meat alternative". Round lead, Unovis, an early investor in Oatly and Beyond, has a history of making bets on companies that transform food alternatives to mainstays, and believes that Black Sheep Foods is primed to do so for America's meat flavor lineup.
Dan Altschuler, Managing Partner at Unovis says, "Black Sheep Foods is set up to deliver the best-tasting meats that just happen to be made from plants. Animal-free and environmentally sound. We're thrilled to partner with them on their journey."
Black Sheep's funding is part of a growing trend in plant based alternatives to meat. September saw Spanish food-tech startup Innomy raise €1.3 million to launch its mushroom based meat substitute.
Why are meat alternatives so popular?
The current food system accounts for around a third of global greenhouse gas emissions (GHGs) overall, with the IPCC reporting that 23% of GHG's arising from human activity came from agriculture, forestry or other land use between 2007-2016. Commodity-driven land clearance and deforestation must be halted by 2025 if there is any chance of a 1.5 °C world. At the same time traditional meat production is also considered extremely inefficient, requiring 25 calories to produce one calorie of beef.
According to the FAO, feed production and processing accounts for 45% of the meat industry's GHG emissions. Around 39% of the remaining GHG emissions from the sector come from ruminants (i.e. release of methane through belches), 20% comes from fossil fuel consumption across the supply chain, and 10% comes from manure storage and processing. This makes the meat industry ripe for innovation.
According to the UN-backed Race to Zero campaign, a business-as-usual continuation of current food and agricultural activities would result in the sector losing up to 7% of its value by 2030. Disruption in weather patterns have produced food shortages and exacerbated food price inflation. Disasters in the food supply chain caused prices to be 80% higher in April 2022 than in 2020.
In the ten years to 2018 crop and livestock production losses in developing countries due to climate-linked disasters amounted to $108 billion. This is becoming an embedded problem and global food companies are facing losses of a quarter of their value by 2030, equivalent to $150 billion in losses to investors.
Black Sheep argues that for every kg of its plant based lamb that is consumed, it is saving 14.5kg of carbon emissions, 385 litres of water and saving 0.04 acres of land. Multiply that by the amount of lamb consumed and its easy to see how such a product could affect the market.  Although it is crucial to decarbonise the agriculture  industry as a whole, reducing the amount of meat consumption in individuals' diets is part of the solution.
Will cultivated meat outstrip the market for plant based alternatives
While plant based meat alternatives continue to find attention culivated, or lab grown meat, is showing increasing promise as a means of addressing the climate impact of agriculture. Where plant based meats have struggled however is in appealing to meat eaters and cultivated meat may get around this problem.
It's been argued that pant oils, such as coconut, sunflower, palm, and canola oil can degrade quickly, burn easily, melt inconsistently and aren't necessarily healthier than meat products. It added that plant-based products end up being "unhealthy and unsatisfying" because manufacturers add flavouring and other ingredients to mask the effects of the plant oils.
While Singapore was the first country to approve the sale of lab-grown meat (chicken nuggets from US-based Eat Just, the US Food and Drug Administration (FDA) recently reviewed a cultivated chicken product from Upside Foods. The report said that the FDA had no unanswered questions about the product's safety in terms of human consumption.
The cultivated meat industry has struggled to take off due to high costs associated with production, challenges in scaling up technology and regulatory hurdles. The elevated costs mean it would also struggle to compete with traditional meat products, which benefit from subsidies to the agricultural industry. 
This does not mean that authorities worldwide are not willing to support progress. The FDA itself said it is "ready to work with additional firms developing cultured animal cell food and production processes to ensure their food is safe and lawful".
In the UK, Hoxton Farms recently raised £22 million in order to cultivate its own lab-grown meat.  The funding was led by Collaborative Fund, an early backer of Impossible Foods and Beyond Meat (NASDAQ:BYND), and Fine Structure Ventures, which is affiliated with FMR LLC, the parent company of Fidelity Investments. Similar investments have been seen in Israel's Forsea, which is working on lab cultivated seafood.