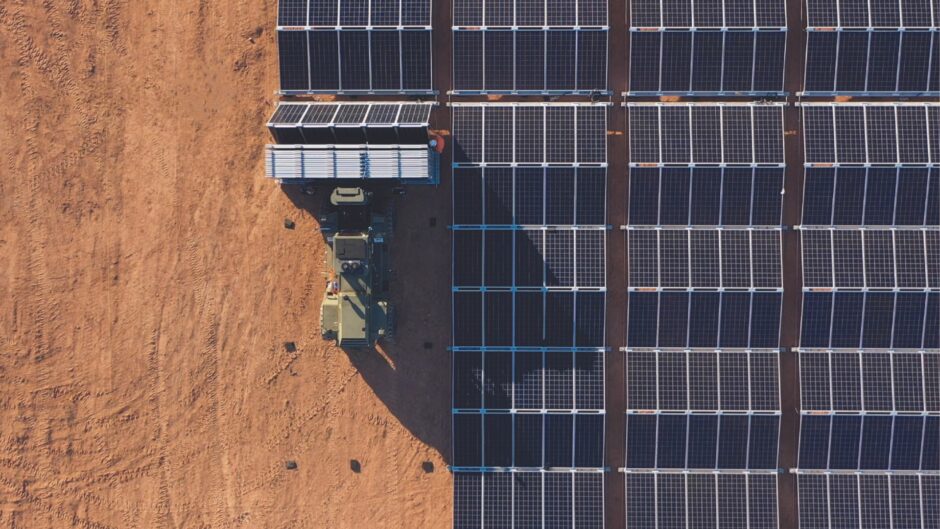 5B, the solar company that has developed unfoldable solar panels, has announced a $13.7m investment from bp ventures.
Foldable PV tech company has raised nearly $14m from bp ventures.
Accelerating deployment of solar PV will play an important role in accelerating the decarbonisation of the energy sector.
New technologies, not simply in generation but in deployment, are going to be critical for overall decarbonisation of industry.
The funding closes the company's AUD $55 million Series B funding round ($37.8 million, which is intended to provide scale up finance for its rapidly deployable solar technology enabling. fast, easy, low-cost solar installation. The investment  was co-led by existing investors The AES Corporation and Artesian.
The capital injection from bp ventures will support 5B's technology development and growth. It will also accelerate 5B's international expansion, and its plans to establish a manufacturing and assembly hub in North America.
Johnathan Stone, Principal at bp ventures, who will join the 5B board of directors said: "5B's innovative solar technology can deliver low-cost power generation at speed, helping to meet rising electricity demand. This deal is a fantastic example of bp investing in a business that will support our renewable energy transition growth engine. And is another strand of our multi-energy vector country strategy that will support the decarbonisation of energy in Australia."
bp plans to work closely with 5B scale up
bp's gas & low carbon energy (G&LCE) business and 50-50 joint venture, Lightsource bp, together with 5B will explore the best opportunities to collaborate on the deployment of 5B's Maverick technology on future bp and Lightsource bp projects.
The plan is for all three companies to work closely together in order to facilitate the deployment of solar energy, "to meet the rising demand for reliable, accessible, and affordable electricity."
Why does the way solar is deployed matter?
Historically solar tech has been criticised for being difficult to deploy and costly. Given the fact that solar PV is expected to be 80TW of installed capacity by 2050, its important to find new ways of accelerating deployment.
5B's co-founder and chief executive Chris McGrath said that the company had started out by trying to imagine how to lower risk and cost in solar PV, and how to accelerate deployment – and they'd come up with "foldy, hingy solar panels".
Today 5B's tech consists of up to 90 solar panels mounted on specially designed frames that can be unfolded and installed at speed. Its technology can be integrated with a range of conventional solar PV modules, and has integrated a range of modules sourced from different providers around the world.
McGrath added: "We have assembly sites in Australia and Vietnam. Currently we assemble our 50kW (90 modules) 5B Maverick in approximately 8 hours (our technology is prefabricated in the factory and shipped to site); by the end of next year we will be able to assemble it in less than 30 minutes with the automation technology we're currently rolling out. Right now it takes 30- 60 minutes to deploy a 50kW 5B Maverick with three people. We'll get that down to five minutes with one person."
How does the technology work?
According to the company, the 5B Maverick (MAV) is a fully prefabricated, plug-&-play solar farm in a box. It's an Australian-designed ground mount, east-west (typically), modular solar solution designed to be safer, more cost effective and faster to deploy for off grid, commercial and industrial, and large-scale solar power generation.
Each 5B Maverick array consists of up to 90 solar modules, mounted on 9 domed racks between 10 composite steel-concrete beams. It's optimised for the 540-550W module class of the utility-scale solar industry at just under 50 kWp per structure with plug-and-play wiring designed to interface with a variety of DC reticulation solutions.
The self-ballasted feature enables rapid deployment supported by an additional beam anchoring solution for higher wind loads. The prefabricated nature of the solution reduces on-site cost, time and safety risk by confining the construction of the solar array from the field to the factory, with improved quality control measures and waste processing; the number of people on site is reduced by substituting manual labour activities with machines in the factory and in the field.
The future for 5B
The company has a growing base of more than 50 customers served by a global network of 5B Ecosystem Partners.  To date, 5B has deployed its technology across more than 100 sites worldwide with total generating capacity of over 60MW. This year 5B Maverick was used to deploy panels with 1.1MW capacity – covering the equivalent of a soccer pitch – in a single day, with a team of only 10 people at AES' Andes Solar II B facility in the Atacama Desert in Chile.
McGrath, added: "It's hugely encouraging to see bp's transition and we look forward to working together to accelerate that effort. Collaborating with bp ventures and the broader bp businesses offers us a wealth of global commercial and operational expertise. It presents a great opportunity to deploy our 5B Maverick technology across a range of global markets. The backing of such an active and experienced venture capital team is a powerful validation of our technology and ability to support bp as it transitions to an integrated energy company."