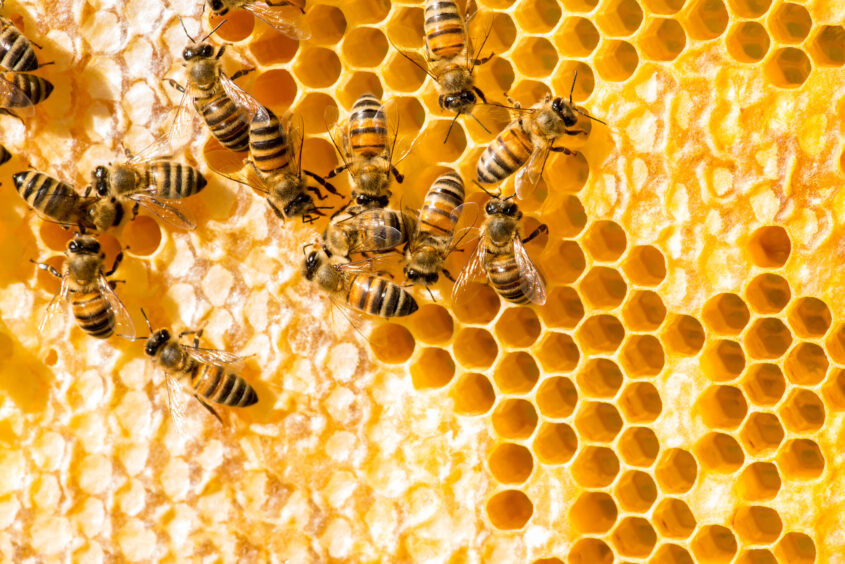 Italian startup 3Bee has raised €5m in series A funding to expand its tech-enabled beehive business and strengthen its efforts to tackle biodiversity loss.
The startup's beehives use sensors to provide comprehensive data on bee health, enabling beekeepers to respond to any issues as soon as they arise.

 

Bees help pollinate over 90% of the most globally important crops, but their populations are rapidly declining due to climate change and industrial agriculture.

 

As the development of a nature-positive economic system becomes a global priority, the protection of pollinating insects is likely to be recognised as a critical issue.

 
3Bee's series A round raised contributions from Agfunder's GROW Impact Fund, Anya Capital and the European Space Agency (ESA). Their investment will be used to build out 3Bees data mapping infrastructure and to recruit new employees across its international business development, awareness-raising and ESG service departments. 
Tech-enabled beehives reduce mortality by 25%
The company has developed a suite of technologies to protect bee populations and lower their mortality rate. Its core product is its tech-enabled beehives, which use internet of things (IoT) sensors to monitor bee health. 
3Bee's sensors gather data on the conditions of the hive, including its temperature and moisture level, and indicators of bee wellbeing such as the sounds they are making. The hives also capture photos and videos, which can be viewed at any time to monitor the bees' activity.  
Each beekeeper receives insights via 3Bee's app, and is alerted to any adverse changes or incidents. This allows them to intervene quickly should any issues arise, while also reducing the time spent physically visiting the hive when all is well. According to 3Bee, its system can reduce hive mortality rates by around 25% and improve pollination activity by around 30%. 
The firm has partnered exclusively with beekeepers and farmers that use sustainable, regenerative methods. It provides them with its technology and lists their beehives on its website, where they can be adopted or gifted by individuals and businesses.  
People who sponsor 3Bee's hives can download its customer-facing app to receive regular insights into how their bees are doing, and are sent a small portion of any honey produced. For businesses, 3Bee issues regular reports that can be used in communications with stakeholders to demonstrate the company's 'sustainable impact'. 
This impact spans far beyond the sponsorship of a single beehive when 3Bee's additional work is taken into account. The company uses the data it collects to support its research on how bees can best be cared for, and has conducted educational programmes in over 800 schools to educate children on the importance of insect pollinators. It has also entered into a long-term partnership with the ESA, which provides it with satellite imagery to be used in analysing wild bee populations, pollination activity and vegetation biodiversity. 
Since its inception in 2017, 3Bee says it has developed a network of over 5,000 beekeepers, farmers and businesses. It currently monitors around 1,000 hives, 60 million bees and over 600 million pollinated flowers. The company now plans to expand across the EU to achieve its target of monitoring 10 million bees by the end of 2023. 
Declining bee populations could cost the global economy €153 billion each year
Despite their small size, bees play a crucial role in human wellbeing. They, along with other insects, are responsible for the pollination of over 90% of the world's most important crop types and a vast range of wild plant species. 
Indeed, estimates suggest that global crop production would fall by up to 8% in a world without pollinating insects. Such losses have been valued at around €153 billion per year, before even considering bees' contribution to forage crops such as alfalfa, clover or the soybean used to produce livestock feed. 
Crop deficits could also have severe implications for the resilience of global food systems. Declining bee populations would likely lead the agricultural sector to focus on alternative crops that do not depend on insect pollination. Such crops are less effective in providing essential vitamins, meaning that global food supplies would become less nutritious. 
With the UN Food and Agriculture Organization already warning that 670 million people will not have reliable access to nutritious food supplies by 2030, this threat is not to be taken likely. Nor is it merely hypothetical. 
Bee populations are rapidly declining, largely due to human activities such as land-use conversion and the excessive use of agricultural chemicals. Climate change poses a further threat to pollinating insects, with rising temperatures, the spread of disease and the increasing activity of invasive species having each been connected with bee mortality. 
New focus on biodiversity creates demand for bee conservation 
The decline of pollinating insect is beginning to attract the attention of world-leaders, with 2018's COP14 Convention on Biological Diversity having specifically included an agreement to support pollinator conservation.  
Earlier that year, the EU had introduced its first initiative to protect wild pollinators. Its new policy framework outlined a number of strategic objectives and actions to be implemented at the Member State level, with a particular focus on expanding pollinator research, stakeholder engagement and awareness-raising.  
Following a review of its progress in 2021, the EU's initiative is now under revision. According to the European Commission, its updated version will play a key role in delivering the union's biodiversity strategy for 2030. 
The EU's activity shows how any solution to biodiversity loss must consider the importance of insect pollination services. Without these services, plant species will begin to die out, closely followed by the animals that depend on them for food or shelter. Declining vegetation would also influence natural cycles of water and carbon, reducing the availability of vital resources and limiting the absorption of greenhouse gas emissions. 
These interconnections between climate change and nature are increasingly becoming the concern of investors, who are gaining awareness of how biodiversity loss could translate into financial risk. This heightened awareness is driving the demand for capital flows to be aligned with biodiversity goals, and has prompted the development of new disclosure frameworks that will incentivise businesses to report on their relationship with nature. 
With the COP15 convention on biodiversity having just taken place from 7-19th December 2022, the development of a nature-positive economic system is now firmly in the spotlight. Given the role of bees in supporting biodiversity at large, this may well be the driver behind 3Bee's successful fundraising round.