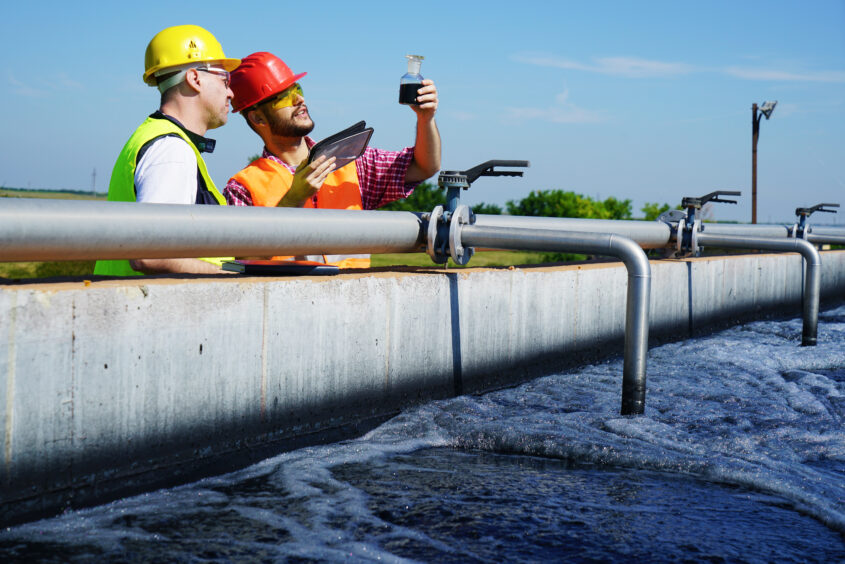 Oxyle, a Zurich-based cleantech startup, has announced a CHF 2.8M / $3m pre-seed funding round, bringing the total raised from inception to $7.4 million to address increasing global water pollution.
Oxyle has raised a further $3m to deploys its innovate water treatment and monitoring technology.
Water pollution is an increasing challenge and Oxyle's ongoing customer pilots have shown removal of PFAS to below detection limit.
With most water pollution regulations based on best available technology (BAT) a key way to improve pollution is to set new discharge regulations through the use of new technology.
The funding round was led by Wingman Ventures with participation from SOSV, Better Ventures, and another.vc. Including this round, with pre-seed non-dilutive funds and grants raised last year, Oxyle has raised over CHF 7 million in total.
Dr. Fajer Mushtaq, CEO and Co-founder of Oxyle AG said: "We are living in an era where we face several existential crises on a daily basis and lack of clean, pollutant-free water is one of them. At Oxyle, we are bringing market-disruptive solutions that remove and detect micropollutants in an efficient, cost-effective and sustainable manner for our industrial and municipal customers.
"We are exploiting new market drivers such as stricter regulations and growing public pressure to expand our operations in attractive market segments and help a diverse portfolio of global customers. We are excited to work in close partnership with our investors, customers, regulators and partners as we prepare for the market entry of our latest product, our batch treatment system."
Why does water pollution matter?
Water contaminated with persistent and toxic pollutants is one of the world's most pressing health and environmental concerns.  The protection of freshwater supplies is a critical part of action on nature and biodiversity as while the world may be 70% water, less than 3% of its water is fresh.
Bodies of water around the world are contaminated with micropollutants such as pesticides, pharmaceuticals, and PFAS chemicals. When untreated, these chemicals cause hormonal imbalances, cancer, and birth defects in humans and can pose a serious threat to the health, and even survival, of ecosystems.
Discussion of water pollution often refers to PFAS and PFOS. PFAS is short for poly and perfluoroalkyl substances. These are commonly used to make everyday items resistant to moisture, heat, and stains; some of these chemicals have such long half-lives that they have been described as "the forever chemical."
The core difference between PFAS and PFOS is that PFAS refers to a group of compounds having multiple fluorine atoms attached to an alkyl chain, whereas PFOS refers to a member of the PFAS group having a carbon chain containing 8 carbon atoms. PFAS is a large group of man-made compounds including PFOS, PFOA, GenX, etc.
Part of the greatest challenge is the deployment of an accessible solution at scale – by volume, by cost, and at the parts per trillion (and below) levels that are necessary to make a meaningful impact on health.
Oxyle says that its technology enables the removal of the most persistent and toxic pollutants from in an easy and safe manner, providing for the complete elimination of organic contaminants from wastewater. By using clean energy and sustainable materials they enable customers to meet their stringent water discharge regulations, while the provision of real-time data keeps an eye on the water quality.
Alex Stöckl, founding partner at Wingman Ventures, said: "Solving our global water crisis has never been more urgent. Our freshwater resources are depleting at alarming rates and toxic micropollutants in water lead to severe damages in our health and environment. New regulations will demand companies to act. But additionally, we need to use sustainable technology to protect our precious water resources for us, and our future generations. We are proud to support Oxyle on their journey to address our global water problem in order to give everyone access to clean water."
A company statement says: "We truly believe that the best approach to solving the global water contamination crisis is to implement stricter pollutant discharge regulations that are realistic to achieve by solution providers. Our long-term vision is to work closely with customers and regulators to set new discharge regulations and support a wide range of customers in developed and developing nations against the negative impact of micropollutants."
Current state of water pollution
At present, around 80% of the world's wastewater is discharged into rivers, lakes and groundwater bodies without receiving any treatment. Rapid industrialisation and growing demand for better consumer goods means ever increasing discharge of toxic pollutants into effluents and a strain on freshwater resources. While there has been a significant increase in the regulation of water supplies, there is still a long way to go.
In the last few years, advances have been made in the field of water analysis allowing regulators to detect very low concentrations of pollutants in water. Moreover, regulators now have a much better understanding of how toxic and problematic even very low concentrations of micropollutants are for humans and the ecosystem.
This is leading to significant change. In 2022 for example, the US Environmental Protection Agency (EPA)'s health advisory level for PFOAs (chemical used in the production of waterproof clothes, teflon, cosmetics etc.) was drastically lowered from 400 ppt (ng/L) in 2009 to 0.004 ppq (pg/L), a 100,000x stricter level due to the danger these chemicals pose to humans when consumed.
Most discharge regulations today are based upon the Best Available Treatment (BAT) standards. Oxyle's technology has demonstrated removal of even the most persistent compounds like PFAS to below detection limits of 1 ng/L, a BAT standard that is 10-100x lower than most competitors.
Empowering end-users with an efficient technology supported by real-time treatment monitoring performance, while allowing them to reuse treated water and lowering CO2 emissions in customers' value chains are core components, says the company, of its long-term mission.
How does the Oxyle technology work?
The company says it has developed a sustainable and scalable technology that destroys a wide range of micropollutants including the forever chemicals such as PFAS, pharmaceuticals, hormones, pesticides etc. from contaminated wastewater.
Oxyle's novel treatment process is driven by nanoporous catalysts that oxidise and eliminate micropollutants, down to detection limits of 1 ng/L, even for the highly persistent compounds that are resistant to existing treatments. This treatment process is coupled with Oxyle's proprietary analytics technology that allows for real-time monitoring of micropollutants, that helps customers comply with increasingly strict discharge regulations.
The aim is to install remotely operated modular, decentralised reactors of varying sizes to meet customer needs from chemical industries, pharmaceutical companies, hospitals, and environmental remediation projects.
The core technology behind this game changing innovation was developed over five years by Oxyle's CEO and co-founder, Dr. Fajer Mushtaq, during her doctoral research at ETH Zurich that commenced in 2014. Together with Dr. Silvan Staufert, the concept of a novel catalyst for micropollutant degradation was built into a scalable technology platform that is able to address the problem where it matters: at the source, before they enter waterways.
Oxyle has successfully completed several paid pilots with industrial and municipal customers, advanced its technology to TRL8 through on-site demonstrations, and grown to a team of 17 people. Oxyle's team of water experts possess strong expertise in developing and implementing advanced water treatment and monitoring solutions for its customers.
Founded in 2020, Oxyle is a venture backed startup supported by the European Commission's H2020 EIC accelerator program, the Eurostars program and several competitive Swiss programs. Oxyle has won several competitive awards including the 2020 Grand Prize of the Venture competition, the 2021 SEIF award for Social Innovation sponsored by UBS, and the 2021 Best Energy and Environment Startup award at the Hello Tomorrow global summit from over 4000 applicants.
Oxyle has also been awarded financial support from SNSF's BRIDGE PoC grant, ERC PoC grant, Gebert Rüf Stiftung's Innobooster grant, the Venture Kick program, and Innosuisse.