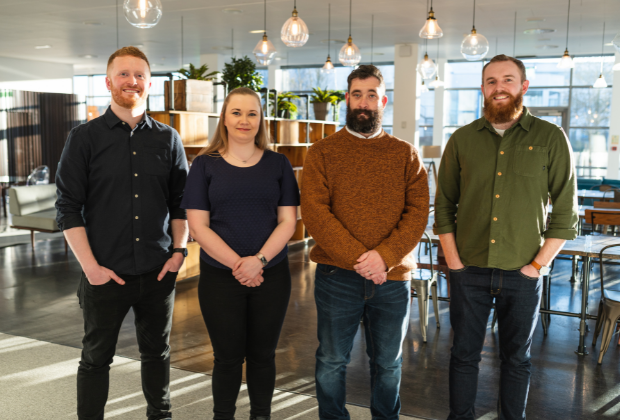 Glaswegian startup Revive Eco has raised £375,000 to commercialise its patent-pending process for transforming waste coffee grounds into sustainable alternatives to palm oil ingredients. 
Revive Eco will collect spent coffee grounds from local businesses and convert them into ingredients that can replace the palm oil used in everyday products.

 

Used coffee grounds are typically sent to landfill, where their decomposition releases greenhouse gas emissions. Palm oil production, meanwhile, is widely associated with a range of environmental issues.

 

As companies face the increased scrutiny of consumers, policy-makers and investors, there will be an ongoing increase in the demand for sustainable alternatives to conventional ingredients.

 
Revive Eco's latest fundraising round was led by Gabriel Investment Syndicate, with additional contributions from Scottish Enterprise and the University of Strathclyde. Their investment will be used to hire new staff members and to expand the company's manufacturing capabilities. 
"With the support of our investors, we can progress our mission to make coffee the most sustainable commodity on the planet, and move our production from the lab to industrial scale," said Revive Eco co-founder Fergus Moore. 
Coffee waste transformed into sustainable alternatives to palm oil
Prior to the COVID-19 pandemic, Revive Eco had been running a local grounds collection service which gathered around 2.5 tonnes of used coffee grounds each week. This service was halted when lockdown measures were introduced and cafes were forced to close, but will soon be relaunched. 
Once it ramps up, the service will provide a supply of spent coffee grounds sourced from local businesses that would otherwise be paying for it to be sent to landfill. This will serve as the feedstock for Revive Eco's patent-pending distillery process, which extracts the natural chemicals that coffee grounds contain.  
From these chemicals, the company will produce a range of functional ingredients such as emulsifiers and surfactants that are typically derived from palm oil. "When comparing our derivatives from coffee oil to the derivatives from palm, they are pretty much identical," claimed Moore.  
He added: "To compete with raw palm oil on price would be pretty difficult unless we were at a very large scale. That being said, once you bring shipping costs into the equation, it becomes a lot more expensive than you might think. But as we're focusing on the functional ingredients, we are able to compete on price as these are far less affected by commodity pricing than palm oil itself." 
Revive Eco intends to scale its technology by replicating its business model around the world, maintaining its localised aspect to avoid the shipping costs associated with commodity palm oil. The company will soon be launching a number of trial projects with major consumer brands across the UK and Europe, and hopes to announce a series of partnerships and contract wins throughout 2023. 
A circular solution to waste and production crises
With the world consuming 2.25 billion cups of coffee per day, the industry's waste is no small matter. Indeed, around half a million tonnes of used coffee grounds are generated annually in the UK alone.  
Much of this waste is sent to landfill, where its decomposition releases greenhouse gases into the atmosphere and acidic leachate into the surrounding ecosystem. With inadequate infrastructure to recover the waste of a continuously growing market, the environmental consequences of wasted coffee grounds are becoming an increasingly urgent problem. 
At the same time, global demand for palm oil continues to rise. Despite its association with deforestation, biodiversity loss, water abstraction, land conflicts and various other environmental and social issues, palm oil has become a prevalent ingredient in a range of everyday goods. 
Its versatile functional properties, such as its neutral taste and ability to provide a smooth and creamy texture, enable its use in everything from food products to cosmetics. It also contains natural surfactants, which are widely used in soaps, shampoos, household cleaning products and similar items. 
By using waste to create high-value ingredients that provide these properties, Revive Eco has created a circular solution that displaces the unsustainable production of palm oil while simultaneously reducing the environmental impacts of sending used coffee grounds to landfill. As companies face increasing pressure to transform their business in line with rising expectations of sustainability, such a solution will be high in demand. 
Sustainable business is no longer a choice
In recent years, market expectations have shifted drastically, leaving businesses around the world with little choice but to implement changes. Consumers are demanding more sustainable products, while Governments and investors are calling for global economic activity to be aligned with climate and biodiversity goals. 
Taking the example of palm oil, several countries have begun to introduce tighter legislation on what practices can be considered acceptable. The US has banned palm oil ingredients that are sourced through illegal deforestation, while the UK is considering the enforcement of mandatory due diligence requirements. 
On a broader level, the finalisation of the Global Biodiversity Framework on 19 December 2022 will support the implementation of additional policy measures to regulate the impacts of business on nature. At the same time, investors are beginning to expect greater transparency through the emergence of frameworks such as CDP's forest questionnaire or that being developed by the Taskforce on Nature-related Financial Disclosure. 
Under increased scrutiny, businesses that wish to remain competitive and complient will have to invest in sustainable solutions. Revive Eco has evidently recognised this opportunity, with Moore concluding that: "Corporations and manufacturers are under increasing pressure to find alternatives to palm oil, so the moment for us to help bring about change is here and now."