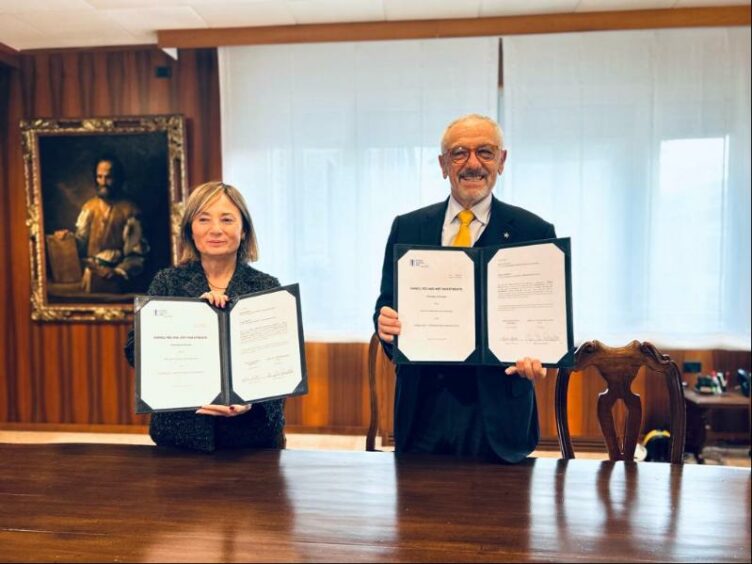 A €350 million loan from the European Investment Bank (EIB) will support Italian steelmaker Danieli's net zero plans, which go beyond emissions reduction targets to include social goals. 
A €350 million loan from the EIB will help Italian steelmaker and steel plant producer Danieli become climate neutral by 2050.
The loan will be used to produce steel using electric arc furnaces, implementing circular economy principles by reusing by-products and other metals from scrap.
In addition to reducing emissions in the steel industry and creating 250 new jobs, the company intends to improve the skills of its employees and their families.
EIB funding will support Danieli's climate-neutral goal
The EIB is granting a €350 million loan to Danieli (BIT:DAN) to support the production of recycled steel at its plants in Udine, Italy, and Sisak, Croatia. This is the fifth loan provided by EIB to Danieli over the last 25 years, bringing the total funding to €580 million.
The company is targeting the funds in three areas that contribute positively to sustainability: increasing plant efficiency to reduce energy consumed and thereby cut CO2 emissions, promoting recycling in steel production, and creating new jobs and upskilling its workforce and communities.
Danieli is hoping to use innovative technologies such as electric arc furnaces (EAF), which can use recycled and scrap steel as inputs, in its new plants, which will help support its net zero by 2050 goal. 
The role of Europe's climate bank in decarbonising steel
The steel industry accounts for 7% of global greenhouse gas (GHG) emissions and has been identified as a hard-to-abate sector. As Europe's climate bank, the EIB is committed to helping the European Green Deal succeed, which includes helping the bloc reach its Fit for 55 goal, or achieving a 55% or more reduction in its GHG emissions by 2030.
The EIB has been actively involved in financing green steel projects in Europe. According to RMI, an climate action NGO, the global steel industry will require investments of $8-11 billion annually by 2050 to help it decarbonise and get to net zero.
In October 2022, Swedish steel maker H2 Green Steel secured €3.3 billion in loan commitments from several banks to build the world's first large-scale green steel plant. This was helped by multilateral and public debt institutions such as the EIB.
The EIB alone approved €750 million of the debt, with the Swedish national debt office and several export credit agencies (ECAs) providing the remaining capital in credit guarantees. Large transactions like this may have been prohibitive for the banks involved had it not been for the credit guarantees provided by EIB and others.
While EIB's loan to Danieli is on a much smaller scale, it is further proof of the bank's role in supporting Europe's net zero commitments and the need for a greener steel supply chain.
Danieli's net-zero 2050 goals have been validated by SBTi
Danieli is committed to reaching carbon neutrality in its production processes and across its value chain. It received validation of its net zero by 2050 targets by the Science Based Targets initiative (SBTi) in September 2022.
In keeping with its goal to include its value chain in its climate commitments, the steelmaker has committed to reducing its Scope 3 GHG emissions by 97% by 2050, based on 2021 levels. It has set an interim Scope 3 emissions reduction goal of 62% by 2030.
The company has also set interim and long-term goals for its Scope 1 and 2 emissions. It plans a 55% reduction in those emissions by 2030, on 2017 levels, and a 93% reduction by 2050.
Social and governance goals go along with net zero ambitions
Danieli joined the United Nations Global Compact in December 2020. The UNGC project has developed guidelines for sustainable activities, including ten universally accepted principles relating to human rights, labour, the environment and anti-corruption.
The company's board of directors adopted a gender equality plan (GEP) for the 2022-24 period, and has identified five areas in which it plans to take action. These actions accompany the group's prior efforts to provide assistance to employees and their families through its education project called Danieli Zerotredici.
Holistic approach to sustainability and profitability
Danieli recognised the need to decarbonise steel as early as 2015, forming part of its Green Steel Vision, which called for taking a holistic approach to sustainability and profitability. 
The projects it will invest in using the loan from the EIB will help it continue to do so, while also furthering its investment in its workforce. It plans to continue funding education assistance for children ranging from daycare to junior high school, while also promoting STEM careers for women. It is also funding training in AI and robotics with local universities.
Making good on its vision of a holistic approach to producing green steel not only helps Danilei align with EIB's goals, but also helps it continue to drive profitable and sustainable growth.
"The steel industry alone is responsible for 10% of global CO2 emissions. This operation shows the commitment of the EIB (as the EU climate bank) and Danieli to developing more sustainable and innovative alternatives like recycled steel production, helping to reduce environmental impact and safeguard jobs in both Italy and Croatia," said EIB Vice-President Gelsomina Vigliotti.