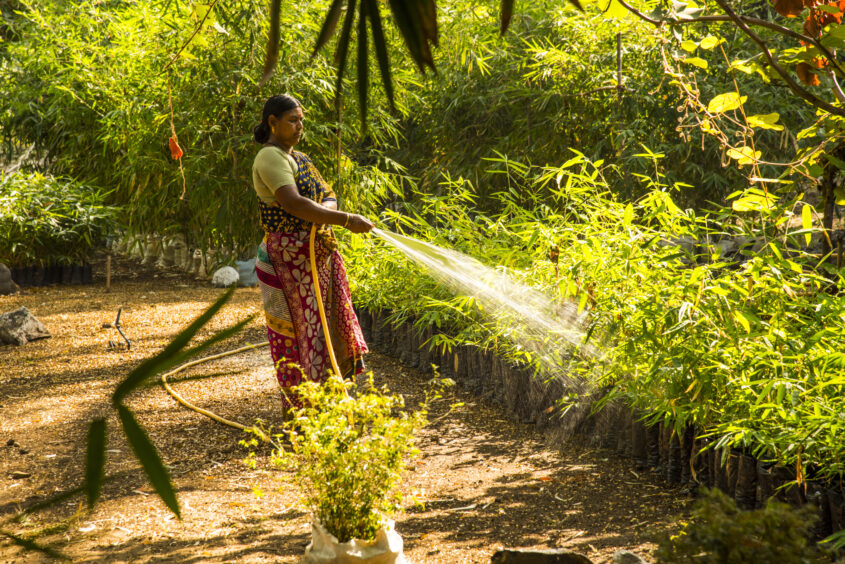 Daughters for Earth, a campaign by US non-profit organisation One Earth, has awarded grants totalling $600,000 to 26 women-led projects in 17 different countries to protect and restore the planet. 
Daughters for Earth is funding 26 women-led projects in 17 different countries.
Investment in climate and biodiversity solutions is crucial to close massive financing gaps and reach global targets.
Alongside addressing equality and environmental issues, the grants suggest a change in perspective following the COP summits.
What does Daughters for Earth's initiative entail?
Daughters for Earth has awarded $600,000 worth of grants to 26 women-led projects in 17 different countries. It brings the total 2022 giving to $1.2 million across 50 projects, with the scope of reaching women on the ground whose mission is to protect and restore nature.
New projects supported include an effort to protect the bio and cultural diversity of the Biobio River in Chile led by Ríos to Rivers; a global coalition of young women climate activists working with Global Choices to protect the Central Arctic Ocean, and an effort to restore 60 hectares of baobab forests in Madagascar led by Groupe des Spécialistes et des Passionnés de Baobabs de Madagascar. 
Working closely with the over 50 members of the Daughters for Earth Advisory Circle and One Earth to identify and select grantees, the campaign supports women-led or operated projects in three key areas: Nature Conservation, the Restoration of our Lands and Seas, and Regenerative Agriculture. The latest round includes projects focusing on oceans, coastal zones and freshwater ecosystems.
"These 26 women-led, and operated efforts are working on the frontlines of the climate crisis, deploying proven solutions and pioneering deeply collaborative efforts to protect and restore the Earth," said Zainab Salbi, co-founder of Daughters for Earth and founder of Women for Women International. "Led by brilliant, strong women, these projects are helping to build a community of women who are critical to solving the climate crisis and healing our one and only home." 
The grantees are based across 17 countries – the US, Chile, Colombia, Costa Rica, Mexico, Brazil, Mozambique, Kenya, Somalia, Ecuador, India, Madagascar, Morocco, Uzbekistan, Senegal, Canada, and Indonesia. A list of the projects can be found here.
Closing the financing gap
The COP27 and COP15 summits on climate and biodiversity have highlighted the need to unlock capital for solutions that will contribute to achieving global targets. According to various estimates, the world will need between $103 trillion and $243 trillion to reach net zero by 2050, which translates to annual investments of up to $8.1 trillion.
Meanwhile, environmental organisation The Nature Conservancy said we need an extra $598-824 billion of annual spending to reverse biodiversity loss by 2030. For the United Nations Environment Programme (UNEP), annual investment in nature-based solutions needs to more than double to $384 billion by 2025.
UNEP called for "immediate action" to scale up financing from both public and private actors. Nature-based solutions, such as the ones being financed by Daughters for Earth, can play a pivotal role in addressing environmental and social challenges. 
Unlocking capital on the ground
Even though the funds granted by Daughters for Earth are not as large as those awarded by other organisations, they will be deployed on the ground and in various countries across the world, which is fundamental to ensure a just transition.
Indeed, UNEP recommends in its State of Finance for Nature 2022 report that we need more inclusion in financial systems. Investments need to incorporate just transition principles, including providing social protection, land rights and decent working conditions and the participation of local and indigenous communities, including women and other marginalised and vulnerable groups. An increase in capital is not enough without improvements in access and capacity, and failing to adopt inclusive approaches will further push the most vulnerable into poverty as well as increase inequality.
Moreover, women and other underrepresented groups are often most subject to the consequences of climate change and biodiversity loss, while their projects tend to be underfunded. As such, the Daughters for Earth initiative is addressing equality issues alongside environmental ones.
"There is a long, deeply unjust history of not getting the necessary resources to those leaders, organizations and communities who are leading the solutions, particularly women," said Justin Winters, co-founder and executive director of One Earth. "This is the moment for investment and partnership that conveys a trust and a belief in the people who can lead us into creating a brighter future for all."