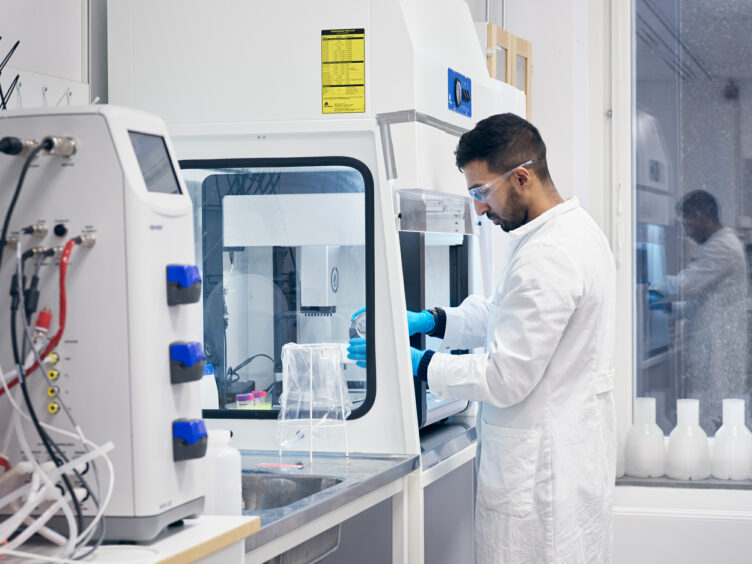 Swedish biotech startup EnginZyme has raised €21 million to accelerate the commercialisation of its scalable, cost-competitive approach to sustainable biomanufacturing. 
EnginZyme's technology uses enzymes, rather than whole cells, to produce chemical ingredients that would typically be derived from fossil fuels.

 

Conventional chemical production, which provides manufacturing inputs for a vast range of everyday items, is currently on track to blow the global carbon budget by 2030.

 

Biomanufacturing offers a promising alternative, with advances in technology set to enable its commercial adoption in a range of industrial applications.

 
EnginZyme's series B fundraising round saw previous investors, including Sofinnova Partners and Industrifocation, joined by new contributors such as Almi Invest GreenTech, Navigare Ventures and Bunge Ventures. The company will use its latest funding to accelerate its global commercialisation and to build new features into its proprietary biomanufacturing platform. 
With its cell-free technology, EnginZyme's mission is to make biomanufacturing more accessible and efficient for businesses across various sectors. In doing so, the firm hopes to replace the fossil fuel-derived chemicals found in a vast range of everyday items with its bio-based alternatives. 
Dr Karim Engelmark Cassimjee, co-founder and chief executive of EnginZyme, said: "This started as an idea at The Royal Institute of Technology in Stockholm to fight climate change by enabling greener chemistry for every industry. We attracted several established investors and created a company at the intersection of chemical engineering and biology. Today, we are extremely proud to have the support of this high-quality syndicate of investors as we drive forward into our next stage of growth." 
"This funding round proves that we are not alone. EnginZyme's combination of biochemistry know-how and process engineering has the potential to push sustainable manufacturing to the next level," added Michael Krel, a partner at Soffinova and chairman of EnginZyme's board. 
Conventional chemical production contradicts net zero goals
The chemicals used in everyday products, ranging from food ingredients and cosmetics to pharmaceuticals and fuels, are typically derived from fossil fuels. The olefin building blocks used to produce plastics, for example, are generally sourced from natural gas or the naphtha produced during oil refinement. 
According to the International Energy Agency, chemical production could account for as much as 60% of the world's oil demand between 2020 and 2030. This means that, despite progress in sectors such as transportation and power, fossil fuel companies will continue to see new opportunities emerging. 
Combined with the energy used in its manufacturing processes, the chemicals industry's consumption of fossil fuels is significantly hampering the transition to net zero. Indeed, research suggests that, by 2030, chemical production alone may well have exhausted the global carbon budget for keeping atmospheric temperature increases below 1.5°C.  
Given the wide use of chemical products, this has implications across a range of different industries as downstream manufacturers will be unable to limit their own impacts on the climate. This means that, if the transition to net zero is ever to be delivered, we will need to find new ways to sustainably manufacture many of the products that modern society has come to depend on. 
The biomanufacturing boom
Many of the reactions that produce different chemicals are similar to those that occur in nature, catalysed by the enzymes contained within living cells. Through human intervention, these biological processes can be redesigned to enable naturally occurring cells to produce various everyday products. 
With the increasing recognition that industrialised chemical production is simply not sustainable, there has been a boom in the market for solutions that take advantage of these techniques. Thankfully, the scientific research needed to accommodate this demand has been underway for decades, with around 400 applications having already been proven.  
According to McKinsey Global, these applications are simply lying in wait for the investment they need in order to be developed and brought to scale. Its short-term projections suggest that the global market for biomanufacturing could be worth up to $300 billion within 20 years, while its long-term estimates conclude that around 60% of the items we consume could one day be produced via cellular processes. 
The adoption, scale and impact of biomanufacturing hinge on several factors, however. Each solution cannot be fully developed or proven without investment and supportive policy measures, but investors and policy-makers are rarely convinced by possibilities or ideas that are not yet evidenced. 
Furthermore, the use of living cells in manufacturing systems is no simple task. It is typically a delicate, fickle process that requires the carefully controlled environment of a well-designed bioreactor. Should the conditions be even the slightest bit wrong, the cells are likely to become damaged.  
In addition to their complexity, bioreactors often require large amounts of energy and can only be operated on a batch-to-batch basis. This increases their cost, limiting the commercial viability of scaled-up biomanufacturing. 
Cell-free technology to deliver low-cost, scalable biomanufacturing
EnginZyme has developed a patented technology that allows it to use enzymes directly, rather than relying on whole living cells. This means that its biomanufacturing platform does not require the use of bioreactors, as its processes can be conducted under the energy-efficient conditions of standardised fixed-bed reactors used by the chemicals industry. 
The EziG technology is based on enzyme immobilisation, a process through which enzymes are bound to insoluble carrier agents while maintaining their catalytic function. This stabilises the enzymes' activity and enables fewer raw materials to be used per unit of production. 
As well as being and more efficient and straightforward, fixed-bed reactors can be used in continuous operation rather than single-batch cycles. This continuous operation helps to improve scalability, as it produces greater yields while enabling further energy savings by avoiding the constant ramping up and shutting down of machinery. 
In order to develop a wide range of applications for its technology, EnginZyme also provides its clients with biological manufacturing expertise and automated modelling techniques. It works closely with its partners to develop customised solutions that can serve their desired industrial purpose while also being economically viable for commercialisation. 
With such technological developments, it seems that the biomanufacturing industry is closing in on its last remaining limitations. As these challenges are overcome, we should expect to see biomanufacturing processes being adopted at a commercial scale to provide sustainable solutions across a wide range of product categories.