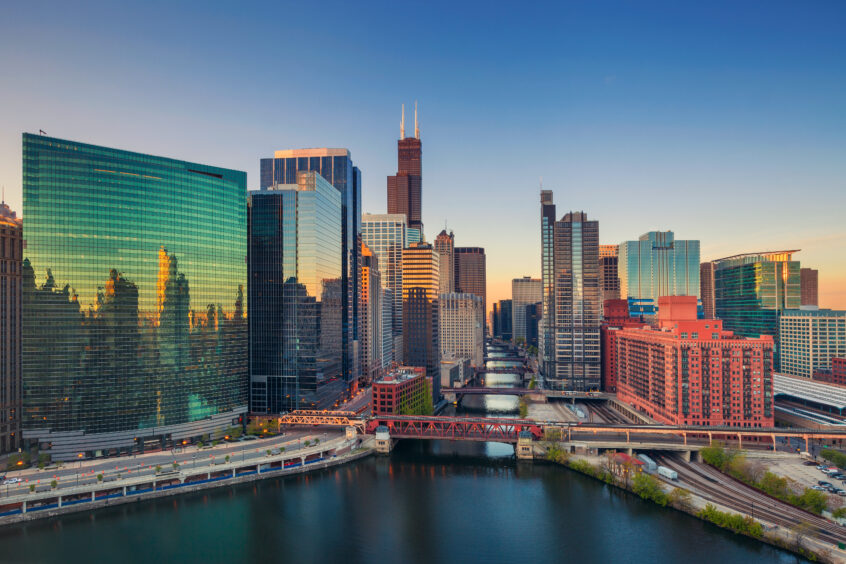 The City of Chicago has established a new $5 million infrastructure fund that will provide grants to nonprofits and small businesses to implement their own climate action strategies. It shows how city and state governments can use a more equitable and just approach to combating climate change.
The City of Chicago has launched a $5 million infrastructure fund to help non-profits (NGOs) and small businesses (SMEs) with their own climate action strategies.
As part of its 2022 Climate Action Plan (CAP), the city is focused on funding community-centred climate solutions and promoting equity for underserved communities.
Chicago's actions are indicative of the ability of local action to make progress on climate change, as cities and states in the US take an equitable and just approach in their climate plans.
Chicago's climate infrastructure fund aims to empower non-profits and SMEs
A new $5 million infrastructure fund has been launched by the City of Chicago to help non-profit organisations and small businesses tackle climate change. It will provide grants to fund renewable energy and energy efficiency improvements, support the purchase of electric vehicles and install charging infrastructure, and help with flooding resilience.
Chicago has made a commitment to strengthen climate solutions centred around underserved communities to create greater equity. The climate infrastructure fund is one of four sources of grant funding being offered by the city's Department of Planning and Development.  
Angela Tovar, chief sustainability officer for the City of Chicago, said: "The City of Chicago recognizes that the key to mitigating the climate crisis and fostering resilient neighbourhoods begins at the community level. We are thrilled to provide direct resources to our community organisations and small businesses on the frontlines of the climate crisis and to support their vision for a sustainable future."
Climate Action Plan 2022 outlines Chicago's sustainability ambitions
Chicago released its Climate Action Plan 2022 in April, establishing a new set of climate goals. It has committed to reducing its CO2 emissions by 62% by 2040 from 2017 levels, and does not plan to use offsets or credits to achieve this goal. This would appear to be more ambitious than its prior goal of achieving a 65% reduction by 2040, which was compared to 2005 levels.
The city administration has recognised that ongoing oppression, racism and discrimination have led to disparities in economic stability, public health conditions and quality of life. As a result, it plans a more holistic approach to achieving its climate goals, and will focus its plans on equity and justice for communities in the 2022 plan. 
Direct action by cities demonstrates power of local action
Chicago was among the first cities in America to adopt a climate action plan, but missed its 2020 greenhouse gas emissions reduction target set in 2008, largely due to funding gaps. While not unique to Chicago, the city has taken advantage of the change in the federal government and related stance on climate change. 
An agreement by the city to purchase all of the electricity used in major city operations by 2025 represents a big step in its emissions reduction goals. City buildings and public transport will likely be the major targets for transition to reduced emissions, as they combine to account for 93% of the city's total emissions, which will benefit urban and inner city populations.
The state of California has been a climate change leader in the US and globally, thanks to its history of setting aggressive emissions reduction policies. It is now the first US state to allocate funds to benefit low-income communities in its current fiscal plan, as it targets a transition to zero-emission transportation.
Holistic approach to just and equitable transition part of future plans
A focus on underserved communities in its approach to tackling climate change is not just limited to Chicago's 2022 CAP. It has planned to integrate community resilience and climate justice criteria into the strategic planning and budgeting process for all city departments by 2023.
By 2024, the city plans to optimise community-level emergency strategies related to climate preparedness. Chicago's growing urban population is at increasing risk from climate disasters due to its proximity to Lake Michigan. A rise in the number of incidents of flooding and winter storms threatened the climate haven reputation of the Great Lakes region.
The resulting property destruction and loss of life put the most vulnerable of Chicago's residents at risk. A community-centred approach to climate change adaptation and mitigation that focuses on underserved communities is a good start to the climate justice goal in its 2022 CAP.