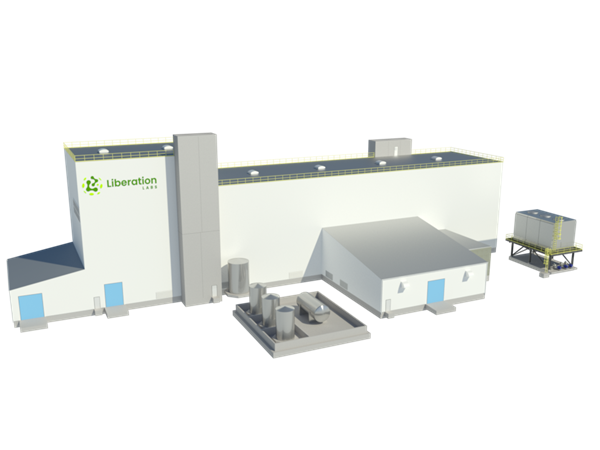 US startup Liberation Labs has completed a $20 million seed round of funding. It will be invested in new capacity for its precision fermentation platform, as it taps the booming alternative proteins market.
Liberation Labs has developed a precision fermentation platform for the production of alternative proteins at scale.
The food industry is turning to synthetic biology to make more sustainable products.
The startup is joining the alternative proteins sector's supply chain as demand continues to increase.
Seed round completed
Liberation Labs has raised $20 million in a funding round led by Agronomics (LON:ANIC) and Siddhi Capital, which included CPT Capital, Thia Ventures, 8090 Industries and Echo. The capital will mostly be used for the purchase and development of its first commercial-scale facility, which will have a fermentation capacity of 600,000 litres with a fully dedicated downstream process.
The company intends to commercialise precision fermentation with a global network of purpose-built, international manufacturing facilities that enable biotechnology advancements to produce alternative proteins at scale. Liberation Labs expects to commission and begin commercial production at its first facility by the end of 2024.
"Liberation Labs has the potential to dramatically accelerate adoption of novel proteins that are increasingly in demand by both existing and next-gen food companies responding to changing consumer preferences," said Jim Mellon, co-founder and executive director at Agronomics. "We believe they  will set a new standard in the industry and usher in a new era of innovation in healthy, sustainable and scalable foods."
What is precision fermentation?
Fermentation has been used in food production for most of human history to both conserve ingredients and create new recipes – it is the process behind beer and kimchi, among others. Precision fermentation is a process used in the alternative proteins industry to produce specific functional ingredients such as enzymes, flavouring agents, vitamins, natural pigments, and fats.
These are added to plant-based products or cultivated meat to give them a closer taste or texture to animal-based foods. Examples include Perfect Day's dairy proteins, Clara Foods' egg proteins, and Impossible Foods' heme protein. 
It uses microbial cells as production hosts, which allows the production of many ingredients at scale, but doing so in an economically viable manner remains a challenge for companies in the space. Precision fermentation is also employed outside of the food industry, for example using biomass to make ingredients that would typically be derived from fossil fuels. 
Developing a supply chain for the alternative proteins industry
Processes such as precision fermentation are part of cellular agriculture, which is the production of food directly from cells, as opposed to slaughtering animals or harvesting crops. Food systems will need to be revolutionised to feed the growing world's population in a sustainable way, with synthetic biology presenting a compelling opportunity to do so.
According to the Good Food Institute, the alternative protein industry will reach a value of $1.1 trillion by 2050, supporting 9.8 million new jobs. Investment rose 60% to $5 billion in 2021, but it needs to reach $1.8 trillion so that these technologies can produce 10% of the world's protein.
Companies such as Liberation Labs are tapping into the opportunity of building a supply chain to support the food industry, becoming early adopters of nascent technologies. The startup is positioning itself as an alternative to the legacy Contract Manufacturing Organization industry, which was built primarily for pharmaceuticals. 
It claims that these companies cannot efficiently produce at the cost or scale to achieve profitability for novel food ventures, or price parity to animal-based products for consumers. As such, plant-based products come at elevated costs that hamper the transition to more sustainable eating habits.
"Liberation Labs aims to dramatically increase availability of precision fermentation capacity to meet the rising demand for alternative proteins, fueled by population growth and increasingly health-conscious, impact-driven consumers," concluded Mark Warner, co-founder and chief executive of Liberation Labs. "Our business model enables us to not only meet the demand from today's traditional food companies but unlock innovation among the dozens of emerging food-tech companies."