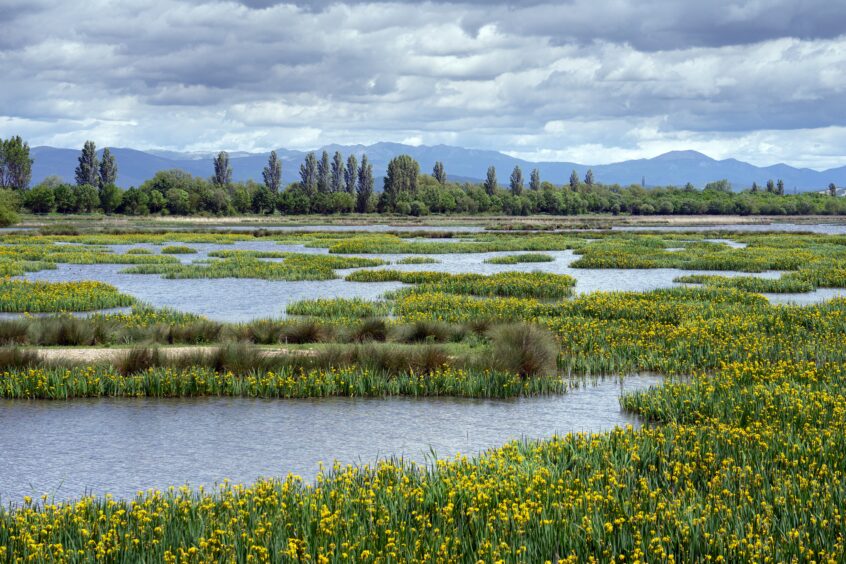 The lack of official protection for wetlands could be a climate and nature timebomb if not addressed. While action is needed from government, it's also time for the private sector to get ahead of the rapidly changing risk environment and put concern into action.
Once you accept that the functioning of the economy is inextricably connected to the environment, then the protection of nature and the environment becomes the duty of every actor within the economy. As the IFC puts it, "Businesses rely on genes, species, and ecosystem services as critical inputs into their production processes and depend on healthy ecosystems to treat and dissipate waste, maintain soil and water quality and help control the air composition."
Food, fibre, minerals and building materials are directly dependent on nature, let alone the ecosystem services from pollination, nutrient recycling, even human cultural experiences that are also dependent on nature.
Wetlands are small but contain outsized percentage of biodiversity
While wetlands cover just 6% of the Earth's surface, they are home to a staggering 40% of the world's plant and animal species.  In fact, every year 200 new species are discovered in freshwater wetlands and these precious habitats store almost a third of global soil carbon. Nevertheless, wetlands are disappearing three times faster than forests, with 35% of wetland ecosystems having been lost since 1970.
Dr Ritesh Kumar is head of Wetlands International South Asia. He has been part of drafting India's National Biodiversity Targets under the Convention of Biological Diversity, as well as indicators for the Sustainable Development Goals. He says: "Wetlands … are a critical ecosystem that we rely heavily on, and yet [they are] under tremendous pressure. The Convention on Biological Diversity must not lump wetlands in targets for land and sea, [but] rather affirm specific targets on these ecosystems, thus ensuring affirmative actions for bending the biodiversity curve."
Wetlands are ecosystems periodically or permanently saturated with water, and cover a varied range of habitats from lakes, rivers, fens, peatlands and deltas to mangroves, coral reefs and seagrass meadows. Their protection is not a concern particular to any one geography.  Wetlands exist all over the world and – in addition to their significance for biodiversity and climate mitigation and adaptation –  wetlands support the livelihoods of over one billion people globally.
Business is reliant on nature to different extents
Every business is reliant on nature and biodiversity to a different extent. Just looking at one area, around a third of global food produced is dependent on pollination alone – which means that insects and pollinators must be protected. The Intergovernmental Science-Policy Platform on Biodiversity and Ecosystem Services (IPBES) stated in July 2022 that "the causes of the global biodiversity crisis and the opportunities to address them are tightly linked to the ways nature is valued in political and economic decisions at all levels."
While forestry gets the majority of the attention, with the links to the soy, cocoa, cattle, timber and packaging industries, to name but a few, wetlands have yet to receive the same profile. The failure to value biodiversity, and wetlands in particular, is directly related to the failure to recognise the importance of 'externalities' to business, those elements on which economic operations rely but which are not factored into pricing and cost.
Protecting nature cheaper than building new infrastructure
Research from the International Institute for Sustainable Development (IISD) projects that the use of natural infrastructure to protect against climate impacts could save at least $248 billion (£180 billion) a year globally, at half the cost of equivalent built infrastructure. Overall, the cost of the biodiversity crisis has been estimated by global consultants BCG as around $5 trillion per year in lost nature services from biodiversity decline.
It's not just the global implications of losing wetlands – there are negative consequences to losing wetlands on a domestic scale as well.  In the UK, for example, there were wetlands around Glastonbury that were only finally drained in the 1970s. The loss of the local wetlands, however, has resulted in significantly increased flood risk, and as the land shrinks there is a knock-on effect on local infrastructure.
Lack of long-term planning drives failure of economic models for protection
The lack of a long-term vision is what affects better management of such areas – the services they provide are public goods and hard to factor in to current investment and business models. New solutions have to be found, which could range from nations implementing protections to corporates exploring wetlands-based investment. Alternatively, there is an important role for assessing the costs of action versus inaction over time.
Jane Madgwick, chief executive of NGO Wetlands International says: We see, all over the world, that continued siloed, sectoral thinking and investments are accelerating wetland degradation and so exacerbating floods, droughts and fires, often also leading to food insecurity and social unrest. The costs of this for climate, nature and people are simply too high. We need to switch to an approach which avoids risky developments and works to build ecological, social and economic resilience across whole landscapes."
She continues: "This will require investment in well-designed, landscape scale programmes with local ownership which attract a blend of public and private finance for the long-term. Even in the short-term such programmes bring results and return hope for a brighter future. Production systems and water flows can be transformed in 5-10 years with tangible benefits for biodiversity and the economy. There is no time to lose! "
Investment in nature generate multiple returns
It's important to remember that the message is not entirely negative. In proposing its nature restoration law, for example, EU cited research showing that for every €1 invested into nature restoration, benefits of between €8 to €38 could be generated.
Perhaps of most concern is that despite the role that wetlands can play in addressing climate and biodiversity targets, and their importance for the long-term health and safety of environments, the protection and restoration of wetlands are not accounted for in any of the existing international agreements.
Biodiversity is not mentioned in the Paris Agreement or any of the pledges out of the climate negotiations meetings, nor in the meetings for the Convention on Biological Diversity. While the first draft of the Global Biodiversity Framework out of Nairobi agreed on the need to halt and reverse biodiversity loss by 2030, it failed to mention 'wetlands' in the text.
Convention on Biological Diversity must agree post-2020 plan
In December, COP15 (the fifteenth Conference of the Parties to the UN Convention on Biological Diversity) will negotiate global biodiversity targets, including protecting 30% of land and sea. However, absorbing wetlands into land and ocean targets fails to account for the specific and unique properties of wetlands as interfaces between land and water, which must be managed under their own set of targets. Restoring at least a fifth of degraded freshwater, marine and terrestrial ecosystems will also be discussed, which wetland ecosystems must be inextricably linked to.
Wetlands International has been calling for five global, science-based targets by 2030:
 That the remaining undrained peatland carbon stores remain intact, and 10 million hectares of drained peatland are restored.
A net gain of 20% in global mangrove cover.
Remaining free-flowing rivers and floodplains are preserved and river connectivity is enhanced, restoring floodplain ecosystem functionality and area.
A net gain of 10% in area of tidal flats.
50% of the estimated 7,000 critically important sites identified along flyways [bird migration routes] come under favourable management.
While it's critical that countries take action on biodiversity loss, nothing happens in a vacuum. Politicians agree to act on global problems when they believe they have a mandate for action. At the same time, there is growing recognition that failure to act means increased risk to climate and nature, and longer term, that means risk to business operations.
Corporations must start taking action on nature
That means that corporations must start looking beyond initial concerns about increased carbon pricing or the energy crisis and their impact on the longer-term implications for food system stability and commodity supply.
While today this may be issue around licence to operate, with consumers increasingly concerned about the climate and nature impact of companies and their products, failure to engage with questions about biodiversity and their stance on the matter is going to be a material issue, and sooner rather than later. Investors like to get ahead of the curve.
So far, few companies have published credible biodiversity strategies with robust biodiversity goals. The Taskforce on Nature-related Financial Disclosures (TNFD) recently launched the beta version of the TNFD framework, which is designed to help businesses understand their biodiversity risks and opportunities, and how to disclose their performance.
This is expected to energise investor action in a similar way to the Task Force on Climate-Related Disclosures (TCFD) did regarding the risks associated with climate change. Given how rapidly the TCFD's recommendations moved from the voluntary to the regulatory space, companies exposed to nature risk need to get ahead of the curve.