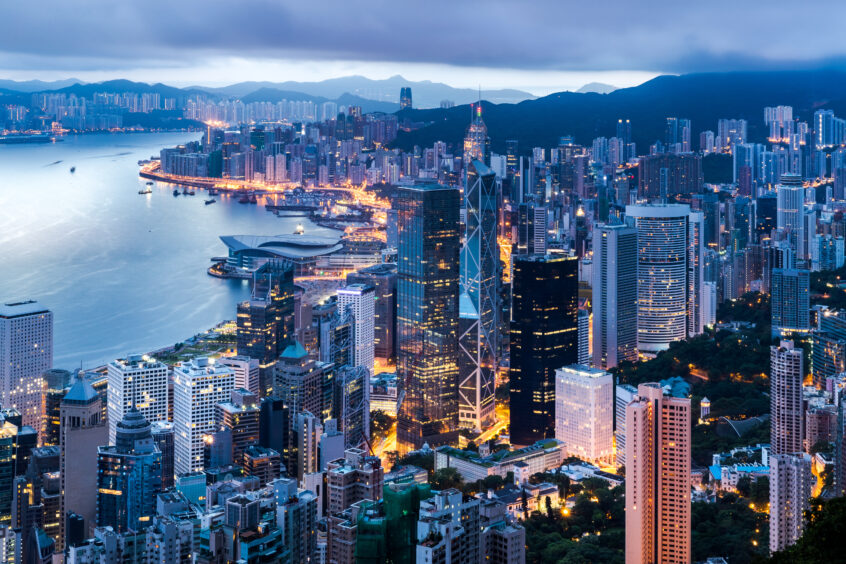 Hong Kong's most recent green bond is the largest single offering in Asia, reflecting its rising importance as a financial hub which may benefit China's long-term plans to internationalise its currency.
Hong Kong has issued $5.75 billion in green bonds, denominated in US dollars, euros and renminbi, representing the largest ESG bond issuance in Asia.
The city has raised nearly $10 billion in green bond issuance, which will help it transition to a low-carbon economy.
The growth in the local green bond market also reflects its importance as a regional financial hub, especially to investors in mainland China.
Size of bond issuance and oversubscription reflect strong demand 
The issuance of $5.75 billion worth of green bonds by the Government of Hong Kong, completed in January 2023, is the largest ESG bond issuance in Asia. The bonds were oversubscribed by over six times, with bids totalling more than $36 billion.
It is also the first government issuer in Asia to float bonds in three currencies. This was carried out across eight tranches of varying maturity, including four in US dollars totalling $3 billion, two in euros totalling €1.25 billion, and two in renminbi totalling RMB 10 billion.
While this bond offering is of significance due to its size, it is not the first multiple currency issuance by the HK government. 
Green bond market in Hong Kong keeps growing
The government of Hong Kong issued its first green bond in May 2019, after publishing its Green Bond Framework (GBF) in 2019, which was updated in February 2022. 
Since 2019, Hong Kong has issued close to $10 billion in green bonds, with its first multiple currency offering coming in November 2021. It also issued a HK$20 billion green bond aimed at retail investors in May 2022.
Hong Kong's green bond framework details the potential use of proceeds, project evaluation and selection criteria, administration of the management of proceeds, and the reporting methodology it will use. This framework is aligned with the green bond principles set by the International Capital Market Association (ICMA), a not-for-profit association headquartered in Switzerland.
Use of proceeds largely aimed at urban projects
Proceeds of the green bonds issued until the end of 2022 have largely been used for projects relating to waste management and resource recovery, green buildings, water and wastewater management, and energy efficiency and conservation.
The HK government has identified five other project areas eligible for green bond proceeds. These include renewable energy, pollution prevention and control, nature conservation and biodiversity, clean transportation, and climate change adaptation.
The GBF excludes certain types of projects, such as those related to fossil fuel-based power generation, hydropower plants of certain specifications, and concentrated solar power projects. It also specifies that biomass generation feedstock will be limited to municipal solid waste, to avoid depleting existing agricultural and forestry resources.
The GBF is a core component of the government's Green Bond Programme (GGBP), setting out Hong Kong's plans to combat climate change and transition to a low-carbon economy.
Hong Kong's GGBP reflects Hong Kong's importance as regional financial hub
Hong Kong's ability to raise funds in multiple currencies and its attraction to investors from mainland China will likely strengthen its role as a global financial hub. In the latest green bond issuance, the renminbi tranches had to be doubled to cater to investor demand. 
According to the HK Monetary Authority (HKMA), which acts as the government's representative in the GGBP, this reflects strong interest from investors in mainland China, who are able to trade through Hong Kong using the Southbound Bond Connect arrangement. 
HKMA also sees Hong Kong as a major hub for trading in renminbi, China's main currency. This aligns with China's plans to internationalise its currency, with offshore trading hubs in Hong Kong, London and Singapore.
According to Forbes, the renminbi's share of global payments lags behind the dollar, euro, British pound and Japanese yen. While the renminbi has far to go to gain on these currencies, increasing bilateral agreements relating to China's Belt and Road Initiative may help change this. 
In the meantime, Hong Kong's continued rise as a regional financial hub will facilitate its increasing importance within Asia, and among its trading partners.