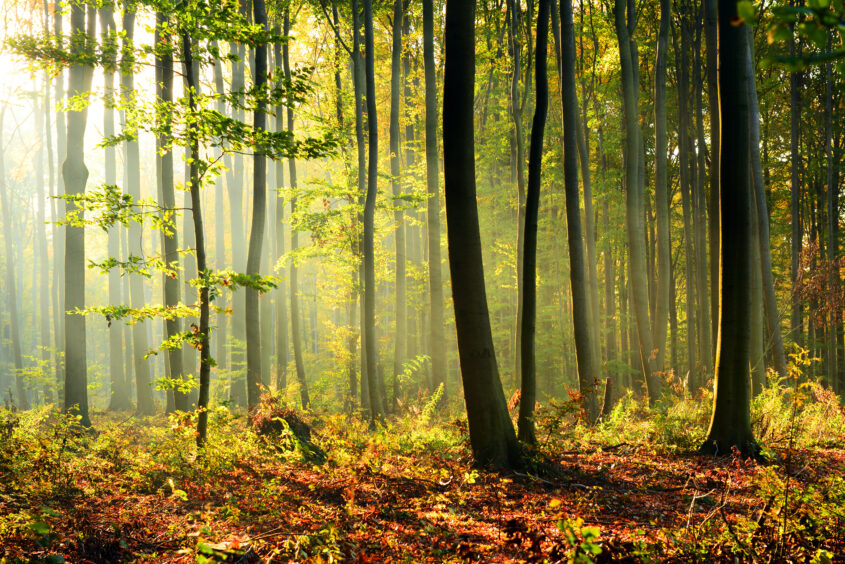 Switzerland's Open Forest Protocol has raised $4.1 million to develop its blockchain-based measurement, reporting and verification (MRV) platform for reforestation projects. 
The Open Forest Protocol uses blockchain technology to publicly measure, report and verify registered reforestation or afforestation projects from anywhere in the world.

 

Investment in nature-based solutions must double by 2025, but a lack of transparent data is undermining confidence in the market.

 

The need to ensure that capital flows are being directed towards credible climate action will drive demand for MRV technologies.
Through its recently completed pre-seed funding round, the Open Forest Protocol (OFP) has raised $4.1 million from 17 participants including Shima Capital, Übermorgen Ventures, Mercy Corps Ventures and a number of angel investors. OFP will use the funds to further its technological development and accelerate its onboarding efforts. 
"The strong support of investors experienced in our pre-seed round is a validation of both our vision and strategy. Only an equitable, truthful system backed by immutable, open data will truly value forests on the ground as well as in the voluntary carbon market. We must act together to fight for our planet and give value to nature," said chief executive Fred Fournier. 
Blockchain technology puts MRV in the open
Through the OFP's platform, forest projects of any size and from any location can make their MRV data publicly available to any interested party. They simply register their plot of land using the OFP Forester app, before either uploading their own data or making use of the OFP's growing selection of MRV tools. 
Once uploaded, the information is verified by the OFP's global network of validators. This network includes recognised verification bodies, consultants and other specialised organisations that provide a wide range of expert opinions, technologies and real-world datasets. 
When the data has been validated, with every point scrutinised by dozens of entities, it is permanently stored on a publicly accessible distributed ledger. The ledger is hosted by the NEAR Protocol, a certified carbon-neutral blockchain that uses the proof of stake consensus mechanism to reduce its environmental impact. 
By sharing its data via tamper-proof blockchain technology, the OFP hopes to improve the transparency of reforestation and afforestation projects. It claims that this will help to improve investors' confidence in these projects, thereby enabling them to channel their capital towards credible climate action. 
Since its founding in 2021, the Swiss startup has onboarded 38 projects from 21 countries around the world. As it continues its expansion, it intends to help local communities and grassroots developers to access the voluntary carbon market by building trust in the credibility of the benefits they provide. 
Investments in nature must double by 2025
Nature-based solutions, including reforestation and afforestation projects, are expected to play a major role in addressing the global climate crisis. Such solutions can help us to tackle a wide range of challenges in an integrated manner, as they typically provide multiple benefits ranging from carbon sequestration and biodiversity enhancement, to support for vulnerable communities. 
The potential of nature-based solutions is widely acknowledged, particularly through the growth of the voluntary carbon market. As businesses, investors and other organisations or individuals have attempted to offset their environmental footprint or simply contribute to ongoing climate action, the market for carbon credits has quadrupled in value since 2020. According to projections from McKinsey and the Institute of International Finance, this market will be worth around $50 billion by 2030 before doubling to $100 billion in 2050. 
Despite the growing demand for voluntary carbon credits, however, further expansion of nature-based solutions is drastically needed. Indeed, the UN Environment Programme has warned that investments towards such solutions must double before 2025, if their full range of benefits is to be realised. With current investments having stagnated at around $154 billion per year, there is a distinct probability that global climate, nature and biodiversity goals will not be met. 
One of the biggest challenges when it comes to increasing investments towards nature-based solutions is the broad lack of transparent data. Without accurate information on the benefits being delivered by individual projects, investors cannot gain the reassurance they need in order to provide their support. 
MRV technologies can help to provide this information, thereby developing trust in the market and ensuring that capital flows are directed towards the most credible solutions. Many of these technologies, however, are expensive and complicated to deploy. This means that smaller project developers are often unable to demonstrate the credibility they require in order to secure vital funding for their proposed schemes. 
The rising demand for accessible MRV
With its openly available platform, backed by the integrity and transparency of blockchain technology, the OFP presents a worthy approach to the expansion of nature-based solutions. It offers project developers of any size, no matter the resources they may have, the opportunity to appeal to investors based on validated MRV data that may otherwise be impossible for them to provide. 
Given the value of such an approach, the startup's successful fundraising round should come as no surprise. Rather, it should be seen as an early example of what is set to become an ongoing trend as the demand for transparent data on credible solutions continues to grow in line with the expansion of the voluntary carbon market. 
This growth will converge with nascent attempts to commercialise other environmental benefits, with proposals for the development of biodiversity credits providing one example. The emergence of such markets will drive further demand for accessible MRV technologies and similar solutions that promise to enable, accelerate or expand the adoption of nature-based solutions, paving the path for a new category of 'nature technologies' that could be worth around $6 billion in total within the next ten years.