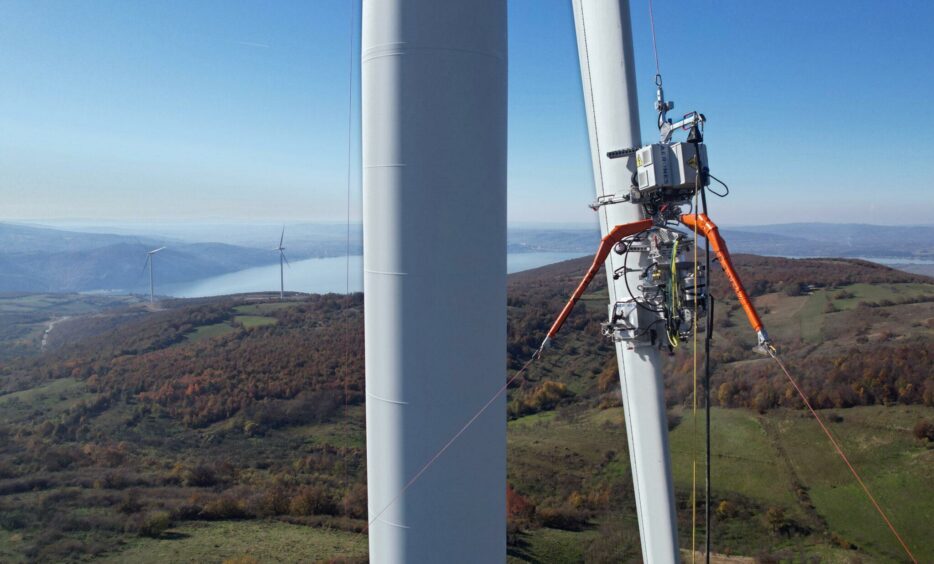 Aerones, the maker of robots for the maintenance and inspection of wind turbines, has secured $30 million in growth capital to scale its business globally. 
Aerones has completed a $30 million funding round.
It will use the capital to roll out its technology to maintain and inspect wind turbines globally.
The company is tapping into the opportunities of the wind industry, which is expected to grow exponentially amid the energy transition.
Attracting new and existing investors
Latvian startup Aerones has raised $30 million in growth capital in a round was co-led by Lightrock, the global growth equity investor, and Haniel, the European family-owned purpose-driven investor. Further participation in the round came from new investor Blume Equity, a climate-focused growth equity investor, and existing investors: Change Ventures, Mantas Mikuckas, Metaplanet, Pace Ventures and Future Positive Capital. 
The money will be used to grow the company's technical and sales functions, increase the number of field-deployed robot service teams, expand its presence in fast-growing markets including Africa and Australia, and bring new services to market. 
Philipp Goehre, growth capital lead at Haniel, added: "We are extremely proud to partner with Aerones which is rethinking the way wind turbines will be serviced going forward. It's a perfect fit for our climate tech investment focus and we will actively support the company leveraging both our experience and our network."
What does Aerones do?
The startup has developed robots that inspect, maintain and repair wind power structures. They can be transported in a single van and are usually operated by three Aerones technicians, who are supervised by a clients' technician. It has also developed a cloud platform that gathers cross-industry data from inspections, which enables pricing of smarter preventive maintenance plans and budgets.
It started in 2019 with basic inspection services and has since developed a suite of inspection, such as external visual, internal blade, lightning protection, ultrasound; maintenance including painting, ice-phobic coating, blade and tower cleaning; and repair services. 
The company claims that its solutions are up to six times faster, 40% more efficient and much safer than conventional solutions, which involve certified rope access technicians who are slower, in short supply, and unable to operate in poor weather conditions. Aerones stressed that it is not taking "the job away from humans", as the robotic tools are controlled and monitored by certified technicians "from the comfort of a warm vehicle". 
It now serves customers that represent 50% of the world's wind power capacity, including major operators such as NextEra (NYSE:NEE), GE (NYSE:GE), Vestas (CPH:VWS), Enel (BIT:ENEL) and Siemens Gamesa (BME:SGRE). The company currently operates across North America, Europe, and South America, and said demand for its services more than tripled in 2022.
Tapping a booming market
Demand for wind is growing exponentially as a key source of power for the energy transition. Total global wind power capacity is now up to 837 GW, according to the Global Wind Energy Council, with supportive government policies expected to lead to an extra 557 gigawatts of new capacity by 2026. The pace of this growth may even surpass expectations, as events such as the energy crisis in Europe forced governments to seek alternatives to Russian gas. 
This momentum is fuelling the market for mass-manufactured clean energy technologies, which the International Energy Agency (IEA) estimates will more than triple to $650 billion a year by 2030. Pioneering technologies, such as Aerones', are likely to experience significant growth as the market is still far from having reached maturity.
Dainis Kruze, co-founder and chief executive of Aerones, commented: "Global challenges mean our mission – ensuring the effective operation of global wind power capacity – and our robot-enabled solutions have never been more important or in demand. With the support of our new and existing investors, we look forward to further scaling our operations, investing in our technology, and enhancing our offering."