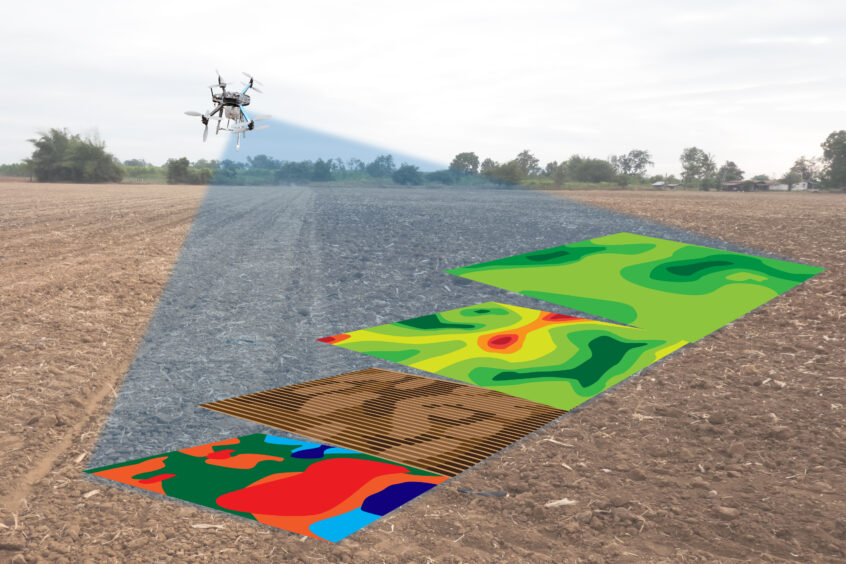 Soil measurement and agricultural insight provider EarthOptics has announced a round of strategic investments from both existing and new investors.
EarthOptics raises nearly $28m in venture and strategic funding to develop its technology network.
Soil health is a crucial factor in farm profitability, food security and environmental preservation, but accurate data is hard to come by.
Improving productivity and soil health will be key to meeting climate and global hunger challenges.
The $27.6 million round of funding, led by Conti Ventures, will advance data-driven agriculture through actionable soil insights. The funds will be used to build out EarthOptics' proprietary GroundOwl sensor suite capabilities, accelerate acreage growth and scale service providers.
In addition to Conti Ventures, Rabo Food & Ag Innovation Fund (RFAIF), CNH Industrial, Louis Dreyfus Company Ventures, and CHS and Growmark's Cooperative Ventures join current EarthOptics investors Leaps by Bayer, FHB Ventures, S2G Ventures, iSelect Fund, Route 66 Ventures, and Middleland Capital's VTC Ventures.
"We believe EarthOptics has a clear advantage in soil measurement technology, as they improve the scalability of measurement while helping to reduce extrapolation error" said Chris Abbott, Co-Head of Conti Ventures. "As we look for technologies that can verify critical soil measurements for growers, we believe EarthOptics stands out in providing agronomic value as well as verification for initiatives like carbon credits."
How does EarthOptics generate agricultural insight?
EarthOptics uses a combination of ground-based sensors, satellites, physical soil samples, machine learning models and agronomic expertise to help farmers and ranchers make better data-driven decisions about their land. It's technology web delivers insights to help farmers optimise fertiliser applications, make informed tillage decisions, quantify carbon sequestration and more.
"Our industry-leading technology has huge potential for farmers and agribusiness," Lars Dyrud, EarthOptics CEO, said. "This funding will propel our growth and enable us to scale the SoilMapper platform."
The Series B funding will expand access to valuable tools and deliver hyper-accurate soil insights, providing immediate cost savings for farmers, who recognise the importance of having comprehensive data about their soil.
Focus on soil health is being driven by environmental and productivity concerns
"The revival of interest in soil is highly encouraging and much needed. Given the fundamental importance of soil health to the food and agriculture systems, we are excited to support Lars and his team in bringing EarthOptics' truly disruptive solution to our bank's global network of farmers, corporates, as well our ecosystem services teams of The Carbon Bank and ACORN," according to Pieter van der Meche, Head of RFAIF.
Soil is a key component of  the ecosystem, providing essential services not just for agricultural production but also for plant growth, animal habitation, biodiversity, carbon sequestration and resistance to droughts or flooding. 
Research indicates, however, that around 24 billion metric tons of fertile soils are being lost each year with up to 40% of the global land area already in a degraded state. This is due to a number of factors, including the natural influences of changing weather and temperature conditions as well as human activities such as intensive farming, the excessive use of chemical inputs, deforestation and other forms of land-use conversion. 
The decline of fertile soils is exacerbating many of the most severe challenges from climate change to global hunger. To give just a couple of examples, poor soil health is contributing to global warming by reducing the volume of carbon absorbed from the atmosphere and driving biodiversity loss by impacting vegetation that provides food and shelter to various animal species.  
For the agricultural sector, declining soil fertility raises a number of issues. It reduces both the yields and quality of growing crops, eating into farmers' profits as well as their ability to produce enough food for the growing population.
Indeed, estimates suggest that around 95% of the food we consume is directly or indirectly dependent on healthy soils, but approximately 52% of the world's agricultural land has already been degraded. 
By advancing global efforts to restore soil health and implement more sustainable farming practices in the future, the agricultural industry could play a key role in solving the interconnected crises of food security, climate change and biodiversity loss.
The impact of such solutions cannot be understated, with research indicating that improving soil health could deliver around 47% of the climate change mitigation potential available through the 40% of the world's total land area used for agricultural purposes. 
Although this finding provides some hope that fertile soils can be restored as a means of addressing many of the most pressing global challenges, it raises the key question of how growers and agronomists will be able to make informed decisions as to the changes they introduce. In order to make these changes, they must be able to access clear insights into the problem at hand before monitoring their progress over time to ensure that their solutions are proving effective. 
Conventional methods for analysing soil health, however, are expensive, time-consuming and labour-intensive. With the costs and complexity of obtaining the necessary data, farmers may struggle to implement sustainable management practices and are unable to access the economic opportunities of doing so. 
How does the data help farmers?
"With small margins and unpredictable input prices, farmers are looking for ways to improve productivity," Dyrud said. "Our product does that in a way that fits seamlessly into individual operations. Farmers no longer must rely on expensive soil analysis from labs. Powerful soil insights from EarthOptics can transform the way decisions are made on the farm."
"EarthOptics is a leading agriculture platform that accurately measures key aspects of soil health," according to James Ramey of Middleland Capital's VTC Ventures. "Ranging from compaction levels and nutrients through carbon sequestration, the company is perfectly positioned to deliver strong ROI for growers while advancing climate resilience initiatives."
Recently, the USDA announced EarthOptics as a partner in their Climate Smart Partnership for six separate proposals. In a statement, the company said: "With this new momentum, EarthOptics continues to evaluate additional partnerships and work." The announcement comes on the heels of a successful 2022 for EarthOptics, which saw ten times growth in acres covered, as well as a series of and partnerships with global food companies.