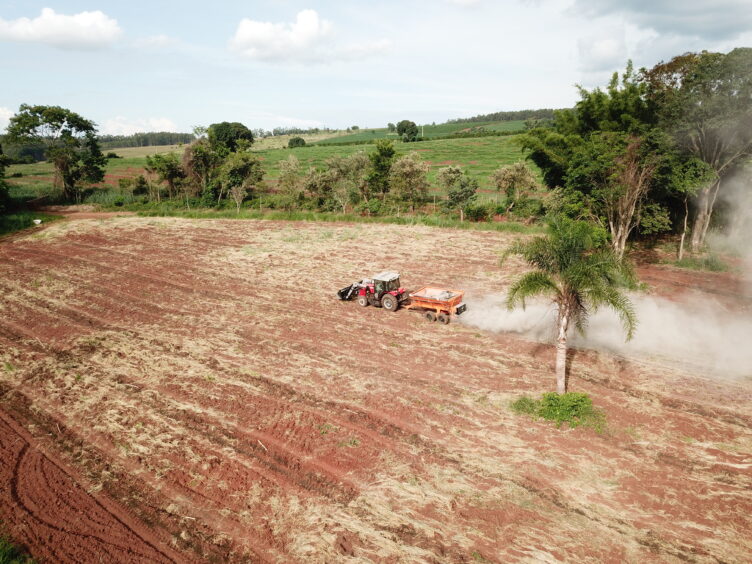 InPlanet has exited stealth mode with a €1.2 million pre-seed round to develop enhanced rock weathering (ERW) in the tropics.
InPlanet is studying ERW in Brazil, where it believes tropical climate and soil can lead to faster results.
ERW involves spreading grounded rocks on agricultural land to fertilise crops and regenerate the soil, all while sequestering carbon.
Governments worldwide need to apply new technologies to remove carbon from the atmosphere, if we are to meet the Paris Agreement goals.
InPlanet is no longer in stealth mode after raising €1.2 million in a pre-seed round, which included Carbon Removal Partners, Übermorgen Ventures, Trellis Road, Katapult VC and Carbon Drawdown Initiative. 
Felix Harteneck, chief executive and co-founder of InPlanet, said: "We are thankful for the support of our pre-seed investors and excited to use the funding to grow our current team. In 2023, we plan to spread 50.000 tons of rock powder to remove 10.000 tons of CO2. This will allow us to generate unique and scientifically valuable data to understand the weathering process in the tropics even better."
What is enhanced rock weathering?
Rock weathering, a natural component of the Earth's carbon cycle, is how most of the atmospheric carbon dioxide has been removed throughout natural history. It occurs when rainwater, made slightly acidic by the CO2 in the atmosphere, reacts with exposed silicate rocks exposed on the planet's surface. This turns the atmospheric CO2 into bicarbonate, which gradually runs into waterways where it is permanently sequestered as solid limestone. 
This natural process can be sped up by crushing certain rocks to reduce their surface size and spreading the ground-up minerals over large bodies of land. As well as removing carbon from the atmosphere, this technique regenerates soils and fertilises crops, allowing farmers to use less limestone, synthetic fertilisers, and pesticides.   
Sourcing rocks, however, comes with the environmental and social impacts associated with mining, while spreading rock dust on land could affect air quality. There are also concerns over heavy metal contamination, especially nickel and chromium, from some rock types.
It is a relatively underdeveloped technology that is expected to cost $50-200 per ton of CO2 at scale, according to the State of Carbon Dioxide Removal report. It has the potential to remove 2-4 gigatons of CO2 per year. 
What does InPlanet do?
The startup, founded in August 2022, plans to apply ERW processes in tropical regions, starting in Brazil. While most of the research so far has been conducted in Europe and North America, the company believes that tropical climate and soil can result in faster rock weathering rates and therefore faster CO2 absorption. 
It has built scientific partnerships with leading universities in agricultural research such as the universities of São Paulo, Brasilia, and Newcastle. They are studying how to effectively collect data for monitoring, reporting, and verification of ERW in Brazil, where the startup will also collaborate with local mines to source rocks. Evidence suggests that the best results are obtained when using fine-grained mining residues, which are normally low or free of charge and close to the site of application, both reducing costs for ERW processes and solving a disposal challenge for the miners.
InPlanet is also part of the Frontier Batch 2022, where it received funding from an $11 million round that Frontier facilitated on behalf of Stripe and Shopify (NYSE:SHOP). It also participated in the ClimAccelerator 2022, a programme to help climate startups.
Why do we need ERW?
Almost all current carbon dioxide removal (CDR) comes from conventional removal methods on land, such as planting trees and managing soils. The current figure of 2 gigatons of CO2 per year, however, needs to double by 2050 if we are to meet the Paris Agreement goal.
This will be a huge challenge in a warming climate, as there will need to be trade-offs around land use through dedicated policies and management. More than 120 national governments have a net-zero emissions target, which implies using CDR, but few governments have actionable plans for developing it, presenting a major gap in planning.
Sticking to scenarios that limit warming to 1.5°C or 2°C will require novel CDR technologies, including ERW, as stated in the State of Carbon Dioxide Removal report. No country so far has pledged to scale these by 2030 as part of their Nationally Determined Contribution, and only a few have so far published proposals for upscaling novel CDR by 2050.
According to a separate study published in Nature in 2020, deploying ERW within existing croplands presents opportunities to align agriculture and climate policy. Success, however, will depend on overcoming political and social inertia to develop regulatory and incentive frameworks. 
Researchers said that China, India, the US and Brazil have great potential to help achieve average global CDR goals with extraction costs of around $80–180 per tonne of CO2. As such, it appears that InPlanet has chosen a fertile ground for its research, which will shed more light on applying ERW processes in tropical areas while tapping huge demand for carbon removal.