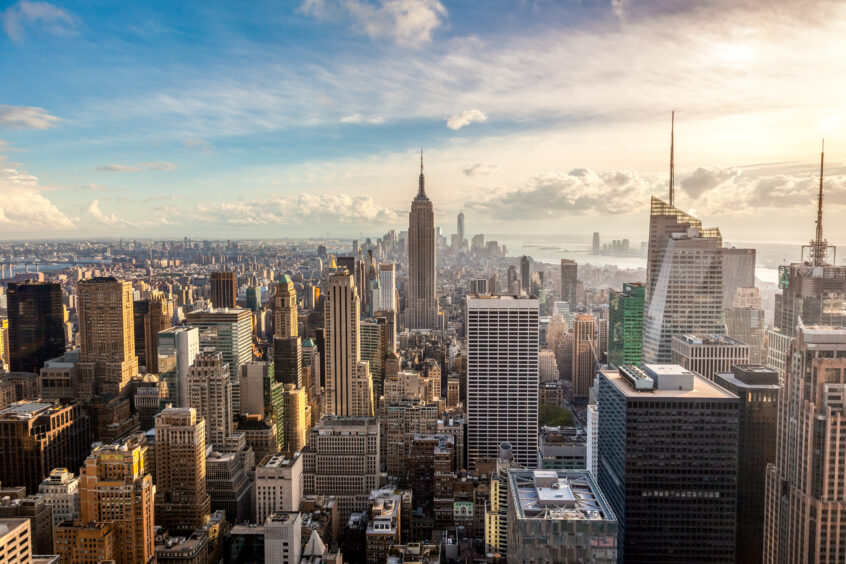 Major US and Canadian banks are being asked by shareholders and climate action groups to take action on global net zero targets by reducing their lending to the fossil fuel industry, and to set and publish interim emissions reduction targets for 2030.
Major US and Canadian banks are under pressure from activists as well as major shareholders to help achieve net zero goals.
The proposals focus on banks being asked to set interim targets to 2030 and to reduce lending to heavy-emitting sectors.
Shareholders and activists can be influential in making banks accelerate their climate actions, although central banks and governments also have a role to play by setting policies and frameworks for lending to heavy-emitting sectors.
Banks and financial institutions that are part of the Glasgow Financial Alliance for Net Zero (GFANZ) remain heavily invested in fossil fuels despite their climate pledges, according to a January 2023 report by a group of NGOs. They raised concerns over the banking sector's ability to decarbonise, given continued support of greenfield fossil fuel projects and what has been described as unambitious targets.
In fact, while the NZBA's first progress report released in November 2022 shows 60 member banks set interim decarbonisation targets, this only accounts for half of the alliance's members. The head of the UN Environment Programme's Finance Initiative believes targets set by NZBA members could incentivise the 60% of global banks outside the alliance to also set targets. 
As You Sow increases pressure on US financial institutions to act on fossil fuel financing
US-based shareholder advocacy group As You Sow (AYS) is calling on five of the largest US banks to set science-based interim targets for 2030 for their emissions reduction plans. The non-profit is acting on behalf of shareholders that want the banking sector to change its lending behaviour and make progress on climate action, towards achieving global net zero goals.
All five banks, Bank of America (NYQ:BAC), JPMorgan Chase (NYQ:JPM), Goldman Sachs (NYQ:GS), Morgan Stanley (NYQ:MS), and Wells Fargo (NYQ:WFC), are members of the NZBA. Signatories of the alliance have committed to aligning their lending and investment activities with the Paris Agreement's net zero by 2050 goal.
Three of the five banks being targeted by AYS are among the largest global lenders and underwriters of fossil fuels. All have set 2030 intensity-based emissions reduction targets for their highest-emitting portfolio sectors, which include auto-manufacturing, energy, and power. Each bank has responded by finding ways to measure their financed greenhouse gas (GHG) emissions, starting to disclose those emissions, and setting 2030 net zero-aligned greenhouse gas reduction targets for certain of their highest emitting sectors. 
ASY is not alone in its demands, as several asset and investment management firms, as well as retail investor platform Tulipshare, have also filed resolutions calling on banks and insurance companies to step up efforts to cut greenhouse gas emissions. Many lenders are also coming under pressure from pensions funds and local governments to take action on decarbonising heavy-emitting sectors.
NYC asks major North American banks to set decarbonisation targets for heavy emitters
Three of New York City's pensions funds and the city's comptroller have asked major US and Canadian banks to establish science-based emissions reduction targets for 2030, and make them publicly known. 
The shareholder proposals are asking for the banks to set absolute reduction targets that are science-based and aligned with a net zero emissions pathway. They also form part of the pension funds' overall approach to achieving net zero emissions in their investment portfolio by 2040.
The banks being targeted by NYC are Bank of America, Goldman Sachs, JP Morgan Chase, and the Royal Bank of Canada (TOR:RY). These four lenders have only set intensity-based emissions reduction targets, which do not capture whether a bank's total financed emissions have decreased in the real world. In order to make progress towards helping global goals towards achieving net zero emissions by 2050, they also need to set interim reduction targets that account for total portfolio emissions. 
According to the Rainforest Action Network's report Banking on climate chaos, JP Morgan, Citi, Wells Fargo, Bank of America and RBC are the five largest lenders to the fossil fuel industry.
New York City Comptroller Brad Lander said: "Shareholders applauded these banks when they set net zero goals – but it can't be all talk. We expect them to take the steps needed now to reduce emissions on the timeline to which they have committed. We are asking Bank of America, JPMorgan Chase, Goldman Sachs, and Royal Bank of Canada to follow the lead of their peers by setting and disclosing absolute, science-based targets for 2030, to show investors they are serious about reaching those goals. Absent a concrete plan to reduce absolute emissions in the real world in the near term, any net zero plan rings hollow".
Shareholders and activists can help banks avoid lose-lose scenario
The transition to net zero cannot be achieved without the participation of the major global banks, including the ones that make up the NZBA. Stakeholders can play a vital role in ensuring banks take the necessary steps to decarbonise their portfolios, especially relating to heavy-emitting sectors.
There is global consensus on the consequences of failing to act on decarbonisation in a timely fashion. The Intergovernmental Panel on Climate Change has identified the move away from fossil fuels as imperative to meeting the 1.5°C goal, while the International Energy Agency (IEA) has stated that there is no room for new oil and gas in a net zero future.
Banks face a lose-lose scenario by continuing to finance fossil fuel activity. Reduced use of fossil fuel in the IEA's Net Zero scenario will result in oil and gas assets becoming stranded assets, as they will become uneconomic under new regulations. The economic hit from the continued use of fossil fuels, however, will destroy value for banks and investors.
Shareholders, acting along with shareholder activists and climate action groups, can influence banks to accelerate their climate action by reducing their lending to the oil and gas industry. Central banks and governments also need to do their part by setting guidelines and frameworks on lending to heavy polluters.