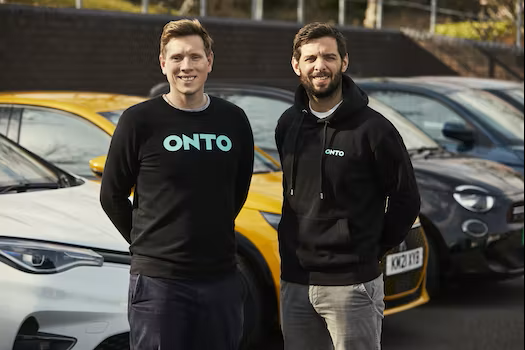 London-based Onto has secured a £100 million credit facility to expand its electric vehicle subscription business across the UK. 
Onto will expand its fleet of electric vehicles (EVs), making new models available to its monthly subscribers.

 

Although demand is on the rise, high costs remain a key limitation to the adoption of EVs.

 

Innovative business models could play a key role in the adoption of clean technologies, making them particularly attractive to potential investors.

 
Onto has raised a credit funding line worth £100 million. The facility has been provided by Pollen Street, an independent asset manager that had previously partnered with Onto in 2021, and CDPQ. 
The startup will use its latest funding to expand its UK fleet of electric vehicles (EVs), adding a number of new models to its current offering. In doing so, it hopes to build out its subscription-based service and accelerate the country's EV adoption. 
"We're grateful for the support of Pollen Street and CDPQ – it will turbocharge our UK growth plans and consolidate our position as the leading electric car subscription service. This is a pivotal moment for the adoption of electric cars and at Onto we want to make them more accessible and affordable to people who want to make environmentally-conscious choices," said Rob Jolly, co-founder and chief executive of Onto. 
High costs continue to limit the EV adoption
Around 225,000 electric cars were registered within the UK during the first 11 months of 2022, marking a 38% increase from the previous year. Although this indicates that the demand for EVs is on the rise, there is research to suggest that progress may be stalling. 
There are a number of reasons that the adoption of EVs may be slowing, ranging from issues within the supply chain to the high costs of manufacturing. With these limitations, EVs are yet to achieve price parity with internal combustion engine (ICE) vehicles unless they are heavily subsidised. 
Research from Deloitte suggests that high costs are one of the primary limitations to EV adoption. It concluded that consumers are generally unwilling to pay a premium for electrified cars, particularly when conventional fuel prices are low. 
If the high costs of EVs are continuously passed on to the consumer, there is a significant risk that ICE vehicles will remain the norm. There is an alternative approach, however, through which the automotive industry could shift away from the incumbent model of simply making and selling vehicles to offer a more flexible, convenient and cost-effective solution. 
Onto's EV subscription service
Onto has demonstrated the potential of this opportunity by developing an EVs subscription service. Its customers simply create an account, select their chosen vehicle, and pay a monthly subscription fee for as long as they want or need it. At the end of each payment cycle, they are given the option of renewing their subscription, exchanging their car for an alternative model, or returning their vehicle and cancelling all future payments.  
With car insurance, maintenance services and breakdown coverage included in their subscription, the only additional costs paid by Onto's customers are one-off payments for each delivery, return or exchange and the optional purchase of additional mileage. Thanks to an agreement with Shell (LSE:SHEL), the company is also able to offer free access to a network of over 11,000 public charging points across the UK. 
A subscription with Onto does not require any deposit, nor does it involve entering into a long-term contract. This means that its customers are able to avoid the upfront costs of purchasing an EV, reassuring them that they can end their subscription at any time without risking the loss of a substantial investment. 
Business model innovation lowers the barriers to EV adoption
Onto's subscription service is an example of how business model innovation could accelerate the UK's EV adoption, as its divergence from traditional vehicle ownership provides consumers with a low-cost, risk-free option that is both flexible and convenient. 
The shift towards innovative, service-based models seems likely to play a key role in the adoption of clean technologies. Such models can help to address a wide number of market barriers, ranging from capital constraints to uncertainties around a certain product's performance.  
They could also be useful in enabling wider behavioural change by encouraging consumers to abandon their expectations of permanent ownership in favour of shared or temporary systems. This would accommodate more sustainable modes of production and consumption, by reducing the need to continuously manufacture new items that are disposed of as soon as they have fulfilled the purpose of a single individual. 
For the business itself, service-based models provide to access a recurring revenue stream that can improve their stability and contribute to their future expansion. This can make them particularly attractive to investors, who are likely to see the potential for continuous returns. 
With the UK Government planning to phase out the sale of new ICE vehicles by 2030, the interest in innovative businesses that can support the development of an alternative EV market is sure to increase. As such, Onto's successful fundraising efforts may provide an early indication of what has the potential to become a major trend.