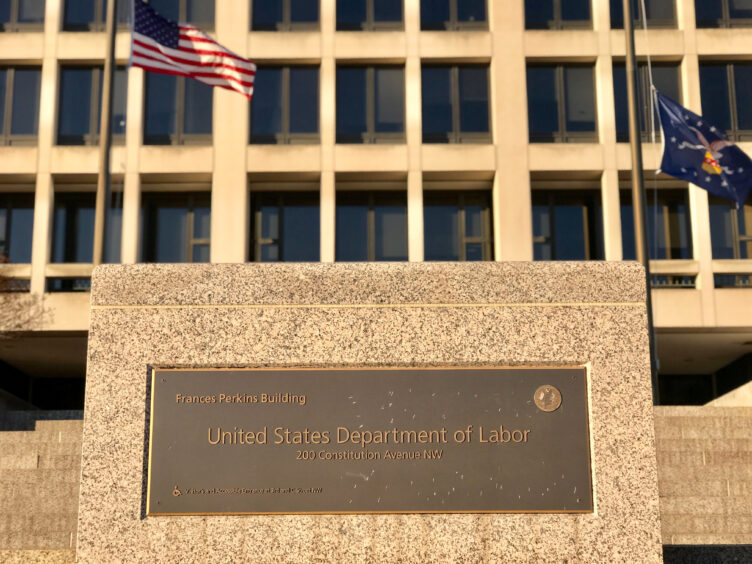 Republicans, backed by the fossil fuel lobby, are taking legal action against the US Department of Labor (DoL) after it set a rule allowing fiduciaries to consider climate and sustainability risks in investment decisions for pension plans. This can potentially damage investment returns for savers and pension investors across the country, and even jeopardise the country's decarbonisation plans.
Republicans are taking legal action against the DoL's rule allowing fiduciaries to consider ESG risks in administering pension plans. 
This represents a further escalation by Republicans against ESG-themed investing, believing that it is a 'woke' conspiracy to impose liberal values on investing.
This war on ESG may jeopardise the savings and pensions of over 150 million workers across the country, in addition to potentially derailing the country's decarbonisation efforts.
In November 2022, the US DoL issued a final ruling that allowed investment managers to consider ESG risks in their decisionmaking around pension plans. This removed previous obstacles to considering ESG risks in the provisions of the Employee Retirement Income Security Act (ERISA). It reversed policies put in place by the previous administration, including restricting shareholders from engaging with companies via proxy voting.
What do the Republicans allege in their latest complaint?
Republican attorney generals (AGs) from 25 states in the US are seeking to stop the DoL's rule that they say "prioritises woke Environmental, Social, and Governance (ESG) investing over protecting the retirement savings of approximately two-thirds of the US population, which is around 152 million workers".
The legal action is being led by Texas' state attorney general Ken Paxton, on behalf of AGs from 24 other US states, as well as plaintiffs that represent the fossil fuel industry. They include the Western Energy Alliance, a lobbying group representing 200 companies engaged in oil and gas exploration and production in the Western US. Also named as plaintiffs were Liberty Oilfield Services (NYQ:LBRT), a Colorado-based company, and Liberty Energy (PNK:LBYE), based in Texas.
"This rule is an affront to every American concerned about their retirement account," said Attorney General Paxton. "The fact that the Biden Administration is now opting to risk the financial security of working-class Americans to advance a woke political agenda is insulting and illegal. For generations, federal law has required that fiduciaries place their clients' financial interests at the forefront, and I intend to fight the Biden Administration in court to ensure that they cannot put hard-working Americans' retirement savings at risk."  
Lawsuit represents an escalation of Republican anti-ESG war
The legal action against the DoL represents the latest salvo in the anti-ESG campaign waged by the Republicans. Their actions have ranged from banning banks and financial institutions from doing business in some states, attacking the US Securities and Exchange Commission (SEC) for putting forward climate-risk disclosure requirements, and targeting proxy services companies for their sustainability engagement activities on behalf of shareholders.
Some states also acted unilaterally: Florida passed a resolution to ban state pension funds from including ESG considerations in their investments, while Texas blacklisted funds that boycott certain energy companies. West Virginia decided to ban five major financial institutions from doing business in the state due to their plan to limit involvement with the fossil fuel industry.
In January 2023, Republican AGs from 21 states accused proxy voting firms ISS and Glass Lewis of violating their legal obligations by providing advice on climate and diversity issues in their services to states' investment vehicles, citizens and businesses.
Anti-ESG war jeopardises risk-adjusted returns for savers, decarbonisation plans for the US
Obstacles raised by Republican policymakers, which are influenced by special interest groups such as the fossil fuel lobby, may increase resistance to tackling climate change and implementing sustainability measures in an important market like the US.
Analysis from Influence Map suggests that corporate climate lobbying has diluted or resulted in the failure of legislation and regulation around many different approaches. Even after warnings by the International Energy Agency and Intergovernmental Panel on Climate Change that new fossil fuel activities are inconsistent with net zero by 2050, banks continue to increase their lending to the sector. What is cause for greater concern for climate activists is the increasing influence of the fossil-fuel lobby: at COP27 in 2022, representatives of the industry outnumbered those from ten of the smallest countries.
Anti-ESG war jeopardises risk-adjusted returns for savers, decarbonisation plans for the US
The Republicans have focused their anti-ESG campaign by labelling it a 'fascist strategy' being used by the 'woke left' against free markets and the fossil fuel industry, which imposes diversity, inclusion and equity standards on firms that do not want it. They also claim that a pro-ESG stance is anti-capitalism and that, by prioritising ESG issues over earning a financial return, it is failing investors. Multiple studies, however, have shown a positive correlation between financial performance and a sustainability lense. 
Viewing investments through an ESG lens provides investors with the information they need to allocate capital most efficiently, in line with their own risk appetite and for the highest, most stable return on investment. Not doing so intentionally risks jeopardising financial returns.
By limiting banks and financial institutions from providing services in their states, Republican AGs and senators that are anti-ESG are potentially limiting the ability of pension account holders and savers in their states from factoring the long term impacts of climate change on financial returns. With the most recent lawsuit against the DoL, the Republicans are now expanding the potential of ignoring the impact of climate risk on financial returns to the over 150 million workers covered by ERISA across the country.