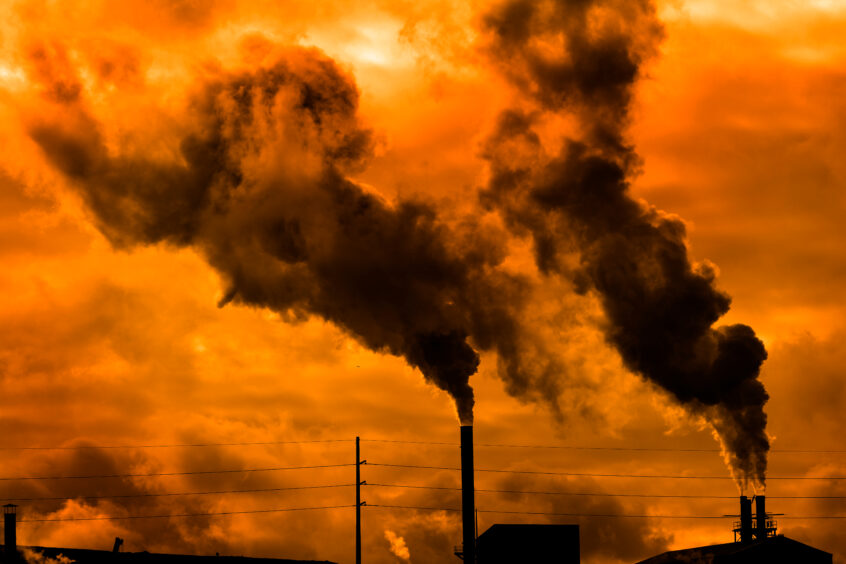 Investments into carbon capture, utilisation and storage (CCUS) are unlikely to succeed in driving the transition to net zero, according to a recent report from Sustainable Fitch. 
Sustainable Fitch has compiled a report on the numerous risks associated with CCUS investments, concluding that their ability to deliver the net zero transition remains highly questionable.

 

CCUS is widely recognised as a critical tool to achieve net zero by 2050, but historical failings and technological hurdles represent significant risks to investors.

 

Despite Fitch's hesitations, the CCUS market will continue to grow and evolve as governments continue to prioritise nascent technologies within their climate strategies.
Sustainable Fitch, a division of financial services provider Fitch Ratings, has released an in-depth report on the risks of investing in carbon capture, utilisation and storage (CCUS) developments. Ultimately, it concludes that historic underperformance and technological limitations will continue to challenge the sector's viability for the foreseeable future. 
"Given existing challenges with regards to technological progress and achieving targeted capture capacity, there is considerable uncertainty for investors whether industrial projects with CCUS will be able, in the long term, to compete with low-carbon alternatives in their respective sectors," warned Kathrin Wartmann, associate director of Fitch's climate risk department. 
The risks of investing in CCUS
Fitch's analysis explores a number of risks that could be associated with CCUS investments. Its primary concerns are the technological immaturity of available solutions, as well as the long list of projects that have failed to achieve their performance targets. 
These worries may well be valid, with a previous report by the Institute for Energy Economics and Financial Analysis finding that only three of the 13 big-ticked CCUS projects it had studied were performing well. Of the remaining 10, one had completely failed while another had been called off long before its commissioning. 
Despite their lack of proven success, CCUS technologies come at a significant cost. The majority are dependent on long-lived assets, including transportation and storage infrastructure as well as the system itself. The process of appraisal, construction and development of these assets can cost hundreds of millions of dollars, a high price to pay for a solution that history suggests might not deliver. 
Although Fitch acknowledges that CCUS may be the only solution available to emissions-intensive industries such as cement or fertiliser production, it concludes that most sectors would see greater success with alternative options. Even the steel industry, it says, is likely to prioritise the use of green hydrogen. 
"As the failure to reach targeted capture rates or cost improvements of CCUS technology in more mature applications has shown, investing in such a high-risk and capital-intensive technology in sectors where low-carbon alternatives are available does not seem a sustainable solution," the report explains. 
It goes on to suggest that the ties between CCUS and the fossil fuels industry could heighten investors' exposure to accusations of greenwash. To date, the successful commercialisation of CCUS technologies has relied on the use of captured carbon for a practice known as enhanced oil recovery (EOR). 
Given that the EOR process involves using captured carbon to increase the productivity of oil and gas fields, it can increase the viability of CCUS by generating additional income for fossil fuel companies. For many investors, however, the ongoing support of fossil fuel extraction comes in contradiction to their initial goals. 
With each of these risks in mind, Fitch advises that investors and corporations ought to proceed with significant caution before pledging their commitments to CCUS development. At present, it concludes that there is no clear pathway through which such investments can guarantee a successful contribution to the net zero transition. 
Is it too late to change direction?
Despite the lack of certainty surrounding CCUS technologies, there are few developed scenarios through which we can hope to achieve net zero without them. Indeed, both the International Energy Agency and the Intergovernmental Panel on Climate Change have stated that emissions reductions alone will not be enough and that CCUS has a key role to play in filling the gap. 
In light of these statements, countries across the world have already begun to prioritise the expansion of CCUS. From Australia to Scotland, the US to the EU, governments have announced various tenders, incentives and funding opportunities that place CCUS at the very heart of their climate strategies. 
If Fitch's warnings are anything to go by, this focus on CCUS could prove largely ineffective. Having already gained such traction, however, it seems likely that the market will continue to develop. 
What next for CCUS?
Already, there has been a sizeable increase in investments towards CCUS. The market's growth has rapidly accelerated in recent years, with more than $3 billion invested during just 11 months of 2022. Although this hints towards its future potential, it is worth noting that, even with the added capacity of projects that are currently under development, there would only be enough facilities to capture 0.6% of today's emissions. 
The CCUS market is also undergoing a process of ongoing change and evolution. For example, the commercial benefits of EOR are gradually being overtaken by regulatory incentives for the prioritisation of permanent carbon storage.
At the same time, a growing number of startup companies have begun to explore alternative technologies that promise to be cheaper and more efficient. For some, such as LanzaTech or Newlight Technologies, these developments include the conversion of captured carbon into potential revenue sources such as valuable fuels, chemicals or bioplastics. 
Fitch's warnings regarding the risks of CCUS are undoubtedly valid, but they are unlikely to result in a complete shift in strategy. New solutions and technologies will continue to emerge, with the most promising among them likely to maintain their appeal within the investment community. Whether any of these approaches will be able to meet the expectations of CCUS as a vital component of the net zero transition, however, remains to be seen.