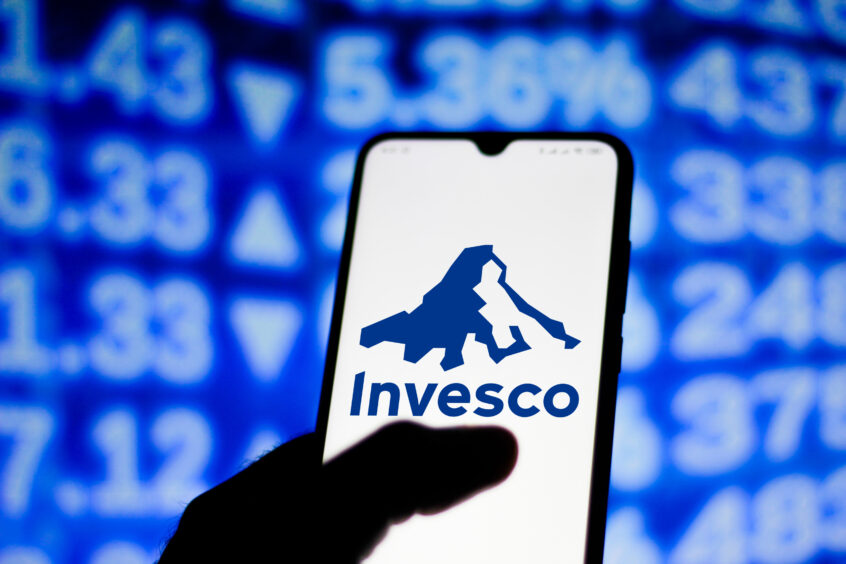 Invesco's new Article 9 fund will invest in stocks and bonds that have strong climate characteristics, but is not intended to be a green or low-carbon fund. As such, it may fall short of the Sustainable Finance Disclosure Regulation's (SFDR) definition, and raise investor concerns over a potential downgrade to Article 8.
Investment management firm Invesco has launched an Article 9 fund, which invests in stocks and bonds that support the transition over the medium- or long-term.
While it plans to invest in securities with strong climate characteristics and will apply several sector exclusions, the managers said it should not be considered a green or low-carbon fund.
This may raise concerns for investors, as Invesco was among several fund managers that downgraded their Article 9 funds ahead of the release of SFDR level 2 updates.
In 2022, several major fund managers downgraded their Article 9 funds to Article 8 funds, anticipating tougher scrutiny by regulators and the market once the SFDR level 2 updates were implemented in January 2023. The fund managers viewed the regulatory environment as one that was still in flux, presenting an element of uncertainty about remaining in compliance with SFDR requirements.
Article 8 funds promote environmental or social characteristics but do not have them as a core investment objective. Article 9 funds have sustainability as their core investment objective, and require comprehensive and understandable disclosures.
Invesco's new Article 9 fund combines equities and bond investments
Invesco's new Article 9 fund, the Sustainable Global Income Fund, is part of its wider ESG offering and will invest in corporate bonds, government bonds and global equities that help drive the transition to a low-carbon economy. While the fund managers have clearly stated that it is not a low-carbon or green fund, they will select stocks and bonds that have demonstrable ESG characteristics, excludingg sectors that derive a certain level of their sales from non-sustainable sources. 
The fund will be co-managed by Invesco's fixed interest and global equity teams, and will invest in bonds to generate income via their coupon payments, while aiming to generate capital appreciation from the stocks in the portfolio. 
Fund manager Alexandra Ivanova said: "Working with our clients has helped us tailor a portfolio that is very targeted to their needs. This Fund is not a green bond fund or a low carbon fund. It is a fund that invests in companies that use very active stock picking and securities selection. We are seeking to finance companies that can make a difference, utilising our in-depth macro and credit research to identify companies with strong climate attributes relative to their peers."
The current state of Article 9 funds 
Recent guidance from the SFDR on Article 9 funds suggests that they should comprise nearly 100% sustainable investments. These must satisfy three main criteria: they should contribute to an environmental or social objective, they must not significantly harm other environmental or social objectives, such as Do No Significant Harm (DNSH), and the investee company must follow good governance processes.
Although it is to be expected that a small share of investments may not fit the 100% sustainable criterion, research from Clarity AI found that, of the Article 9 funds it analysed, a fifth had more than 10% exposure to companies that had violated United Nations Global Compact principles or the OECD Guidelines for multinational enterprises.
Confusion over directions on what constitutes a sustainable investment stems from the EU Taxonomy and the DNSH principle. For example, amendments to the EU Taxonomy to include nuclear and natural gas sustainable fuels have drawn criticism from climate activists.
Guidance in the new SFDR requirements provided by the joint committee of European Supervisory Authorities (ESAs) has also added to the confusion over disclosures. In providing clarifications on the level 2 changes in June 2022, the ESAs acknowledged that both Principal Adverse Impacts (PAIs) considerations and DNSH disclosures use the same adverse impact indicators.
Trepidation over SFDR compliance has affected the market for Article 9 funds
Invesco was among several fund managers who downgraded their Article 9 funds to the less stringent Article 8 fund designation, ahead of the EU's updated SFDR disclosure requirements, which became effective at the beginning of 2023. The US investor downgraded all of its Article 9 Paris-aligned benchmark (PAB) ETF range in November 2022. 
In a notice to investors, Invesco said: "This is a re-categorisation for SFDR purposes only and there is no change to the investment objective or policy of the Funds as a result, with the Funds continuing to seek to reduce their exposure to transition and physical climate risks whilst pursuing opportunities arising from a transition to a lower carbon economy and aligning with the Paris Agreement requirements."
It is widely understood that PAB and climate transition benchmark (CTB) strategies are unlikely to meet the 100% sustainable investment requirements needed to achieve Article 9 under the next phase of SFDR. For a fund manager, being cited for missteps in making sustainability claims and being accused of greenwash are a major cause for concern.
Where does the SFDR stand on finalising its regulations?
Even though the updated SFDR level 2 regulations went into effect on 1 January 2023, the ESAs have expressed concerns over industry preparedness. In October 2022, the ESAs announced a further six-month delay in reviewing and approving the key indicators in the PAI and financial disclosures required by the SFDR, past the original deadline of 28 April 2023. 
PAIs are mandatory ESG disclosures imposed by the SFDR to integrate sustainability risks, and improve transparency in reporting. The ESAs's delay came from the regulation allowing firms to use estimated data to calculate PAIs when reported data is not available. 
This could be confusing, especially when it comes to Scope 3 emissions. A further requirement is to align with the EU Taxonomy for sustainable activities, which is also creating confusion due to its overall complexity and inclusion of gas and nuclear as sustainable fuels.
How does this impact investors who may consider Invesco's Article 9 funds?
The timing of the launch of a new Article 9 fund from Invesco is puzzling, and could raise questions among investors and market participants over its motivations. While SFDR regulations have suffered some delays, the direction of travel appears to be towards more stringency when it comes to ensuring sustainability claims, and guarding against greenwash.
In explaining why investors should consider the fund, Invesco clearly stated that they will use their own judgement to decide on a company's green credentials. The fund also said that it will invest in companies in carbon-intensive sectors, such as power and automotive, which may help finance their transition, but does not conform to the SFDR's Article 9 definition.
Whether Invesco's new Sustainable Global Income Fund remains an Article 9 fund or gets downgraded to an Article 8 fund remains to be seen. What is important is that investors and financial advisors conduct proper care and due diligence, especially because the fund is open to retail investors alongside institutional investors.
Invesco justifying a potential downgrade by citing regulatory confusion, and the fact that their underlying investment strategy in the fund remains unchanged, does not detract from the fact that it will fail to meet the expectations of those investors that were seeking a high level of sustainability.