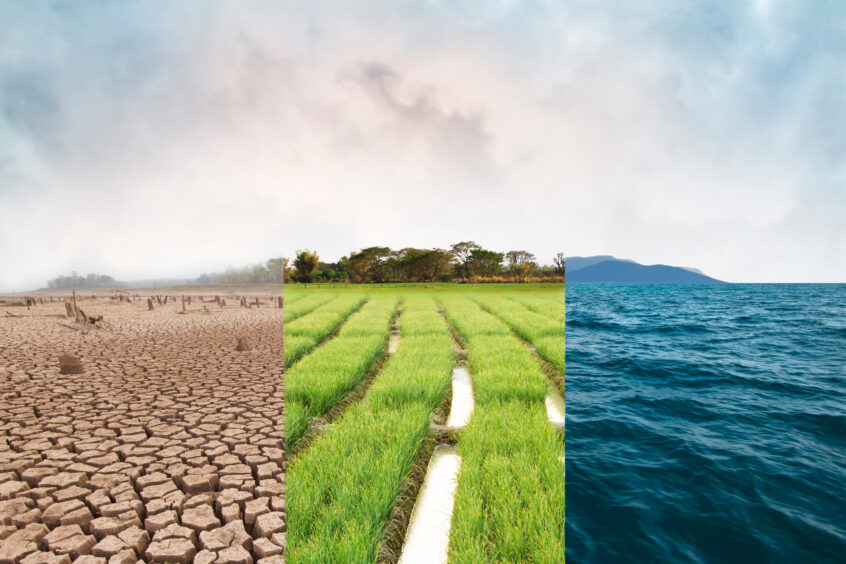 Climate analytics firm Risilience has announced the close of a $26 million Series B investment,  to expand its science-based, climate-risk assessment and net-zero planning platform.
Climate risk analytics as a service is a growing focus for companies and investors.
The round is expected to accelerate market growth and software support for the programmes spun out of Cambridge University.
The market for supporting companies in understanding and responding to climate risk is growing rapidly and becoming an increasingly competitive space.
Led by Quantum Innovation Fund, alongside existing investors IQ Capital and National Grid Partners, the investment will allow Risilience to expand its market-leading SaaS platform to serve clients at any stage of their decarbonisation journey. The funds will also be used to drive international expansion, with a specific focus on the US where pending SEC rules will require climate and risk disclosures.
Jeffrey Harris, Partner at Quantum Innovation Fund, said: "Risilience has demonstrated that its underlying technology platform allows large companies to better understand how best to transform their businesses and to meet the impact of climate change on their business models, supply chains and financial performance while optimising long-term capital allocation. The incremental capital provided in this financing round will enable the company to better support its growing list of clients, enhance the functionality of its software platform and expand its sales/marketing efforts."
Rapidly growing startup was spun out of Cambridge University
Risilience was spun out of the Centre for Risk Studies at the University of Cambridge Judge Business School after identifying a growing need for science-based climate analytics. The Risilience platform has been developed in order to support companies in turning available data into actionable insights and is used by a number of leading industrial players. These include Nestlé, Burberry, Coca-Cola Europacific Partners, Reckitt, easyJet and Tesco.
Long term the goal is to empower such organisations to understand and quantify the scope, magnitude and timescale of climate risk to their strategies and operations. This will allow companies to measure and balance the potential financial impacts with the cost of transitioning their business to operate more profitably in a low-carbon economy. As such, this is an increasingly important tool in enabling the net zero transition as it can help transform concern about potential impacts into actual strategies and plans.
This is a rapidly growing market and new products are being launched providing different approaches to addressing risk management. Insurance group Zurich, for example, just launch a physical climate risk management tool working with carbon finance consultancy South Pole.
Climate risk is a growing problem for the private sector
Addressing climate risk is important in operational terms, but also in reputational and increasingly investor terms. There is increasing demand for transparency and companies are expected to have plans to reach net zero that address both the current and future impacts of climate change on a business.
Given that analysis from the Climate Disclosure Project (CDP) shows that the financial benefits of climate action are at least 15 times higher than the risks, companies need to take action sooner rather than later as part of a sensible governance approach – the increasing politicisation around ESG for example, pales against the importance of effective risk management.
Today many stakeholders expect companies to transparently demonstrate how they are acting on their net zero or environmental pledges, building resilience along their value chain, and, more importantly, regularly reporting on the effectiveness of these measures. 
Using a digital twin to play out potential futures
Risilience's 'digital twin' technology enables businesses to stress test the impact of numerous transitional and physical risks on their organisation including increasing regulation, potential litigation and changing consumer sentiment, that together could reduce business value by up to 30% over the next five years if companies fail to act.
Risilience's CEO, Dr. Andrew Coburn, said: "We believe that the road to net zero presents an opportunity as well as a risk for global enterprises and our unique combination of technology combined with world-class risk science supports our clients to mitigate risks, as well as capitalise on opportunities. With companies under increasing regulatory and shareholder pressure to understand, report and mitigate their potential climate impact, this additional equity funding will help us support them at each stage of their journey."
By expanding its solutions and services, Dr. Coburn said that Risilience intends to help clients on the full journey to net zero –  from initial climate-related disclosures through to complete net-zero planning, tracking and measurement, enabling them to make informed decisions to drive success in the low-carbon economy.