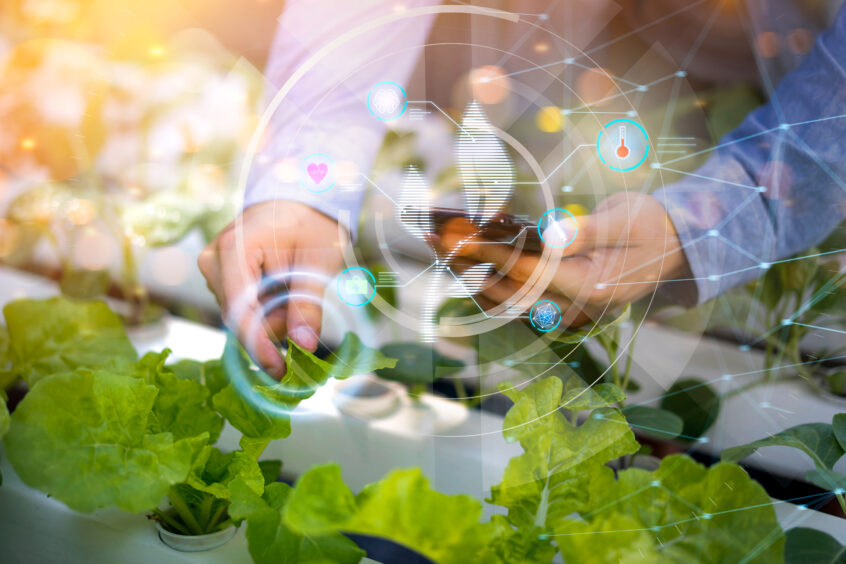 Two years after the Amazon Pledge Fund invested in Hippo Harvest, the company is selling its first line of green lettuces grown using climate tech.
Hippo Harvest uses a combination of hydroponics, robotics and machine learning to grow leafy greens with the most efficient use of resources.
The greens, which use 92% less water and 55% less fertiliser than conventional alternatives, will be sold via Amazon Fresh.
Hippo Harvest's approach addresses transportation, resource use, pesticide pollution and food waste, providing multiple climate benefits through tech.
Less than two years after investing in climate-tech startup Hippo Harvest, Amazon (NASDAQ:AMZN) is selling the company's first line of leafy green lettuces. The greens are grown using 92% less water and 55% less fertilizer than conventional produce, according to Hippo Harvest. The lettuce mixes are also farmed using machine learning and robots that operate in greenhouses close to the customer base.
The collaboration is part of Amazon's broader commitment to address climate change by supporting new climate technology companies through its Climate Pledge Fund. The Fund invested in Hippo Harvest in 2021 to help the company scale from a small startup to a commercial-sized operation that can now provide new grocery options for consumers.
What makes Hippo Harvest climate tech?
Hippo Harvest's growing process addresses several global warming factors that traditional farming contributes to, including mass land and fertilizer use, carbon emissions from long-distance food transportation, and the release of methane gas from wasted produce thrown into landfills. These factors account for nearly 30% of the greenhouse gas emissions related to crops grown for human consumption.
Transportation is always an issue within the food system. Conventional produce grown in fields across the US is often transported an average of 1,500 miles before it reaches the consumer. Nearly half of all US produce is grown in California fields, but climate change-induced drought resulted in an estimated 800,000 acres of cropland remaining unplanted in 2022 alone.
Hippo Harvest's greenhouses don't require farmland and are climate-controlled, so they can be located closer to consumers—even in low-water environments or areas with limited agricultural space, like metropolitan areas. Growing produce close to consumers increases its shelf life and reduces carbon emissions by eliminating the need to transport the product over longer distances.
Hippo Harvest's first commercial-scale greenhouse is in Pescadero, California, a rural town about 45 miles south of San Francisco in a region experiencing prolonged severe drought and recent floods that washed out farmers' fields. The Hippo Harvest greenhouse will serve as a test case for how the local agriculture community can address both its record water shortage and increasing rain storms.
At the same time, Hippo Harvest uses a closed-loop, direct-to-root fertiliser system and machine learning to calculate the efficient amount of water, fertiliser, and light needed to produce high-yield crops, which are grown in repurposed greenhouses. Instead of conventional pesticides, the company uses beneficial insects, peppermint oil, and other natural pest controls. Every step away from the overuse of fertiliser and pesticides is a step closer to an environment that benefits nature.
Hippo Harvest also uses off-the-shelf robots to farm the plants more efficiently, which helps reduce food waste. The robots use inexpensive, customised attachments that help them deliver precise levels of water and nutrition to the plants. The robots can also delicately harvest the crops, which prevents the damage that produce often suffers when grown conventionally in fields.
Why does Amazon care?
Amazon Fresh online customers in select San Francisco markets will now be able to purchase the Hippo Harvest spring mix, gourmet lettuce blends, and baby romaine. The greens are grown with no pesticides and packaged in 100% post-consumer recycled plastic. This makes them appealing to customers trying to make more responsible consumer choices.
"Climate change is already impacting how we eat. As water continues to disappear from our agricultural communities, we need solutions that give farmers the ability to make the best use of our natural resources and ensure everyone has access to fresh produce," said Amazon Vice President of Worldwide Sustainability Kara Hurst. "Amazon's collaboration with Hippo Harvest is another step forward in our work to support transformative green technologies while also providing our customers with a broader array of grocery options."
Providing customers with more food options
Along with investing in climate-tech startups like Hippo Harvest, Amazon is looking to the future of farming in other ways. Amazon Fresh recently transitioned to selling only cage-free eggs, including Amazon's brand Happy Belly, that meet third-party certifications like Certified Humane and USDA Organic. Amazon has also committed to sourcing pork from producers that don't use gestation crates. The goal is for the pork to be available across Amazon's private-brands fresh products in grocery stores in North America by 2025.
Amazon already offers a wide range of certified Climate Pledge Friendly products online and in store, and more than 50% of eligible surplus food from Amazon Fresh online and physical stores was donated to communities last year through Feeding America and local non-profits.
Hippo Harvest also recently signed The Climate Pledge, a commitment co-founded by Amazon and Global Optimism for businesses to reach net-zero carbon by 2040.