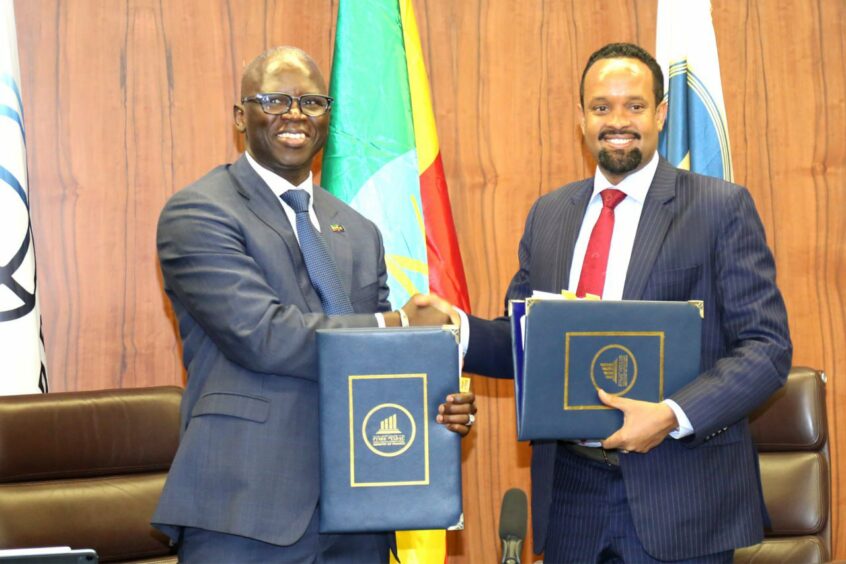 The World Bank and Ethiopia have signed a $40 million deal using verified emissions reduction credits to finance landscape protection and restoration.
The World Bank and Ethiopia have secured an Emission Reductions Purchase Agreement which will unlock up to $40 million for projects reducing or sequestering carbon emissions.
It is expected to bring extra funding to Ethiopia's Oromia Forested Landscape Program, intended to reduce the footprint in the Oromia region by improving forest and livestock management.
It marks an important development for the country, which has mostly been dependent on grants for its climate projects, currently underfunded.
Ethiopia has signed a landmark agreement with the World Bank's BioCarbon Fund Initiative for Sustainable Forest Landscapes (ISFL), intended to reward the reduction of 4 million metric tons of CO2e emissions by 2030 under Ethiopia's Oromia Forested Landscape Program (OFLP).
The Emission Reductions Purchase Agreement (ERPA) is unlocking up to $40 million expected to help communities, government, and stakeholders to reduce carbon emissions and increase carbon sequestration through forest preservation and other environment-friendly land uses, tackling deforestation and land and forest degradation. It represents the first ERPA for ISFL.
What is the ISFL?
The initiative is a series of programmes to help rural communities address poverty and develop sustainably, while simultaneously reducing land-based greenhouse gas (GHG) emissions. This includes REDD+, sustainable agriculture, and climate-smart land-use planning, policies, and practices. 
The World Bank has drawn from the experiences of the ISFL to develop its Scaling Climate Action by Lowering Emissions initiative – its new 'one-stop shop' for results-based climate finance. It is intended to achieve emissions reductions in support of countries' Nationally Determined Contributions (NDCs) and broader climate ambitions, including in the areas of agriculture, land use, forestry, oceans, natural capital assets-supporting sectors, and ecosystem services. 
As such, will allow countries to follow in the footsteps of Ethiopia to develop jurisdictional, integrated land-use programmes that protect forests while improving the sustainability of other critical land uses, all while reducing GHG emissions and improving the prosperity of local communities.
What does the OFLP entail?
The programme was designed to reduce the GHG footprint in the Oromia region by improving forest and livestock management. The area is home to over 30 million people and 52% of the country's forests, although wood extraction, slash-and-burn agriculture and livestock farming are causing deforestation.
OFLP has been supported by ISFL grants since it was implemented in 2017. The investments have resulted in over 350 community cooperatives being engaged in afforestation and reforestation activities and participatory forest management, with plans and assessments covering more than 195,000 hectares of natural forests. Over 46 million tree seedlings have been produced and more than 9000 hectares of land have already been reforested. 
The programme has also worked with the private sector and governmental entities to promote the adoption of new business models, intended to ensure environmental and economic sustainability and the development of forest-smart policies that support local initiatives.
The ERPA is expected to bring significant additional funding to the programme in the form of results-based payments for verified emission reductions. The World Bank said that a comprehensive benefit-sharing plan is prepared to ensure stakeholders are rewarded fairly for their efforts.
Addressing the financing gap for Ethiopia's sustainability needs
Like many other countries in Africa, only a fraction of Ethiopia's climate finance needs are met. According to a study by the Climate Policy Initiative (CPI), around $1.7 billion per year of investments were committed towards climate change-related activities between 2019 and 2020.
This was just 7% of Ethiopia's estimated climate finance needs of $25.3 billion, and equivalent to around 2% of its GDP across the two years. Indeed, estimates suggest that Africa requires $2.8 trillion between 2020-2030 to implement its NDCs under the Paris Agreement, but annual climate finance flows in Africa are currently only around $30 billion.
Mitigation projects in Ethiopia between 2019 and 2020 were heavily reliant on grants and concessional financing, which reflects high actual and perceived investment risks. This also raises concerns over the provision of sustainable long-term investment flow, according to CPI.
While the ISFL has awarded grants to the Oromia programme in the past, the new ERPA seems to be taking a different approach. In fact, ERPAs are legally binding contracts intended to deliver carbon credits from one party to the other. 
According to the World Bank, they can be used by developing countries to build a carbon credits market or apply them to their own emission reduction targets. The Bank itself has made $2 billion in emission reduction payments through 200 ERPAs in 65 countries over the past two decades. 
"In the absence of public sector spending, African climate action and biodiversity loss prevention needs private sector involvement desperately. Similarly, schemes that provide income streams to local communities, and draws on their localised expertise, are always welcomed," said Daniel Kaul, founder and chief executive of Natucate. "As an eco-tourism operator, this is exactly the type of partnership between the public and private sectors that we support. On our tours and courses, we can see the impact of biodiversity loss on a daily basis. Outfits like ours can support conservation of biodiversity, but it cannot be left to tourism alone."
"I hope this partnership can provide a blueprint for further public-private partnerships across the continent and the world."