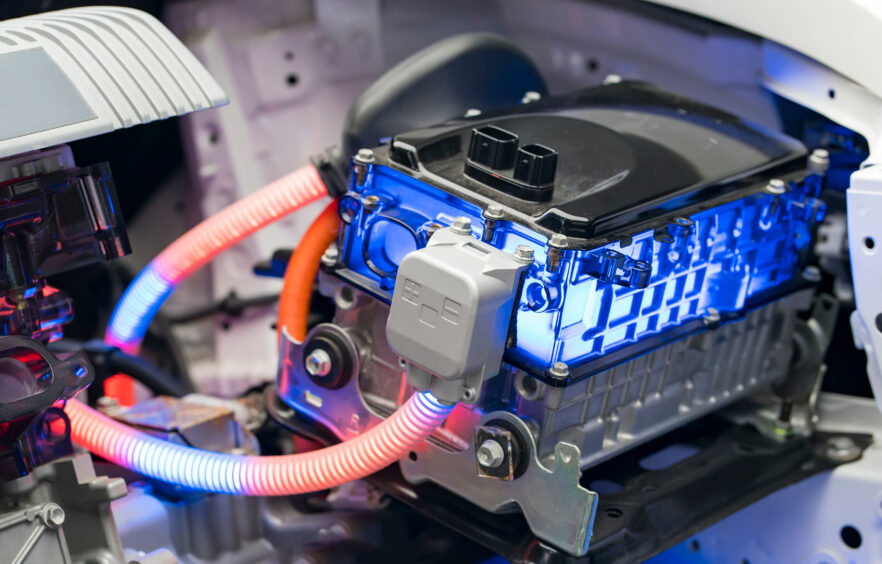 Battery startup Redwood Materials has received a $2 billion loan from the DoE. The funds will be used to build a giga-scale factory making battery components for use in EVs and energy storage. Demand is expected to increase rapidly due to the US' transition plans, helping to onshore a potential $150 billion market for electric batteries.
US-based battery startup Redwood Materials has received a conditional commitment for a $2 billion loan from the Department of Energy (DoE).
The company will use the funds to build its first battery materials plant to make cathodes and anodes, critical components of electric batteries.
The loan is part of US plans to build a domestic battery supply chain to satisfy the demand from rapid growth in EVs and renewable energy storage applications.
A report by the Federal Consortium for Advanced Batteries (FCAB) estimates that there will be 9.6 million electric vehicles (EVs) in the US market by 2040. This could result in around $100 billion in battery imports, if all the batteries for these EVs are manufactured abroad. 
Capturing a portion of this is an imperative for the US auto industry, which contributes 5.5% to the country's GDP. This estimated market potential for the domestic battery industry rises further when adding the capacity needed to support grid storage. 
FCAB was launched in 2002 by the DoE, and other federal agencies to accelerate the development of a domestic industrial base for advanced batteries.
How did Redwood qualify for the conditional funding from the DoE?
Redwood Materials had been working closely with the DoE's Loan Programs Office for over 12 months, prior to being awarded the $2 billion loan. The award resulted from a comprehensive review of its technology, its ability to repay the loan, and forecasts for potential demand. 
It has received a conditional commitment for a $2 billion loan, as part of the Advanced Technology Vehicles Manufacturing Loan Program (ATVM), which will be contingent on its meeting previously agreed to milestones in developing its battery components to scale.
Redwood began producing anode copper foil at its Northern Nevada facility in January 2023, a year after it broke ground on its first production site. The company plans to begin testing its cathodes later in 2023, having completed the first phase of its copper foil anode production. 
The funding from the DOE establishes an important step in US' efforts to set up a domestic battery supply chain. Redwood also satisfies the government's plan to onshore the supply chain for batteries, supporting the Biden administration's plans to make transportation more green and sustainable. 
What are Redwood's plans for the funds?
Redwood plans to manufacture the most important components of an electric battery, the anode and the cathode, in the US to satisfy future demand for EVs and energy storage.  According to the company, this represents a $150 billion potential market for US battery manufacturers which could be lost to overseas suppliers by 2030.
The company will access the $2 billion fund in tranches based upon its completion of the phased construction of its factory. Redwood targets ramping up its components capacity equal to a total storage capacity of 100 GWh annually by 2025, which will be enough to produce batteries for an estimated 1 million EVs, rising to 500 GWh per year by 2030.
Redwood plans to make the anode and cathode components of a lithium-ion battery using new and recycled materials. It has entered into an agreement with Volkswagen Group of America to recycle all end-of-life from all VW and Audi electric vehicles, and has also an agreement with Toyota Motor North America to create a battery ecosystem for its electrified vehicles.
In October 2022, the DoE awarded contracts worth $2.8 billion to develop a supply of critical minerals for batteries. The US currently imports two of the five minerals needed to make batteries, but those supply chains could be at risk.
The cathode in a battery contains lithium, nickel, and cobalt, and requires a complex manufacturing process to make it, as it ensures the safety of the battery itself. The anode contains copper and graphite and is primarily responsible for a battery's charging performance. Together, these components amount to nearly 80% of the material cost of a lithium-ion battery. 
How is Redwood satisfying the US' aim to build a domestic battery supply chain?
Redwood's mission is to keep the battery supply chain localised, and ensure that the US battery industry gets the components it needs to enable clean energy transition. By 2025, the company aims to produce ultra-thin battery-grade copper foil and cathode-active materials at giga-factory scale in the United States for the first time. 
Battery and automotive manufacturers that use Redwood's components will be able to qualify for electric vehicle tax credits for consumers, by meeting the critical mineral and battery component requirements in the Inflation Reduction Act.
The company has already signed offtake partners for its production, which include Panasonic. The Japanese electronics manufacturer will use Redwood's cathode material in battery cell production in its new Kansas plant, targeted to come online in 2025. 
Redwood estimates that its project will create 3,400 construction jobs, while also employing nearly 1,600 full-time employees. According to reports, Redwood has raised $792 million in several venture rounds of funding prior to being awarded its $2 billion loan by the DoE, helping it invest in its technology to qualify for the funding.
Investing to scale-up domestic battery cell production in the US will help create manufacturing jobs, and will also meet the government's clean energy and sustainability goals, while strengthening domestic supply chains to reduce reliance on imported components. 
Although there is a large need to scale lithium-ion production in the US to meet growing demand in the domestic market, the country has a base capacity of around 60 GWh on which to build on, according to FCAB. 
The consortium has estimated that US battery capacity will grow to 224 GWh by 2025, a near four-fold increase from the capacity in 2020. Demand from annual sales of passenger EVs alone, however, is likely to exceed that projected capacity, raising the strategic profile and importance of Redwood's giga-scale factory at a national level.