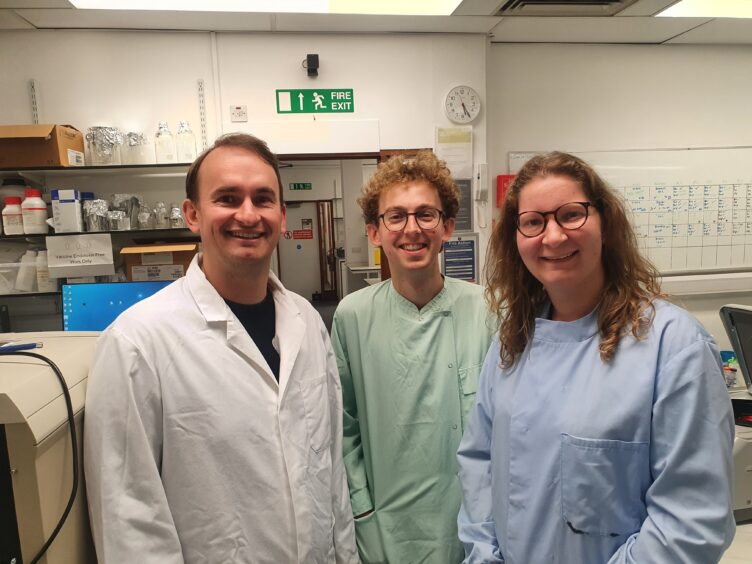 Sun Bear Bioworks, a UK-based biotechnology startup, has raised £500,000 to advance its development of a sustainable alternative to palm oil. 
Sun Bear Bioworks combines synthetic biology with precision fermentation and machine learning to produce a substance that provides the same functionalities as palm oil.

 

With tightening regulations and changes in market demand, palm oil is beginning to create more problems for companies than it solves.

 

As businesses come under increasing pressure to incorporate more sustainable ingredients, the biotechnology industry is leading the way in the provision of alternative solutions.

 
Sun Bear Bioworks was founded in 2022, backed by a £120,000 investment from the Carbon 13 accelerator programme. Its development of an environmentally friendly palm oil alternative has now attracted further funding, leading to the successful closure of a £500,00 pre-seed round led by Unruly Ventures. 
The investment will be used to increase the company's laboratory personnel, and to develop strategic partnerships that will allow it to demonstrate the commercial viability of its product.  
"At Unruly we believe the future will be bio-built. As a species we don't really have another choice. Palm oil is one of the simplest targets: it is an awesome product in most dimensions but one: sustainability," said Stefano Bernardi, founder of Unruly Capital. "We've seen a few startups already try to tackle the issue, but think the team at Sun Bear have what it takes to bring to market a cost-competitive alternative at scale." 
A sustainable alternative made from yeast
The palm oil alternative is made from yeast, a single-cell organism that is abundantly present both within the natural environment and in various waste streams. Through human intervention, Sun Bear is able to modify these microbes and enhance their natural metabolic process. 
"The easiest way to understand it is to think about brewing alcohol. We work with yeast that naturally produces small amounts of lipids, which are similar in chemical profile to palm oil. So, we are using synthetic biology, precision fermentation and machine learning to help the yeast make larger quantities of the oil they naturally produce during the fermentation process," explains Ben Wilding, the company's chief executive. "In short, the yeast eats sugar, turns the sugar into oil, which we process and are able to commercialise." 
According to Wilding, the final product can be used on a drop-in basis as a direct replacement of palm oil. With its high melting point and lack of flavour or odour, it is able to provide the same functionalities that have made palm oil a popular ingredient in a number of everyday items. 
Of course, palm oil's popularity has also been driven by its low cost. As such, the viability of a more sustainable alternative may well be dependent on its pricing. 
"The cost is part of the challenge due to palm oil being a commodity product," Wilding concedes. Sun Bear appears to have navigated this challenge, however, with its initial analysis suggesting that its yeast-based alternative could achieve a "close price parity" with conventional palm oil. 
Is conventional palm oil still a viable option?
With the rising demand for sustainable ingredients, Wilding suggests that Sun Bear may not need to undercut the costs of palm oil itself, so long as it is cheaper than competing alternatives. This may be a valid point, as changes in market expectations are leaving businesses with little choice but to adapt in response. 
Palm oil regulations are growing stricter, with the EU having recently introduced mandatory due diligence requirements while the US has placed a firm ban on the use of palm oil ingredients that are sourced through illegal deforestation.  
At the same time, investors have come to recognise the risks of commodity-driven deforestation and are beginning to demand the disclosures they need in order to eliminate such risks from their portfolios. With the development of standardised frameworks such as that of the Taskforce on Nature-related Financial Disclosures, these demands are likely to translate into common practice. 
Finally, consumers are increasingly searching for products that align with their personal values. They no longer wish to buy products that they believe to be environmentally harmful, and are often willing to pay a premium price for more sustainable options.  
As such, companies that wish to maintain or expand their share of the market would do well to incorporate greener ingredients. Though they may have been able to get away with vague or misleading claims in the past, regulatory efforts to crack down on greenwashing suggests that such practices will no longer be tolerated. 
Despite a range of initiatives being introduced with the hope of continuing palm oil's use on a sustainable basis, illegal deforestation has remained prevalent within the supply chain. As pressure continues to build, companies have begun to invest in advanced technologies that could help them to monitor their exposure. 
The alternative approach would be to eliminate the use of palm oil altogether, opting instead for sustainable replacements. Wilding believes that this would be far cheaper and simpler than using blockchain technologies, drones or satellite imagery in a desperate attempt to improve the traceability of conventional palm oil. 
"We are not just an ingredient but a way of simplifying supply chains, product monitoring and increasing consumer engagement for food brands that want to be seen to be doing the right thing," he explains. "Our alternative oil will be able to be produced much closer, certainly within the country it is needed and also use waste streams to make it even more environmentally friendly." 
Biotechnology takes the stage
Companies including Unilever (NYSE:UL) and the Doehler Group have already adopted this strategy, with the former taking part in a project to create a palm oil alternative made from fermented sugars while the latter has invested in the commercialisation of another yeast-derived method. 
The involvement of such large corporations indicates that there is certainly a market for sustainable replacements of conventional palm oil. As this shift in demand converges with the rapid emergence of the biotechnology industry, Sun Bear Bioworks is well-positioned to take advantage of two major trends. With the success of its fundraising debut, the startup may well be worth keeping an eye on.