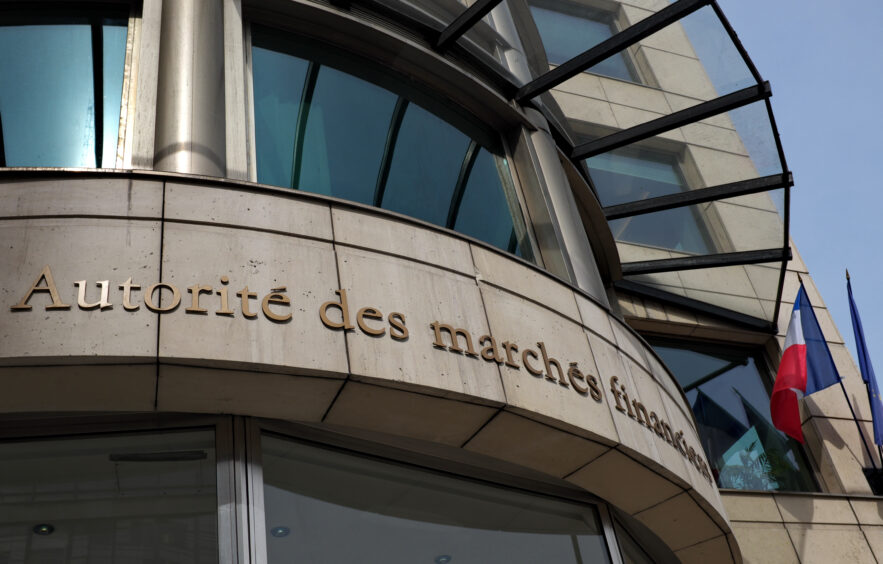 Autorité des marchés financiers (AMF) is proposing minimum ESG requirements for Article 8 and Article 9 funds. This is intended to improve transparency in the sustainability claims made by fund managers and give European savers confidence in investing in the transition, but the inclusion of transition assets may do little to alleviate market confusion.
The French markets regulator is proposing minimum ESG requirements for financial products to be classified as Article 8 or Article 9 under the Sustainable Finance Disclosure Regulation (SFDR).
The proposal intends to add clarity by suggesting that Article 9 funds align with the EU Taxonomy, and that both Article 8 and 9 funds allow investing in transition assets.
Considering that fund managers may be waiting for further clarification from the European Supervisory Authorities on SFDR level 2, the AMF's suggestions may not change much in the near term.
The AMF is an independent regulatory authority with oversight of the French financial market, including listed companies, intermediaries, investment funds and entities that make up the financial market infrastructure, including stock exchanges, clearing houses and depositories.
Its remit is to make sure investors are properly informed and savings are protected when invested in financial instruments, including ensuring the quality of the information provided by financial management companies on climate change. When necessary, the AMF can inspect, investigate and enforce market rules and regulations. 
It has proposed to introduce minimum environmental requirements in European law that must be met by financial products in order to be classified as Article 8 or Article 9 under the SFDR.
What is the rationale behind the AMF's proposal?
According to the AMF, the European Commission intended the SFDR to provide transparency and integrity in the environmental, social and governance (ESG) aspects of financial products. Its goal, therefore, should be to ensure clarity in the sustainability claims and information related to financial products provided by market participants.
Under the SFDR, financial products such as investment funds and ETFs that make sustainability claims are classified as Article 8 or Article 9 funds. Article 8 funds promote environmental or social characteristics but do not have them as a core investment objective. Article 9 funds, instead, have sustainability as their core investment objective, and require comprehensive and understandable related disclosures.
The AMF believes that the current classification regime for Article 8 and Article 9 funds does not adequately assess the scope of the fund's commitment to sustainability. Misstatements or misrepresentations of sustainability credentials can lead to risks of greenwash claims, and result in the funds being downgraded or stripped of their sustainability classification. 
This, in turn, risks investor confidence in sustainable investing, which could impact the number of retail funds being invested to finance the transition in Europe. As such, AMF's proposal is intended to help retail investors better understand the sustainable claims of the funds in which they invest. 
What minimum standards are being proposed by the AMF?
In its position paper published on setting minimum environmental standards for Article 8 and 9 funds, the AMF said that the description of "sustainable investment" in Article 2(17) of SFDR is "worded in vague terms", resulting in confusion in its implementation by fund management companies.
Following an informal consultation with market participants, it concluded that a minimum set of standards will help alleviate the confusion and reduce the risk of greenwash claims. To begin with, it proposed establishing these criteria for environmental claims, or the 'E' in ESG, made by funds.
Environmental criteria should be more stringent for Article 9 funds, compared to Article 8, based on their definitions. Further, in order to qualify as Article 9, a threshold level of assets in the fund portfolio should be aligned with the EU Taxonomy, which could increase as EU laws become more strict on emissions.
Setting up minimum standards would also have oversight over how funds are classified in one of the two categories, with accompanying disclosures enabling comparability of products, and reviews of fund upgrades and downgrades. To do this, the AMF made allowance for the regulator to establish a framework for providers of ESG rating services.
For Article 9 funds, the AMF recommended that fossil fuel investments "that are not aligned with the EU Taxonomy" should be excluded, while their inclusion in Article 8 funds will require meeting strict conditions. These conditions could require, for example, the investee company to provide a comprehensive transition plan that meets EU directives.
In addition to the minimum criteria, the AMF also included some requirements that policymakers may want to consider, such as providing and disclosing engagement strategies at the product level, reporting on principal adverse impacts (PAIs) of the investment decisions relating to the products, and allowing a minimum portion of investments to consist of "transition assets".
A spokesperson for French asset management firm Amundi said: "While we welcome the general approach of the AMF, Amundi remains convinced that the urgency is for the European Union to adopt as soon as possible a clear, precise and consistent definition of sustainable investment to be applied by all market players. This would allow the SFDR regulation to achieve its objective effectively, which is to direct capital towards transition and sustainable activities. Amundi therefore fully supports the recent initiative of the three European Supervisory Authorities which asked the Commission to clarify its interpretation of the regulations in order to guarantee genuine harmonisation of market practices".
Will AMF's suggestions help alleviate the confusion with complying with the SFDR?  
The prospect of complying with the SFDR's new rules that went into effect in January 2023 led fund managers to reclassify Article 9 funds to Article 8, rather than risk accusations of greenwash. The main reason cited by the asset managers was that the regulatory framework did not allow the industry to gauge what would be considered sustainable.
The apprehension over compliance with the SFDR's level 2 update was widely reported to be linked to alignment with the EU Taxonomy and the 'Do No Significant Harm' (DNSH) principle. The inclusion of nuclear energy and gas as sustainable fuel investments has been deemed an official validation of greenwash by climate activists.
A further area of confusion has been linked to allowing the use of estimated data to calculate PAIs when reported data is not available. This could be confusing, especially when it comes to Scope 3 emissions. 
These usually account for about 75% of a company's total footprint, and also provide important information on the impact of its operations on the environment and society. Allowing the use of estimates could raise concerns over the integrity of sustainability claims, the very thing that the SFDR is designed to protect.
Submitting considerations that allow the inclusion of transition assets also adds further confusion for fund managers and investors alike. While the AMF suggested paths to ensure that transition is well defined to mitigate greenwash risks, it also acknowledged that such paths will require legislative action, and could take years to construct.
Indeed, the European Supervisory Authorities (ESAs), representing the European Commission's regulatory arm, asked for a six-month extension for complying with the PAI stipulations in SFDR level 2, past the original deadline of 28 April 2023. 
It is, therefore, not unreasonable to assume that fund managers could decide to wait until further clarification on PAIs is received, before they respond to market demands for sustainable investments. This could mean that the AMF's suggestions may not change much in the sustainable investment marketplace in the near term.