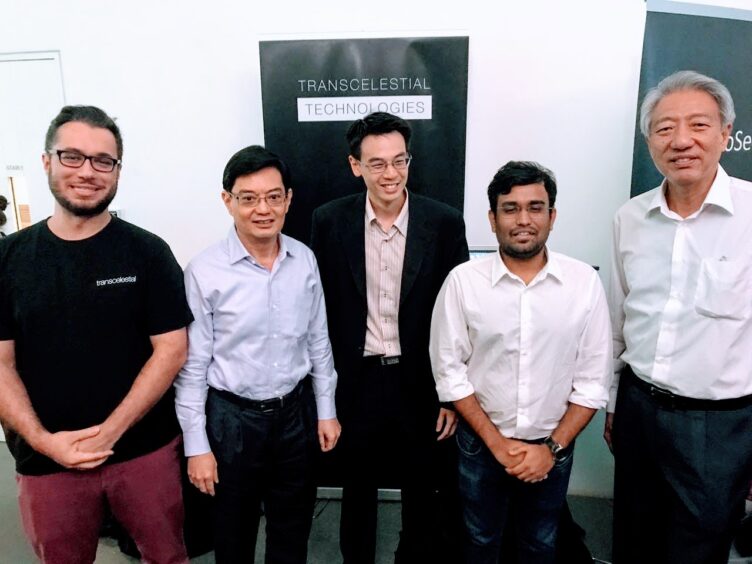 Singaporean startup Trancelestial has raised $10 million to expand its wireless laser communications technology, which promises to deliver fast and affordable internet connectivity to those who need it most.
Trancelestial's CENTAURI devices use laser beams to deliver high-speed internet and connectivity without the need for underground cables or radio frequencies.

 

Affordable connectivity offers several opportunities for sustainable development.

 

With the support of governments and investors, the market for accessible communications technology is well-positioned for rapid growth.

 
With its proprietary laser technology, Trancelestial promises to deliver fast and affordable internet connectivity across the globe. Its latest $10 million fundraising round, led by Airbus Ventures, raises its cumulative investment to a total of $24 million. 
Lasering in on the Asian and US markets
The funds will be used to expand Trancelestial's operations in Indonesia, India, Malaysia, Singapore and the Philippines, where its CENTAURI devices have already been deployed by a number of enterprise partners. 
Building on its success in Southern Asia, the startup also plans to expand into the US. Over 2023, it will explore collaborative opportunities with Government agencies, enterprises and telecommunications companies in selected states. Finally, a portion of the investment will enable the company to scale-up its Terabit Factory in Singapore, ensuring the consistency of its supply chain at a time of global disruption. 
"Fast and affordable internet can be a matter of livelihood. We've transformed this for entire groups of people across some of Asia's most dense urban and island environments," said Rohit Jha, chief executive and co-founder of Trancelestial. "Now, more than ever, we see a similar urgency to respond to the digital divide in the US, especially for broadband." 
High-performance connectivity at an affordable price
Trancelestial's CENTAURI devices provide internet and connectivity via laser beams, eliminating the need for underground cables or radio frequency-based devices. This makes them far cheaper than conventional fibre technologies, as there are no ongoing spectrum costs or licensing fees, while also being quicker and easier to deploy. 
The compact devices are supported by artificial intelligence, which automatically adjusts their alignment to ensure their optimal performance under a range of different conditions. This allows them to withstand severe weather conditions, and deliver high-speed performance no matter the volume of traffic. 
With the wireless CENTAURI devices, internet service providers can expand their broadband delivery to meet the demands of underserved communities. The devices can also be used to provide consistent connectivity between different sites, such as the multiple buildings of university campuses, office parks or residential developments. For telecommunication companies, Trancelestial's solution can provide an opportunity to increase mobile data capacity in line with rising demand. 
Universal connectivity drives sustainable development
According to the United Nations' (UN) 2030 Agenda for Sustainable Development: "The spread of information and communications technology and global interconnectedness has great potential to accelerate human progress, to bridge the digital divide and to develop knowledge societies."  
In recognition of this potential, universal connectivity is now considered to be a fundamental element of an inclusive and sustainable future. Indeed, the UN Development Programme has warned that without affordable and inclusive access to broadband, there can be little hope of achieving the Sustainable Development Goals (SDGs). 
When we consider the world's greatest problems, such as poverty, starvation or disease, the majority of us would not think of affordable connectivity as being high on the list of priorities. For those of us that do have sufficient access, we may think that our frivolous hours spent scrolling through social media cannot come close to providing the security of a solid income, nutritious food or efficient healthcare. 
To understand connectivity's potential, we must take a broader look at the opportunities it provides. These opportunities span far beyond TikTok, delving deep into societal systems ranging from education and healthcare to finance and politics. 
Through connectivity, individuals may gain access to a wide variety of services, support and transactional activity that would otherwise be unavailable. Examples could include online classes, documentation, credit services, entrepreneurial opportunities or voting systems.  
As such, connectivity serves as a gateway through which vulnerable populations can advance their own development and reduce their suffering. With this in mind, the SDGs specifically target the delivery of universal and affordable internet access. 
Currently, however, there is a significant gap in this delivery. In 2020, global internet penetration was calculated as being around 51% of the population, meaning that around 3.7 billion people were still lacking access. Many of these individuals are concentrated within the UN-designated Least Developed Countries, where just a quarter of people were connected to mobile broadband networks by 2021. 
Research suggests that this gap may be widening, having been exacerbated by the COVID-19 pandemic. As much of the world pivoted suddenly towards online service provision, many were left behind. 
Closing the digital divide
The achievement of the SDGs will ultimately rely on the combined efforts of powerful actors from various sectors of society. Although the goals were designed for adoption by national governments, they cannot be delivered without the support of other influential stakeholders such as companies or investors. 
Among the key roles that businesses can play is the innovation of new and improved technologies. According to the Force for Good initiative, such advances could significantly lower the costs of achieving the SDGs through their direct contributions to around 103 of the 169 underpinning targets. 
The International Telecommunication Union (ITU), meanwhile, has described the private sector's role in closing the digital divide as being simply "indispensable". It noted that private companies can provide the capital and expertise that is essential for the construction of accessible communications networks. 
In order to fulfil their vital role, the ITU concluded that companies must be supported by favourable policies and willing investment. Without these incentives, they may be discouraged from focusing their efforts on delivering affordable access to those most in need. 
As the issue of digital connectivity comes further into focus, governments are likely to strengthen their support of emerging technologies. Trancelestial, for example, said that its decision to expand into the US comes in direct response to the Biden Administration's call for universal connectivity. The startup's investors, meanwhile, have clearly taken note of the numerous benefits that its technology has to offer. 
"Through this funding, we believe that the company will accelerate the democratisation of digital access in Southeast Asia, which is in line with Genesis' profit-with-a-purpose mission," said Dr Jeremy Low of Genesis Alternative Ventures.  
"Transcelestial envisions a future where access to high-quality connectivity is a fundamental right for all, which perfectly aligns with the ACTIVE Fund's thesis of 'The Frictionless Future'," added Minette Navarette, president of Kickstart Ventures. "With demand for connectivity skyrocketing, Transcelestial's success is everyone's success." 
These comments suggest that, as investors are increasingly searching for more impactful opportunities, they too are beginning to turn their heads towards communications technologies. With the space growing more attractive, Trancelestial's successful fundraising round positions it as an early player in what is likely to become a rapidly emerging market.