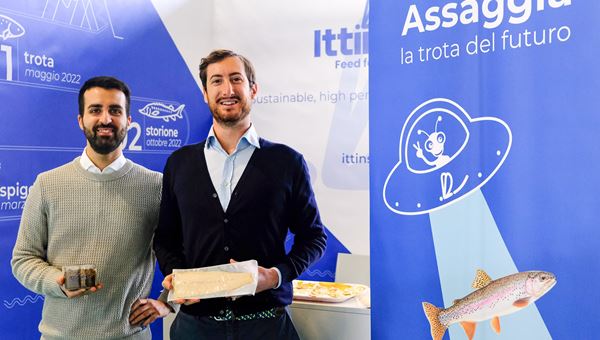 Ittinsect, an Italian biotech startup, has raised €625,000 to develop a sustainable alternative to conventional aquacultural feed. 
Ittinsect will further its development of sustainable aquacultural feed made from ground-up insects and agricultural by-products.
More than 90% of the aquaculture industry's environmental footprint is due to the use of conventional, and unsustainable, feed.
The evolution of the global economy will create new opportunities for biological processes and ingredients.
Ittinsect has closed its first investment round, with participants including CDP Venture Capital, Katapult Ocean, Indico Capital Partners and LVenture Group. In combination with previous grants and prize money, the startup has now raised over €750,000. 
The investment will be used to conduct further research, and to scale the availability of Ittinsect's products. By the end of 2023, the startup intends to have delivered 1,500 tonnes of sustainable aquacultural feed, with its range expanding to include tailored formulations for several additional species. 
"We all work towards a specific goal: making aquaculture independent of marine resources, making it even more sustainable than it already is. We are excited to welcome new investors onboard our journey towards zero-ocean-impact aquaculture," said Alessandro Romano, Ittinsect's founder and chief executive. 
The problem with conventional aquaculture
Seafood plays a vital role in human nutrition, providing over 3.3 billion people with at least 20% of their average protein intake. As well as its high protein content, seafood is a source of important fatty acids and micronutrients including selenium, iodine, iron, zinc and phosphorous. With these characteristics in mind, the UN Food and Agriculture Organization has warned that seafood products are "essential in the fight against hunger and poverty". 
With the growth of industrial aquaculture, however, seafood production has become worryingly unsustainable. Most farmed fish are reared on feed made from fishmeal and oils that are extracted from smaller species, contributing to the ongoing decline of marine biodiversity. 
When combined with the land, water and energy requirements of its production process, estimates suggest that aquacultural feed accounts for over 90% of the industry's cumulative environmental impact. Nonetheless, fish farms continue to depend on unsustainable feed products for the nutritional benefits they provide.  
From ground-up insects to nutritious fish feed
Founded in 2021, Ittinsect has developed a patent-pending process for the treatment of sustainable feedstocks including ground-up insects, microalgae and agricultural by-products. Once treated, it uses these ingredients to make a range of nutrient-dense aquacultural feeds that serve as a replacement for traditional fish-based products. 
The treatment process increases the bioavailability of Ittinsect's feedstocks, meaning that a higher percentage of their nutrients are delivered at a faster speed. This shortens the timeframe of rearing farmed fish species, while also reducing potential losses by strengthening fish immune systems and digestive tracks. 
With these properties, Ittinsect claims that its products could help customers to reduce the costs of their operations. It said that end-consumers may be willing to pay a premium price for more sustainable options, creating a further incentive for the use of its feed. 
For the company itself, costs are kept down through the use of certain insects. Although it will continue to explore alternative species, it primarily relies on those that are already being mass-produced throughout Europe. Currently, Ittinsect uses a combination of black soldier flies and common mealworms, which are abundantly available at an affordable price. 
As well as delivering cost savings, Ittinsect claims that each kilogram of its products reduces the greenhouse gas emissions of aquacultural feed production by around 10% when compared to conventional alternatives. By replacing fish meal and fish oils with sustainable ingredients, there is less need for excessive fishing, thereby preserving marine life and its associated ecosystems. 
Are we entering an age of biotechnology?
Ittinsect's efforts provide a further example of how biotechnology is supporting the transition towards a more sustainable economy. With the industry now starting to receive the support and investment it needs, a growing number of products and services are being delivered through biological processes and waste valorisation. 
Governments are starting to acknowledge the emergence of this bioeconomy, and are offering new opportunities as they ready themselves to compete in a global market. At the same time, companies are scrambling to accommodate consumers' demand for more sustainable products while meeting the rising expectations of their investors. 
As these factors converge and intertwine, the biotechnology industry is uniquely positioned to capitalise on the urgency of the sustainable industrial transition. With incumbent markets now being forced to implement transformative changes, new players may one day emerge as the next top dogs.