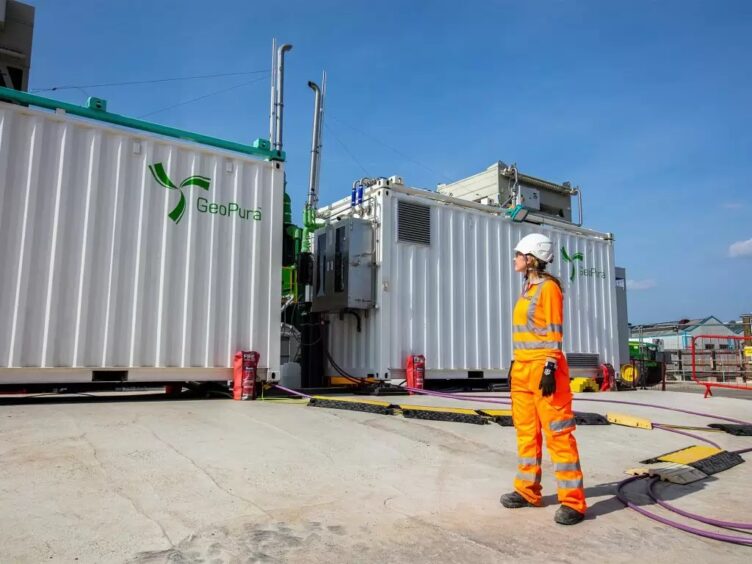 Green hydrogen startup GeoPura, which serves hard-to-abate sectors in the UK, has raised £36 million to scale up production in a market with potential to exceed $1 trillion.
GeoPura has received £36 million from four investors to accelerate and scale its Hydrogen Power Units (HPUs) across the UK.
They are intended to replace traditional diesel generators used in sectors such as construction, infrastructure, outdoor events, EV charging and backup power for utilities.
Green hydrogen has the potential to decarbonise 15% of global greenhouse gas emissions, with demand for related technologies expected to rise.
Green hydrogen is produced by electrolysis powered by renewable energy: as such, it can be produced with near-zero emissions and generates zero emissions on use. Being energy-dense, green hydrogen can also be used to decarbonise hard-to-electrify sectors such as power generation, transportation, and heavy industry. 
Some of the disadvantages of using hydrogen as a fuel source today are a lack of widespread availability and the fact that it is expensive and inconvenient to store and transport. Moreover, because it is highly flammable, it requires a high level of care in its handling. 
An increase in renewable energy capacity, which will help propel the production of green hydrogen to an industrial scale, may make it more competitive compared to the most commonly used (and polluting) fuels, such as liquefied natural gas. Liquefying hydrogen, or converting it into ammonia, can help with transportation.
Interest in green hydrogen is rapidly growing amid efforts to cut dependence on coal and natural gas, which has intensified since the start of the war in Ukraine. Although green hydrogen is still in the early stages of development, 35 countries have a hydrogen plan and 17 are preparing one, which is expected to help in reducing the cost of the fuel, according to Bloomberg NEF.
GeoPura's funding round attracts a diverse group of investors and partners
GeoPura has raised £36 million from a diverse group of global industrial and financial companies. These include GM Ventures, the investment arm of General Motors (NYSE:GM), Barclays (LSE:BARC) Sustainable Impact Capital fund, French investor SWEN Capital Partners and Siemens Energy Ventures (GER:ENR).
They are expected to serve as strategic partners for the company. GeoPura has been working with Siemens Energy since it was launched in 2019, and has supplied HPUs for two major projects: the Goodwood Festival of Speed and National Grid's (LSE:NG) Viking Link construction site.
The company has also provided HPUs to construction company Balfour Beatty (LSE:BBY), HS2's Victoria Road Crossover Box construction site in Ealing, and has powered the BBC's broadcast unit in Bristol to support the show 'Winterwatch'.
What is GeoPura's mission and how will the funding help?
GeoPura's aim is to replace the diesel generators used for auxiliary or temporary power supply, or as a backup to power provided by the grid. In addition to hard-to-abate sectors such as construction and utilities, it is also looking at electric vehicle charging.
The company plans to use the £36 million investment to increase the production of its HPUs by partnering with Siemens Energy. It has two manufacturing hubs in the UK, in Nottingham and Newcastle upon Tyne, and currently serves the UK by transporting the green hydrogen fuel cells to end-use customers who pay to rent the units and the fuel. 
At scale, GeoPura plans to be able to ship more than 3,600 HPU's by 2033, and has ambitions of expanding globally. It is also planning to introduce new products that could address those who smaller or larger power units than the ones it currently supplies.
Andrew Cunningham, chief executive of GeoPura, said: "We have secured the right mix of investors, forming strategic partnerships that not only provide the funds to enable us to scale rapidly, but also the skills and resources to accelerate the transition to zero emission fuels. With the support of our investors we can help turn the market on its head and build a green hydrogen economy this decade, not next."
How do HPUs address the UK's, and global, low-carbon hydrogen plans?
The UK has made a commitment to have up to 10 GW of low-carbon hydrogen production capacity by 2030, with at least half of it being green hydrogen. The fuel is being viewed as a route to decarbonisation by the UK Government, which launched a consultation to design a low-carbon hydrogen certification scheme in February 2023.
The Government intends to attract companies involved in the production and distribution of hydrogen and will accept responses to questions relating to design, relevant information contained on certificates, chain of custody, and delivery and administration of the scheme until April 2023. 
GeoPura's strategy of targeting hard-to-abate sectors appears to align with the UK government's view that green hydrogen is an essential part of efforts to reduce the footprint of these sectors. One HPU represents 1,800 tons of avoided CO2 emissions over its useful life, according to GeoPura. Based on its target of producing 3,600 HPUs by 2033, the company expects its entire fleet to have the potential to displace over six million tons of CO2 emissions over its entire lifecycle.
The startup has already demonstrated the working of its HPU and has the backing of major industrial partners such as Siemens Energy and GM. Attracting impact investors such as SWEN CP and Barclays also suggests raising additional funds to pursue its ambitions may not be a problem.
According to a report by Goldman Sachs (NYSE:GS), green hydrogen has the potential to decarbonise 15% of global greenhouse gas emissions. GS estimated a total addressable market for green hydrogen production of $250 billion by 2030, which could exceed $1 trillion by 2050. 
GeoPura's success will then likely come down to the availability of renewable energy and the execution of its own strategy. The potential addressable market appears substantial, while demand, driven in part by geopolitical events, does not appear to be letting up any time soon.