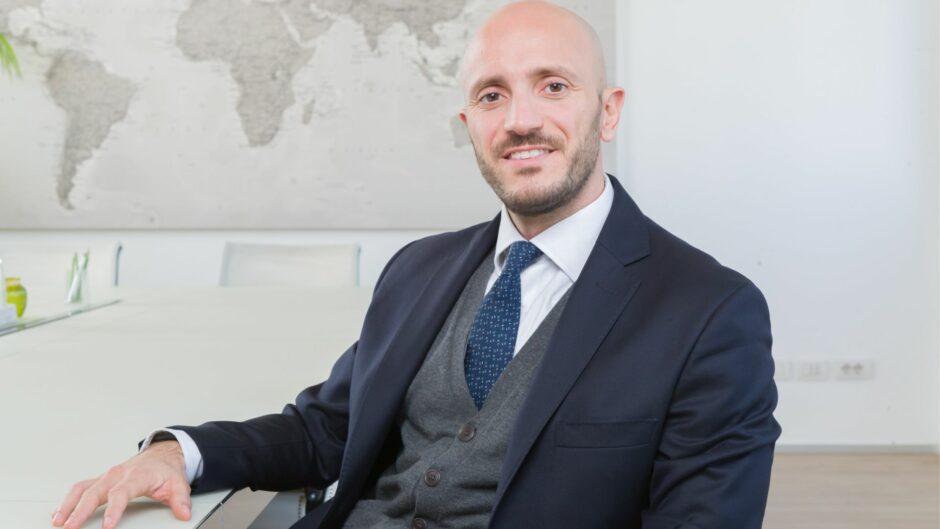 Guido Fucci has radically shifted his career from oil and gas to sustainability investing after the 2015 oil price crash. As part of his role at Ambienta, he scouts investment opportunities in the sustainable construction sector – and reckons wood could be the most compelling long-term investment opportunity.
Construction is responsible for 40% of global greenhouse gas (GHG) emissions and is the least productive, least digitalized industry.
Building with wood can both achieve a reduction in construction emissions and an increase in productivity.
Investment opportunities across the full value chain include examples such as integrated forestry managers, wood products and wood machinery.
Construction is responsible for 40% of global GHG emissions. It is also the industry with the lowest productivity gains over the past 30 years and the least digitalized one, followed by agriculture.
Even with 100% energy-efficient buildings, we still wouldn't make it to net zero
The problem is serious. Even if we built and renovated all buildings with the highest energy efficiency standards, across the whole world, the raw materials needed to accomplish this mission alone would generate enough pollution to exceed the net zero ambitions by 2050.
For once, the answer comes from the use of 'old-school' materials, albeit with the use of new technologies. Building with wood can kill two birds with one stone. First and foremost: wood is a renewable raw material, which generates negative carbon emissions when 'stocked' inside a permanent building structure. Secondly, wood is best suited for offsite manufacturing, which is best to increase quality and productivity.
At Ambienta we tackle global environmental issues. We find technological solutions, and we invest to achieve both outsized economic returns and net positive environmental impacts. In our Ambienta Lens The Comeback of Wood Construction, we analyse, together with experts and through primary research, why wood might very well be the most compelling long-term investment opportunity in the construction industry.
Three catalysts driving growth in wood products for construction
Since the Paris Agreement, regulators have started to apply a more scientific approach to environmental issues. Given the importance of construction for the global GDP and the relevance of the sector for decarbonization goals, sustainable construction is gaining traction. The EU Carbon Tax is making polluting raw materials – such as cement and steel – pay for their emissions. Regulatory limits for building multistorey wood buildings have been lifted all across the world. Some countries are even starting to mandate that wood is used in buildings.
Technologically, since the 1990s wood has seen a resurgence in construction. Newly developed glue-laminated timber and cross-laminated timber can achieve structural performances superior to that of reinforced concrete. These materials are well suited to be prefabricated offsite, then are installed much like Lego bricks. Through modern prefabrication technologies, construction time can be halved, and it is possible to reduce defects by 60% on average and waste during construction by up to 90%.
Consumer perception is also changing. The negative perception of wood construction, historically due to fire hazards and durability, is increasingly mitigated. Statistics show fire hazards are more related to cooking methods or to the absence of firefighting equipment (e.g. sensors, sprinklers), than to the use of wood. If well protected against moisture, wood buildings can last 1,000 years.
How to invest in wood construction
Construction is the end market for approximately 50% of industrial roundwood production globally, so it is a powerful driver for the full wood value chain.
Upstream, integrated forest management has a natural competitive advantage on their side: they own forests. European companies such as Stora Enso and SCA are steadily increasing their forest value because the market is increasingly aware of the potential of wood. Over the past three years, these assets have seen a 50% increase in value.
In downstream wood construction, there are some interesting niches to explore. Cross-laminated timber still only accounts for 1% of wood used in construction, but its use is expected to grow at a compound rate of 20% over the current decade.
The woodworking machinery sector also presents some interesting investment opportunities. Demand for primary wood processing machines that can improve yields at sawmills is growing well above the market average. Modern technologies applied to wood products can simultaneously reduce waste during processing by 30% and certify the actual strength of wood at the source, helping to reduce material use and overall construction costs.
The opinions of guest authors are their own and do not necessarily represent those of SG Voice.