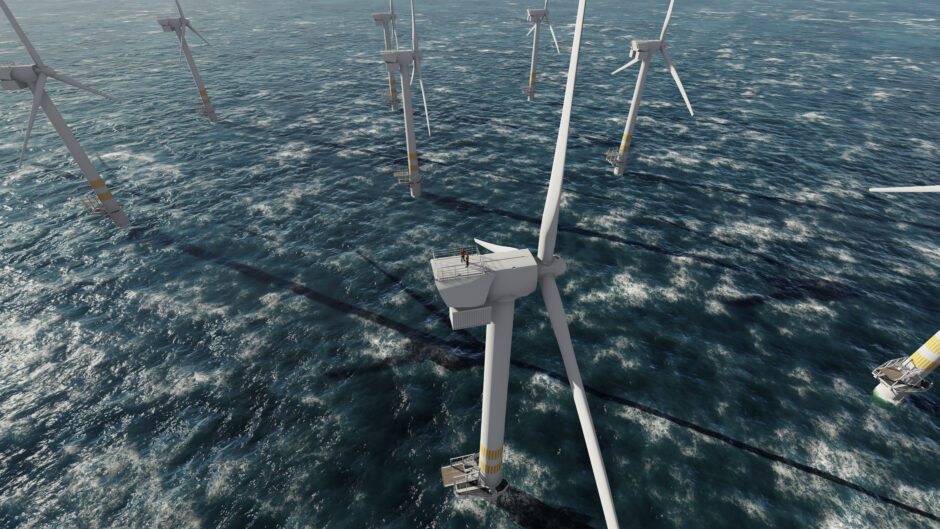 Off the coast of New England, winds whip over the frigid Atlantic Ocean creating perfect conditions for giant offshore turbines. While plans are in place to tap that natural power to generate electricity, progress — here and around the world — is being held up by soaring inflation.
Wind farms developers in the US and the EU are struggling to attract investment due to rising interest rates and higher materials costs.
One rare bright spot is China, where installations are expected to rebound this year after a big post-subsidy drop in 2022. 
To get on track for net zero by 2050, the world needs to more than double the rate of investment in renewables to around $1 trillion a year, meaning we cannot reach climate goals if projects are stalled.
As investment foundations crumble due to rising interest rates and higher materials costs, developers in the US are delaying clean-power projects like the 1.2-gigawatt Commonwealth Wind development near Massachusetts, which would be one of the largest wind farms in the country and capable of powering 700,000 homes.
The problem is even worse in Europe, where authorities have in some cases made the situation harder. Around 6 gigawatts of wind farms proposed off Germany's coast won't move ahead as planned. The setbacks mean precious time is lost in reducing the use of fossil fuels to fight the climate crisis.
"Governments need to wake up to the reality that investments in offshore wind are not happening," said Giles Dickson, head of industry group WindEurope. "The stakes are very high here."
To get on track for net zero by 2050, the world needs to more than double the rate of investment in renewables to around $1 trillion a year, according to BloombergNEF. That level of spending has to happen as soon as possible and continue into the 2040s to prevent the worst impacts of global warming.
Unlike traditional power plants that require fuel over their lifetimes, the vast majority of the cost for renewables comes upfront. That makes the sector especially sensitive to changes in financing and construction expenses.
That's particularly true for giant offshore wind farms, which use turbines the size of skyscrapers, specialized installation vessels and miles of copper cables to connect them to grids on shore. But they offer vast generation potential and there's less of the not-in-my-backyard resistance compared to land-based wind farms and solar installations.
"The offshore wind business is in a brewing perfect storm," said Thomas Arentsen, a partner at Bain & Co. "Profitability is heavily squeezed across the whole value chain from developers, to supply chain, to everybody."
It's not just offshore wind that's suffering. Battery and solar developers in the US are trying to keep up with higher equipment costs. The capital expenditure necessary to develop onshore wind farms in the US has increased by more than 16% between 2020 and last year, according to BloombergNEF.
It's a similar story in other markets. Supply-chain issues are stalling once-promising efforts in Japan, where the weaker yen adds to the pain. In Taiwan, developers are pushing back against government efforts to localize manufacturing to create jobs, which would add to the cost of turbines.
"We're still miles away from a rate of deployment that would get the power system to be on track for net zero," said Seb Henbest, head of climate transition at HSBC Holdings Plc. "Something has to move if projects are under stress and unbankable."
One rare bright spot is China, where installations are expected to rebound this year after a big post-subsidy drop in 2022. The country has also managed to keep energy and materials costs better in check. BloombergNEF expects the country to nearly double offshore wind additions this year, accounting for more than half the world's total.
Long-term agreements to purchase the power are key to the viability of big renewable investments. Whether backed by governments or private companies, those contracts ensure producers can recoup billions in upfront costs eventually.
For projects to work, electricity rates need to keep pace with construction costs, but that's not happening. In Europe, governments have set aside €768 billion ($811 billion) to shield companies and consumers from price increases. In the US, authorities are holding developers to electricity rates set before inflation surged.
In the case of Commonwealth Wind off the coast of Martha's Vineyard, regulators refused to let New England utility Avangrid Inc. tear up the $4 billion project's power contracts.
"Bidders assume these risks and cannot in good faith anticipate that ratepayers will absorb higher costs if macroeconomic conditions change," Massachusetts officials said in a letter late last month to Avangrid, which is majority-owned by Spanish energy company Iberdrola SA.
Commonwealth Wind and its sister development Park City Wind — with enough combined capacity to power over a million homes — are now delayed for at least a year.
"Unfortunately, the impact of historic inflation, sharp interest-rate increases, supply-chain bottlenecks, and the existence of a price cap prevent us from moving Commonwealth Wind forward," Avangrid Chief Executive Pedro Azagra Blázquez said last month. The company says it remains committed to completing the development.
Mayflower Wind, a nearby project, faces similar challenges. Regulators ordered the project to proceed, refusing a request by the developers — Shell New Energies, EDP Renewables and Engie SA — to hold off approving power contracts because soaring inflation created "significant challenges."
The US's Inflation Reduction Act is an overall boon to the clean-energy industry, but its longer timeline for tax credits can actually contribute to delays because developers know they can still tap benefits years later.
For wind farms in the early development stage the bill's benefits quickly became part of baseline assumptions, leaving uncertainty about how long headwinds from inflation and supply-chain kinks will persist, said Timothy Fox, a ClearView Energy Partners analyst.
"Anyone who thought that building offshore in the US was going to be a light breeze might not have been paying close attention," he said.
In Europe, conditions are even murkier. To deal with an energy crisis sparked by the war in Ukraine, politicians slapped windfall taxes on renewable-power producers — in Germany, the government siphoned off as much as 90% of revenue. In the UK, industry group Energy UK warned that the measures were stifling development.
Pressure on the renewable sector is unlikely to let up. The euro area's core inflation — a measure that strips out energy and food — held at a record in February, and German inflation unexpectedly accelerated. While lower than in Europe, price increases in the US are more than triple the Federal Reserve's 2% target, and Chair Jerome Powell signaled that US central bankers could raise rates higher and faster than previously anticipated.
Some developers are left playing a waiting game in the hopes that commodity costs or interest rates come down, according to Daniel Sinaiko, a lawyer who represents renewable-energy clients for the law firm Allen & Overy. "There might be some projects where starting earlier is a disadvantage," he said.
The Biden administration wants to build 30 gigawatts of offshore wind by 2030. But some of the biggest projects are in turmoil. Aside from Avangrid's delayed projects off Massachusetts, Denmark-based Orsted A/S said it would take a hit of about $365 million because of higher costs for the 924-megawatt Sunrise Wind — one of the largest off the coast of New York.
Europe's sights are set even higher. The EU and the UK target a total of 110 gigawatts of offshore-wind capacity by 2030, more than triple the current level. But there were almost no new investments made last year, and all tenders for subsidies in Germany were under-subscribed, according to data from think tank Agora Energiewende.
The only decision on a new project came in December from a joint venture between Shell Plc and Dutch utility Eneco to build a 760-MW wind farm in the North Sea.
Ultimately, unclogging renewable investment involves increasing subsidies or letting monthly bills for homes and businesses rise. Neither are palatable for leaders in the US and Europe.
"There are a lot of concerned developers out there because the economics are challenging," Phil Grant, renewable-power consultant at Baringa Partners. Governments and investors are both in a bind, and "there may be a question of who blinks first."