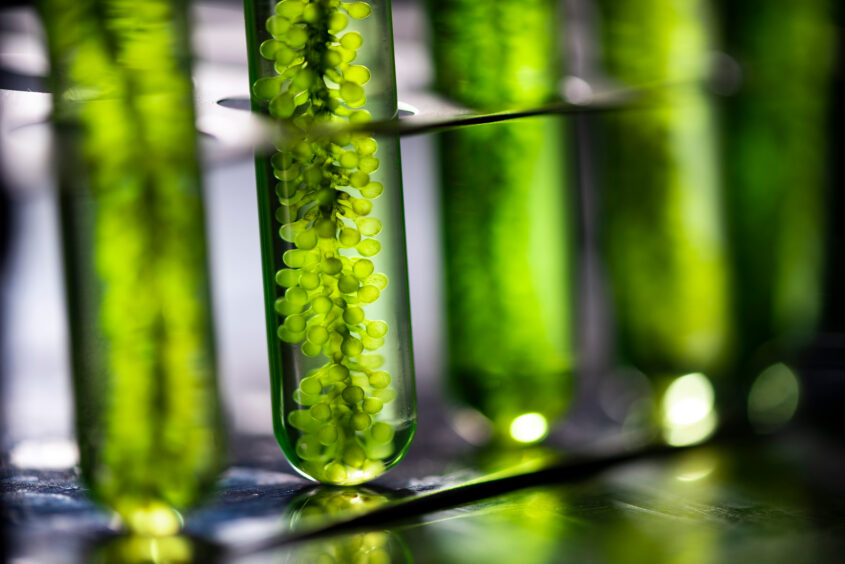 US-based Viridos has raised $25 million for its efforts to improve the commercial viability of algal biofuels. 
Viridos will use the investment to continue its research and development for the commercialisation of algal biofuels.

 

Biofuels are expected to play a key role in the decarbonisation of heavy transport, but available options are yet to be adopted at scale.

 

The net zero transition is creating new opportunities for emerging technology companies to enter into rapidly growing markets.
Viridos' series A fundraising round was led by Breakthrough Energy Ventures, with additional backing from Chevron USA (NYSE:CVX) and the venture capital arm of United Airlines (NASDAQ:UAL). The investment will support further research and development of commercially scalable biofuels made from sustainable algal feedstocks. 
"We are creating the foundation for a biofuel future that moves away from fossil fuels without competing for precious resources such as fresh water and arable land. We are excited to have the support from BEV, the leading energy transition venture capital fund, Chevron, and United Airlines," said Oliver Fetzer, chief executive of Viridos. "Together we can build the ecosystem needed to bring algae biofuels to the market."  
The decarbonisation of heavy transport
Heavy transportation, including aviation, shipping and long-distance trucking, relies on large amounts of liquid fuel that are typically made from oil and gas. The use of such fuels generates vast amounts of CO2, rendering heavy transportation one of the biggest industrial drivers of climate change. 
According to the International Energy Agency (IEA), the transport sector emitted almost 7.7 gigatonnes of CO2 in 2021 alone, a figure projected to rise over the coming years. This poses a significant threat to the sustainable transition, with estimates suggesting that the transport sector's emissions must fall by around 20% before 2030 if a net zero scenario is to be achieved. 
The industry's current pledges, however, are far from reaching this goal. Indeed, the UN Environment Programme (UNEP) has warned that current strategies would increase global temperatures by up to 2.6°C before 2100. 
Plans to decarbonise heavy transportation must incorporate a number of options, as there is unlikely to be a solution that can single-handedly deliver the emissions reductions required. The development of sustainable fuel alternatives promises to make some contribution, and is supported by a number of international organisations and national governments. 
UNEP, for example, has recommended that sustainable fuels must meet 78-100% of the aviation sector's requirements and 84-93% of maritime demand by 2050. The IEA has agreed that the scale-up and commercialisation of alternative fuels will be particularly useful in the decarbonisation of shipping and aviation, as these sub-sectors would be difficult to electrify. 
With this in mind, the IEA suggests that biofuel production must be rapidly expanded if net zero is to be achieved. Its research indicates that meeting the demands of a net zero scenario would require a 16% increase in biofuel production each year through 2030. 
Expanding the production of sustainable biofuels
Unfortunately, the necessary increase in biofuel production faces a number of challenges. Currently, most biofuels are made using agricultural feedstocks that would otherwise be used to feed people or livestock, such as sugar cane, corn and soybeans. Expanding the use of these crops to meet rising biofuel demand would therefore detract from global food supplies while also relying on unsustainable levels of resource consumption and land-use conversion. 
Waste feedstocks, such as used cooking oil, animal fats or non-edible by-products of the agricultural industry, could provide a more sustainable alternative, but are typically more difficult and expensive to convert into valid fuels. In some cases, costs are further increased by a lack of available supplies. 
As a third option, biofuels can be made from algae. This approach offers multiple benefits, including its versatility for the production of various different fuel types. Algae capture more carbon than most biomass feedstocks, and it does not have to be grown on arable land. With this efficient use of resources, estimates suggest that algae could be used to produce sustainable biofuels with emissions savings of up to 68% in comparison to conventional diesel. 
Despite these clear advantages, algal biofuels have been unable to compete with traditional fossil fuels. Current limitations include high production costs, low yields, technical challenges and scientists' lack of understanding regarding the metabolic processes and genetic regulation of different algae strains. 
Advanced technology to provide a solution
Viridos intends to address these issues with its advanced bioengineering technology. Having previously been backed by ExxonMobil (NYSE:XOM), the company has conducted extensive research on the genomics, metabolism and regulation of algal physiology. This research has enabled it to engineer new strains of algae with increased productivity. 
The genetically engineered algae are combined with optimised production processes to provide high-yielding feedstocks through a scalable system. For example, Viridos' cultivation takes place on non-arable land, while its seawater-containing vessels enable the algae to be grown in hot and dry conditions without putting pressure on freshwater resources.  
To date, the company claims that its algae can produce seven times more oil by surface area than is released by wild varieties, providing a high-yielding substance for downstream biorefinery. With further development and commercialisation, it estimates that the productivity of its engineered algae will be up to 20 times greater than that of existing terrestrial crops.  
If these claims are true, then Viridos seems likely to emerge as a leading player in the algal biofuel market. As world leaders advance their net zero ambitions, through the introduction of supportive policy measures and corporate regulation, this market is expected to grow by around 8.81% each year to be worth around $12.94 billion by 2028. 
These projections highlight the opportunities of the net zero transition, as global markets will continue to prioritise sustainable alternatives despite the challenges involved. As companies come under pressure to reduce their emissions, they will be incentivised to invest in the scale-up of nascent solutions. For innovative startups and developers of disruptive technologies, this market evolution provides a runway for rapid growth.