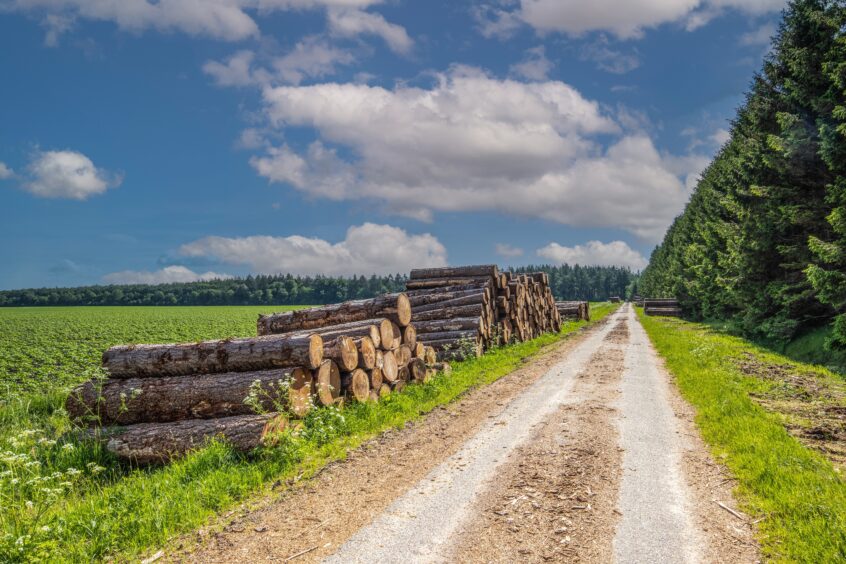 CollectiveCrunch, the creator of the AI-powered Linda platform that enables sustainable forestry at scale, has announced the closing of a €1.4 million investment round led by existing investor Nidoco AB.
CollectiveCrunch raises funds to drive AI analysis of forest carbon storage.
The company's forest performance monitoring platform will be expanded to address forest carbon storage.
Regulation is expected to demand forestry companies report carbon stocks, to support the understanding of national carbon performance.
CollectiveCrunch is so-called as it uses an AI model to 'crunch' climate, geo and process data in such a way as to better predict forest inventories. Such data crunching is the first stage in the analysis of large data sets – stripping out unnecessary data and preparing the remainder for analysis.
The basic offering is a forest inventory, which is hard and expensive to maintain for large forests. On top of this, the company provides deeper analytics about forest health and biodiversity tracking. This will in turn enable effective monitoring of carbon storage in forests for the carbon trading markets.
The use of AI to manage the complex climate, geological and operational datasets underpinning predictions on forest change means greater transparency over carbon storage capacity, adding a much-needed level of transparency for the forest carbon market
EU regulation driving change in forestry
The Linda Forest platform has been used to track forest inventories and climate analysis, and can be used to provide forest insight in multiple ways from monitoring storm impacts and pest damage. Metsähallitus, for example, is using assortment-level timber yield predictions to optimise its operational forest management planning.
Continuous monitoring is an essential part of understanding the changes in the sensitive ecosystem of forests and providing visibility into biodiversity and the changes in the forest carbon storages near real-time. In terms of the forest carbon market, for example, losses from storms and fires can have a direct impact on storage permanence.
The EU is working on regulation under which forest owners above 10 hectares in size will in the future need to report their carbon stocks. This is essential for EU countries to understand their national carbon budgets and the use of AI platforms such as this can help smaller forest owners.
The investment is to fund product development
The investment is intended to enable CollectiveCrunch to continue its global expansion and develop its portfolio, with a particular interest in the forest carbon market.
Since its launch in 2016, CollectiveCrunch has established a strong position in Europe and has an emerging position in the United States and Latin America. Today, Linda Forest covers 23 million hectares of forest and seven of the top ten Nordic forestry players are using Linda Forest solutions.
Nidoco chief executive Patric Castrén said: "CollectiveCrunch is fundamentally changing how the forestry industry monitors forest health and CO2 capture thanks to its revolutionary platform that uniquely utilizes data and provides near real-time insights into forest biodiversity and forest carbon sink more accurately than ever before."
CollectiveCrunch approach approved by Verra
CollectiveCrunch was recently approved by the carbon standards and certification body Verra. It also operates the world's leading carbon crediting program, the Verified Carbon Standard (VCS) Program.
"Verra's approval is an important milestone for us and we are delighted that we can help build credibility in the forest carbon market through our unique methodologies," said co-founder Rolf Schmitz. "The market needs transparency and our approach with near real-time monitoring and forest asset analysis responds to that specific need."
Forest carbon accounting is evolving rapidly
The role of forestry as a carbon storage vector has been in the news recently, with challenges around transparency and impact raising questions about the credibility of some forest-related credits.
In October 2022, Verra approved a new carbon accounting methodology but, following the 2023 scandal around the lack of evidence for credits generated around avoiding deforestation, launched a consultation on how to change its methodology for improved forest management methodology – which closed in early March 2023.
While the CollectiveCrunch approach does not get around the original problem of allowing developers to set the parameters for what they think projected deforestation rates would be in the future if they didn't put their project plans in place, what it does do is provide an approach which allows actual tracking of forest activity, performance and more.
As Schmitz said:  "In a field where updates are done manually and only every 5-10 years we provide near-real-time insights, at the click of a button, at a fraction of the cost. This gives our customers near-real-time data at lower cost than conventional solution. Overall, we have a massive impact on carbon sequestration as we help forestry to become more sustainable."