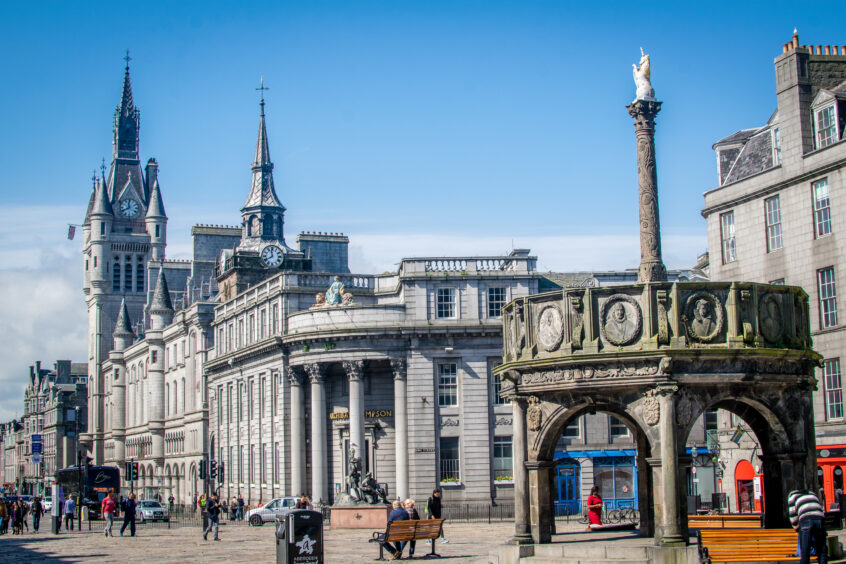 Proposals have been unveiled for an entrepreneurial nerve centre at the heart of Aberdeen's planned Energy Transition Zone (ETZ).
Scotland has seen the launch of its first £6.5 million energy incubator and scale up hub in Aberdeen.
It is intended to help the city with its energy transition plans, as it looks to become Europe's low carbon capital.
It is hoped that the Granite City can reduce its economic reliance on oil and gas while ensuring workers have alternative employment to move into.
The £6.5 million energy incubator and scale up hub (EISH) will be the first of its kind in Scotland, with the financial backing needed to begin construction already secured.
Oil giant BP (LON: BP) has pledged £1.25m to the project, with a further £2m coming from Scottish Enterprise, Scotland's national economic development agency.
Both organisations will become "founding partners" of the hub, with ETZ Ltd – the not-for-profit spearheading its development – securing the remaining cash through the Scottish Government's energy transition fund.
The EISH will be the focal point of the innovation campus, one of five specialist sites being developed across the ETZ, earmarked for the south side of Aberdeen.
Once complete, the cluster will become the largest dedicated energy transition complex in Scotland, helping the north-east in its quest to become Europe's low carbon capital.
Sir Ian Wood, ETZ Ltd chairman, said: "Innovation and a pioneering entrepreneurial spirit have been the hallmark of the North East of Scotland's energy sector for over 50 years. The Energy Incubator and Scale Up Hub will help build on that proud reputation, allowing us to expand our vital energy supply chain, and be an integral part of the Innovation Campus and Energy Transition Zone.
"We are hugely grateful to BP and Scottish Enterprise for supporting this major project which is further evidence of the importance of collaborating closely with industry and government if we are to achieve an accelerated and successful energy transition, one that creates sustainable jobs and company growth as we create a cutting-edge innovation ecosystem."
Located at Hareness Road in Altens Industrial Estate, the EISH will comprise 32,000  square feet of "flexible industrial and collaboration space", designed to "foster manufacturing, supply chain company building, technology research and development and commercialisation".
There will also be targeted business support to "drive entrepreneurship, innovation and growth".
Subject to planning permission, work is expected to begin on the facility this summer, with opening planned for next year.
In the lead up to the EISH building becoming operational, ETZ Ltd plans to launch a number of initiatives this summer, designed to invigorate the local supply chain.
That includes orchestrating regular networking events, a mentoring programme and "targeted energy transition challenges".
Will 'complement' NZTC, ORE Catapult etc.
In design, the EISH is similar to other business development bodies, like the Net Zero Technology Centre, situated on Aberdeen's Queen's Road.
But Maggie McGinlay, chief executive of ETZ Ltd, says the new hub will "complement" existing incubator programmes, rather than compete with them.
She said: "This is about providing the physical space for companies to be located in, so that they can develop prototypes, products and services. We'll do that in a way so that they're supported by others within the ecosystem, whether that's Scottish Enterprise, the NZTC, ORE Catapult, or universities."
"The EISH has been in the pipeline for about 18 months, and it's really recognising that the north-east has always been about helping young companies to grow, and be successful. We want to ensure that continues as we move into cleaner, greener forms of energy."
Ball rolling on ETZ Ltd
Unveiled by oil tycoon Sir Ian Wood in 2020, the ETZ's primary aim is to develop and nurture renewable and low carbon energy sectors in Aberdeen.
In doing so, it's hoped the Granite City can reduce its economic reliance on oil and gas, while ensuring workers have alternative employment to move into.
But local residents fear the zone, which will encroach on St Fittick's Park, risks their last remaining access to green space.
Doris Reiter, BP's senior vice president for the North Sea, said: "A highly skilled and innovative supply chain has been the beating heart of the north-east of Scotland for decades. The expertise and technology developed here is a global success story and you would be hard-pressed to visit an oil and gas region anywhere in the world and not find Scotland's influence.
"We're at an exciting moment again in this region's energy story, not least through bp's own plans to scale up offshore wind, hydrogen production and electric vehicle charging, while continuing to focus on safe, reliable, and low emission production of oil and gas from the North Sea. We're proud to be supporting the ETZ's EISH to help ensure this region's pioneering spirit lives on for many more decades."
Adrian Gillespie, Scottish Enterprise chief executive, said: "In a region renowned for its engineering talent, innovation and ingenuity, Aberdeen's Energy Transition Zone will be a leading innovation district at the forefront of a green energy future.
"Scottish Enterprise has supported the Energy Transition Zone since its inception and is delighted to provide its Energy Incubator and Scale Up Hub project with £2 million funding. The hub will provide a base for green energy start-ups as well as oil and gas companies and associated supply chains who are pivoting their expertise towards the net zero transition."