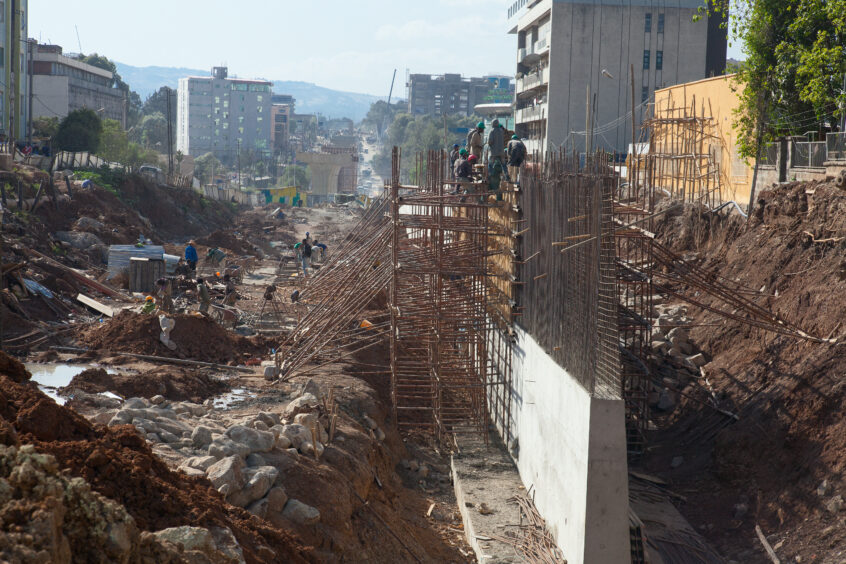 British International Investment (BII) has announced a €20 million commitment to The Urban Resilience Fund (TURF), launched by Meridiam.
This is BII's first investment in an urban infrastructure fund, promoting wellbeing in cities through sustainable public infrastructure.
The shift follows the release of an IPCC report calling for climate-resilient development. 
A minimum of 85% of investments will support climate finance-qualifying projects in African cities.
The UK's development finance institution (DFI) and impact investor BII has announced a €20 million commitment to TURF, launched by Meridiam.
The investment is the DFI's first investment in an urban infrastructure fund and supports the design and scale of climate-focused infrastructure projects across sub-Saharan Africa, increasing the affordability, safety, reliability, and climate-resilience of public infrastructure in African cities. Overall it is intended to address the need for the development of low-carbon economies, the reduction of pollution, as well as limiting the adverse environmental impact of cities.
Meridiam is an infrastructure specialist with global expertise in developing, financing, and long-term management of sustainable public infrastructure in Africa.
Infrastructure investments are key levers for accelerating decarbonisation
BII has been an active partner to Meridiam over the years, having also invested in its previous two funds – MIAF I and MIAF II which invested across major greenfield and brownfield infrastructure projects.
This included two solar parks in Senegal that deliver a combined 60MW of reliable electricity to households and industry, increasing firm productivity, facilitating economic growth and job creation.
Through the fund, Meridiam will target infrastructure projects aligned with sustainability goals, such as energy efficiency and carbon capture. This will include investments in:
Urban mobility, including investments in bus rapid transit and modern cable cars;
Energy transition, including microgrids management;
Built community environments such as innovative smart city solutions, street lighting, and electric vehicle charging;
Waste management systems.
This latest transaction reflects the companies' joint vision to invest in low-carbon, climate-smart solutions for municipal environments experiencing the pressures of rapid urbanisation.
Addressing national concerns through international action
The investment from BII helps contribute to the UN's Sustainable Development Goals on industry, innovation and infrastructure (SDG 9); on sustainable cities and communities (SDG 11), and on climate action (SDG 13). The latter will help contribute to overall decarbonisation goals and help African cities move towards a new growth and development pathway.
Africa's cities are the fastest-growing cities in the world; and while they pose challenges with insufficient infrastructure, pollution and congestion, the lack of existing development presents the opportunity to create exemplars of green public infrastructure. One of the key messages from the IPCC's Synthesis Report was the importance of greening investment and implementing public policy levers will play a key role.
The hope is that such investments will help to leverage further investment from the private sector by de-risking investment in the region. While cities have a range of options through which to raise finance, the creditworthiness of particular cities can significantly slow action on necessary infrastructure investment.
Andrew Mitchell, UK Minister of State for Development and Africa, said: "The UK is committed to supporting the development and climate-resilience of infrastructure services in African cities. I am pleased to see British International Investment commit to this Fund and we are confident that their involvement will help attract much needed additional funding from the private sector in support of vital, clean and green infrastructure in the region."
Connecting private and public sector is a necessary step towards decarbonisation
Public sector actors, at a national and municipal level, are expected to play an increasingly important role in setting out the necessary frameworks for decarbonisation. It will however be critical to motivate large-scale private investment if the scale of the intervention will be sufficient.
Public-sector spending accounts for nearly 52% of GDP in the EU, 37% in the US, over 47% in Japan and nearly 16% in India. Given the scale of public finance, strategies to reduce public sector-driven emissions could play a critical role in national emissions reduction plans.
Meridiam is a specialist infrastructure fund, bringing necessary skills to the table
Meridiam specialises in the development, financing, and long-term management of sustainable public infrastructure in three core sectors: sustainable mobility, critical public services and innovative low-carbon solutions.
With offices in Addis Ababa, Amman, Dakar, Istanbul, Johannesburg, Libreville, Luxembourg, New York, Paris, Toronto, and Vienna, Meridiam currently manages $18 billion and more than 100 projects to date.
And to support its position as an investor committed to a sustainable future, Meridiam is certified ISO 9001: 2015, Advanced Sustainability Rating by VigeoEiris (Moody's), ISO 37001 Anti-Corruption certification by AFNOR and applies a proprietary methodology in relation to ESG and impact based on SDGs.