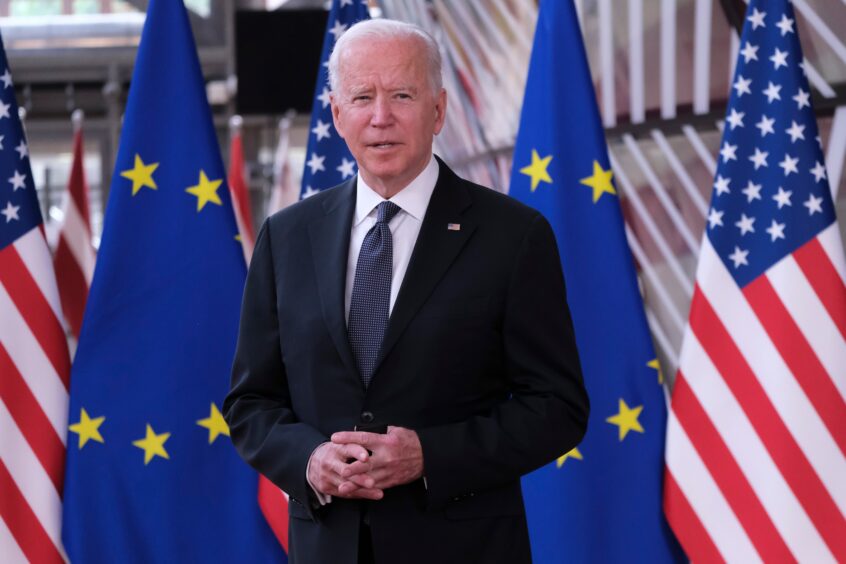 As expected, President Biden vetoed the Republican proposed resolution to overturn the ruling allowing US federal pension plans to consider ESG concerns in investment decisions.
Joe Biden used the presidential veto to stop a Republican-led ban of a previous ruling allowing federal pensions to consider ESG in investment decisions.
18 Republican states are focused on preventing the use of ESG in decision-making, despite mainstream acceptance that climate and sustainability risks can be material.
Analysis shows potential losses to those funds to be high, including Republican state Kansas' own pension fund.
Biden returned H.J. Res. 30, a resolution that would disapprove of the Department of Labor's (DoL) final rule titled "Prudence and Loyalty in Selecting Plan Investments and Exercising Shareholder Rights" without approval.
This leaves in place the November 2022 DoL ruling that investment managers would be allowed to factor ESG risks in their decision-making. This is critically important for the US market, as US private-sector retirement plans are subject to the provisions of ERISA, which is regulated by the DoL. It sets investment standards for investment managers and fiduciaries responsible for defined benefit and defined contribution plans.
Republicans intended to fight at a state level
The alliance of 18 Republican-led states have said that they will consider blocking the use of ESG in all investment decisions at the state and local level, ensuring that only financial factors are considered to maximise the return on investment.
This may also include eliminating consideration of ESG factors by state and local governments when issuing bonds or prohibiting state fund managers from considering ESG factors when investing taxpayer money.
This is despite research showing that limited partners and asset managers are requesting such information as part of their investment process.
Political infighting leaves right wing politicians behind the curve
Business leaders around the world agree that ESG will be important in their operations over the next decade. In a survey carried out by global consulting firm Protiviti and the University of Oxford, over three-fourths of respondents said they believe ESG reporting will become mandatory by 2032.
A consistent finding of the survey was how the view of North American business leaders lagged that of their global counterparts. Around 80% of Asian and European respondents believe their spending managing environmental risks would increase, while 61% of North American business leaders believed their spending would remain the same or go down.
Protivit concluded that many business leaders in North America appear to be in a "wait and see" mode. Yet, analysis from Credit Suisse suggests that the impact of the Inflation Reduction Act in the US has the potential to generate $1.7 trillion in climate spending over the next decade, suggesting the opportunity presented by sustainability-oriented investments.
Has the backlash to the backlash begun?
The Kansas pension fund has already requested its own State legislature to change the language around its anti-ESG bill, stating the implications for its long term growth.
The Kansas Public Employees Retirement System (KPERS) has asked the state not to pass its anti-ESG bill due to cost impacts, arguing that forced divestitures resulting from the bill would cost KPERs $1.14 billion, while also reducing total returns over the next decade by about $3.6 billion.
At the same time, research by economic and policy consultant firm Econsult Solutions calculated the potential cost of the ideological battle over ESG in the US. The study found that, if Kentucky, Florida, Louisiana, Oklahoma, West Virginia and Missouri had passed laws similar to those already existing in Texas, they could have faced upwards of $708 million per year in additional interest charges on municipal bonds. Indeed, a previous analysis found that the anti-sustainable investing law in Texas raised costs to the public by as much as $532 million in its first eight months.
In his message to the House of Representatives when vetoing the resolution, Biden said: "There is extensive evidence showing that environmental, social, and governance factors can have a material impact on markets, industries, and businesses.  But the Republican-led resolution would force retirement managers to ignore these relevant risk factors, disregarding the principles of free markets and jeopardizing the life savings of working families and retirees."
"In fact, this resolution would prevent retirement plan fiduciaries from taking into account factors, such as the physical risks of climate change and poor corporate governance, that could affect investment returns. Retirement plan fiduciaries should be able to consider any factor that maximizes financial returns for retirees across the country.  That is not controversial — that is common sense."