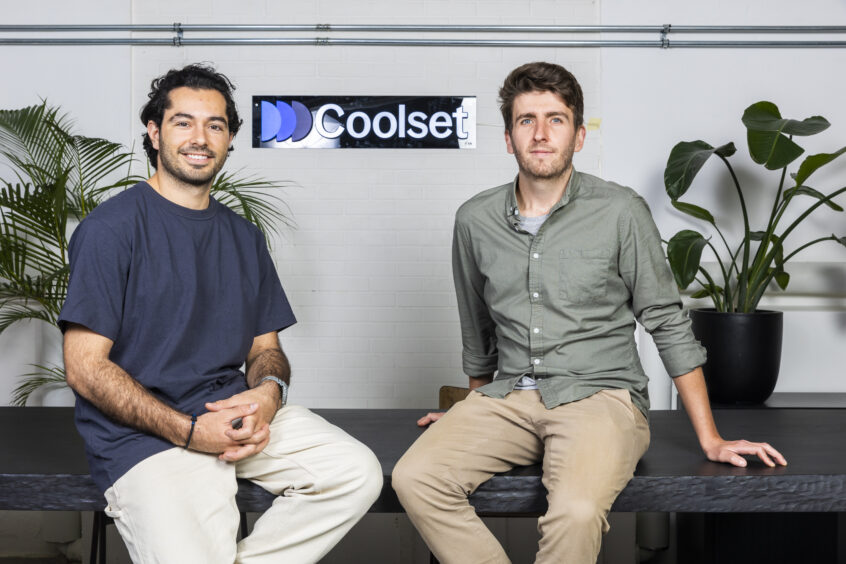 Dutch startup Coolset has raised €1.5 million and launched its new automated decarbonisation platform for small and medium-sized enterprises (SMEs).
Coolset has completed its seed round at the same time as launching a new platform designed to help SMEs.
More businesses across Europe will soon be required to report on their sustainability performance under the EU Corporate Sustainability Reporting Directive (CSRD). 
With many SMEs not sure where to start, products designed especially for them are likely to be in strong demand.
The seed round was led by Amsterdam-based growth equity firm Global Cleantech Capital, with Shamrock Ventures, Horizon, The Sharing Group, and various angels also taking part.
What does Coolset do?
The startup, formerly known as Greencast.io, has developed a platform that enables SMEs to measure, analyse, reduce, and remove their carbon footprint "in just a few weeks". It positions itself as "an accessible and actionable alternative" to hiring consultants or using Excel-based tools.
The reports are CSRD compliant and cover Scopes 1, 2 and 3. They are intended to help companies in planning their decarbonisation strategy by identifying emission hotspots, which the user can address, as well as allowing the purchase of carbon removals to offset the emissions that cannot be eliminated. It also provides tools and resources to implement carbon reduction strategies, such as energy efficiency measures, renewable energy projects and carbon offsetting.
It currently supports customers across various industries such as Lepaya, HelloPrint, and MyWheels. The new funding will be used to hire across engineering, sales, and marketing, as well as to further develop the platform's features that allow users to plan scenarios, create benchmarks and generate actionable decarbonisation strategies across Scope 1, 2, and 3.
Konstantinos Kouzelis, co-founder and chief executive of Coolset, said: "We believe that businesses will need to deploy digital solutions to advise them on their optimal net-zero pathways, and our platform provides a simple and effective way for SMEs to do this."
Disclosure is coming for SMEs
By 2024, more than 50,000 businesses across Europe will be required to report on their sustainability performance under the EU CSRD. It will be applied to all companies doing business within the bloc, even if they are headquartered elsewhere, initially starting with the larger ones and then moving to organisations of all sizes.
In 2025, reporting on the financial year 2024 will be required for those companies already subject to the Non-Financial Reporting Directive (NFRD), moving to large companies that are not currently subject to the NFRD in 2026, and listed SMEs in 2027. Finally, 2029 will see reporting required for financial year 2028 for third-country undertakings with net turnover above €150 million in the EU, if they have at least one subsidiary or branch in the EU exceeding certain thresholds.
The goal is to increase corporate accountability, prevent divergent sustainability standards, and ease the transition to a sustainable economy. There is a close connection with the approach taken on legislation under the  Sustainable Finance Disclosure Regulation. Such availability of data would enable asset managers to set up investment approaches and products using relevant, comparable, reliable and public ESG metrics of companies' activities and financial risks.
Demand for carbon accounting is on the rise
With regulations soon imposing disclosures on EU businesses, SMEs are feeling the pressure, but some do not even know where to start. Indeed, according to a survey by SME Climate Hub, 70% of leaders said that they require additional funds to take action or speed up progress to reduce emissions, with nearly 3 in 5 admitting that a lack of climate skills and knowledge is preventing them from taking more ambitious action on climate. The vast majority, however, recognised the importance of acting.
Several companies are addressing this challenge. Coolset is joining the host of carbon accounting solutions targeting those businesses that do not have the resources to set up a dedicated in-house team, but also have little budget to outsource the task. Some examples include tools by ClimeCo and Aclymate, Sage's (LSE:SGE) Spherics, Experian (LSE:EXPN) and Persefoni.
"The cost-efficient solution is truly unique, and Coolset enables SMEs – which typically are not served by big consultants selling hours – to accelerate their journey towards net zero emissions," said Paul Kloppenborg, chief executive at Global Cleantech Capital. "Coolset has the potential to revolutionize the way these companies approach decarbonization, effectively future-proofing the economy of the future. We have been impressed with Coolset's rapid growth and are thrilled to be a part of their journey."